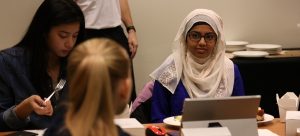 Microsoft is hosting youth coding events across Canada this week (December 5 – 11) during Computer Science Education Week in support of Hour of Code, a global initiative led by Code.org.
Students that participate in the coding events will have the chance to create and share their own simple Minecraft game with the new Minecraft tutorial, which is designed to teach problem-solving and critical-thinking skills. In the tutorial, players will be offered a set of 12 challenges, followed by free play time to code their own game and share it with friends. Coding Camps will take place across Canada at Microsoft Stores.
Additionally, Microsoft's YouthSpark partner, Kids Code Jeunesse, will host Hour of Code sessions on December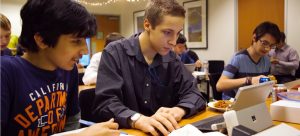 10th in Toronto, Vancouver and Montreal, where student attendees will learn coding basics in a fun and supportive environment. Representatives from Kids Code and Microsoft will be onsite, too. And, if students are not able to join one of the live events, coders and would-be-coders of all ages can also participate in the Minecraft challenge from home or teachers can set up their own coding workshops.
Andree Gagnon at Microsoft Canada explains, "The Hour of Code started as a one-hour introduction to computer science, designed to demystify "code", to show that anybody can learn the basics, and to broaden participation in the field of computer science. It has since become a worldwide effort to celebrate computer science, starting with 1-hour coding activities but expanding to all sorts of community efforts."
"Microsoft and Code.org," said Mr. Gagnon, "have a shared vision to bring increased access to computer science education to all youth around the globe.  In Canada, Microsoft began partnering with Code.org three years ago with the goal to increase access to computer science education."
During Computer Science Education week, Microsoft will lead thousands of youth coding events in more than 60 countries, which will include 700 free workshops hosted by Microsoft Stores across the globe. Today, more than 400 partners and 200,000 educators worldwide support Hour of Code. Computer Science Education Week is held annually in recognition of the birthday of computing pioneer Admiral Grace Murray Hopper (December 9, 1906).
Minecraft is hugely popular. Students and schools are using Minecraft across the world, including Canada."Last year, Microsoft reached over 30 million students and educators with the 2015 Minecraft Hour of Code tutorial," shared Mr. Gagnon. "Continuing to tap into student enthusiasm for the game, the Minecraft team has created a new tutorial that invites the students to play the role of game designer and developer. This tutorial introduces the computer science concepts of loops, events and object-oriented programming through a series of game design challenges."
Mr. Gagnon added, "The tutorial also introduces game design principles like randomness and programming entities, inspiring further practice of the concepts by allowing students to design mini-games that can be played on a phone or shared with friends. The 2016 Minecraft Hour of Code tutorial is designed to appeal to girls and boys, and will both offer challenges for those new to coding and support more advanced iteration for students with more experience."
News of the event was distributed through the Kids Code Jeunesse newsletter to over 1,000 people and promoted through our social media channels.
Anyone interested in participating can check with his or her local Microsoft Canada store for specific workshop dates and times, or visit YouthSpark.
 "Anyone, anywhere can access the Code.org tutorials and deliver them," explained Mr. Gagnon. "There is content created for parents, educators, or for kids who want to engage directly – no matter where they are. All full-line Microsoft Stores in the U.S., Canada, Puerto Rico and Australia host these workshops."
"For those who won't be able to attend, we shared a link to the Minecraft Hour of Code project and encouraged them to host their own events within their communities," said Kate Arthur, Founder & Executive Director, Kids Code Jeunesse. "We also had a few teachers ask if they could share the details with their students, and of course we said yes. In total, there will be approximately 200 kids in 3 cities, in both official languages, learning to code."