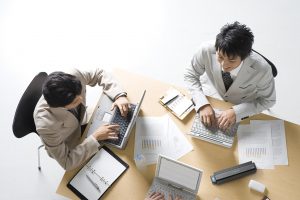 Cloud computing has permeated all aspects of business and made it easier and safer than ever to collaborate, manage large amounts of data and innovate dated business practices. A key example is Fujitsu's ScanSnap Cloud, which makes it easy to scan paper documents and file them online on various services.
LedgerDocs, which was developed by accountants to help manage and collaborate on accounting files with bookkeeping workflow tools in the cloud, has attained a high level of success in translating tedious and time consuming tasks into cloud-connected and efficient processes.
"We are delighted to be the first third-party to develop an app using ScanSnap Cloud," says LedgerDocs CEO and Founder, Wayne Zielke. "One of the most difficult parts of the bookkeeping and accounting process is receiving correct and timely information. Making a scanning workflow easier and having the ability to turn a physical document into a high quality digital scan in LedgerDocs in one step is a big plus for us."
There are key advantages of using LedgerDocs with ScanSnap Cloud for small and midsize businesses (SMBs) and accountants alike. ScanSnap offers an additional way for SMBs to get their documents to their accountant or bookkeeper (in addition to uploading via web, mobile, email and Dropbox). The combination of these services allows users to capture, store and manage documents as they receive them, thereby avoiding lost documents.
In today's mobile-focused environment, the real-time and collaborative features of LedgerDocs make a difference. "Time is of the essence, which is why we encourage SMB owners take an image of their important documents (like receipts, invoices etc.) using their smartphone or scanner and send them in real-time to their company Inbox in LedgerDocs," says Zielke.
"It's a natural partnership because Fujitsu is so heavily invested in helping customers digitize paper with their ScanSnap line of scanners. We're both trying to be part of the solution faced by bookkeepers and accountants today. In fact, we've been using Fujitsu scanners for many years now. They work really well and we've always recommended them to clients," says Zielke.
One such client is Pam French, who owns Professional Account Management, one of the premier bookkeeping firms in Northern Alberta. French is a Certified Professional Bookkeeper who has identified that technology is one of the keys to her firm's success.
"Thanks to these solutions there's less data entry and more time to use our skills in analyzing statements and consulting," French says, "LedgerDocs is a great digital file cabinet. Once the documents are there, we're free to open them or post them straight into QuickBooks Online."
"Thanks to LedgerDocs and my cloud platform, I don't need a single piece of paper to get work done," French explains. "We use Fujitsu scanners and we scan to LedgerDocs. All I need is a computer and access to the Internet and I can work. That, for me, is the greatest thing to have happened to our business in the past three or four years."
ScanSnap Cloud is available for the ScanSnap iX500 desktop scanner and the ScanSnap iX100 mobile scanner.