The term "wearable tech" no longer refers only to devices that can be worn around a wrist, a la smartwatches and activity trackers. There's tons of wearable gear that can help keep you connected, fit, and informed about your health and well-being.
When we look at gear for females, in particular, there is a wealth of cool choices that would make great gifts for any woman on your holiday gift list. Here are six particularly interesting ones.
Bellabeat Leaf Urban Edition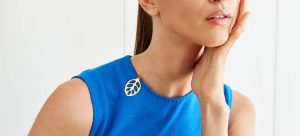 While this wearable can be worn around the wrist, you can also wear it as a necklace, or clipped to a shirt, pants waistband, or sports bra. In addition to monitoring the typical things like activity and sleep, the Bellabeat Leaf Urban Edition can also keep track of a woman's menstrual cycle and fertility. This can both help her understand how the ovulation process impacts her health, and predict the best time for trying to get pregnant for those who want to start or expand their family. Breathing exercises and meditation sessions are also included for further help in relieving stress. $185
FlipBelt
Athletic women will appreciate a wearable device like the FlipBelt that, while not technical in its nature, is an accessory for holding your tech gear. Available in Spandex or Lycra, simply slide a smartphone inside the belt once it's wrapped around your workout or yoga pants, and keep the device safe and sound while you exercise, or keep using it as a source for music while on a run. The belt has enough room around its perimeter for carrying other items, like a car key, cash, or ID – slide the items to the back, or keep them under your stomach at the front. It's fully machine-washable, to boot. $33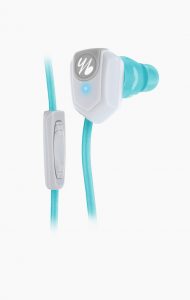 Yurbuds Leap Wireless In-Ear Headphones
Realistically, women can choose from any pair of wireless earbuds they want. But sometimes, the fit may not be just right, particularly for smaller women, or those who have smaller ears. The Yurbuds Leap Wireless in-ear headphones are designed specifically for fitting into the smaller ear canals often found with women, and come with TwistLock Technology for helping to provide a more secure fit. They can run for up to six hours per charge, and connect wirelessly to a music source via Bluetooth. The headphones are sweat- and water-resistant, so they can be used while working out, or running in the rain. US$100
Upright Device
A particularly interesting and unique device is the Upright, which attaches to your lower back and includes smart sensors that vibrate if you slouch. While it isn't meant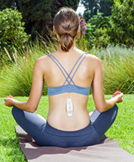 specifically for women, it's a great device for any lady who often suffers from back or neck pain. And it purports to be able to help the wearer improve posture overall, both when sitting and standing, by advising when you aren't sitting or standing as straight as you should, and prompting her to correct the behaviour. Through the app, users get real-time feedback and a personalized training program that's customized to their particular needs. Users can wear it only when they need it most, and are most likely to engage in the offending behaviour, such as during a typical office workday. $173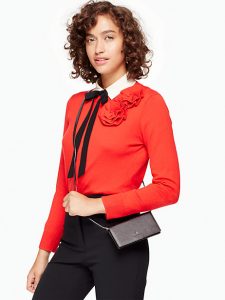 Kate Spade Metallic iPhone Crossbody
With this iPhone "case," you can actually make your smartphone a wearable device in itself. The saffiano leather purse for the device (it fits the iPhone 6, 6s, and the new 7), ladies can carry their mobile phone across their body, messenger-style, or just drape the long strap over a shoulder. It comes in basic black, but Kate Spade has a myriad of other case and clutch options in more playful colours, designs, and patterns. This basic design, however, is particularly versatile since it's just as fitting for a day at the mall as it is for a night out on the town. US$100
Swarovski Activity Crystal Vio Pendant Set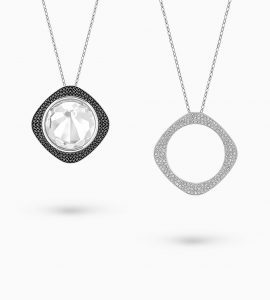 In addition to being able to wear the Swavorski Crystal activity tracker (powered by Misfit) around the wrist in a basic or more fashionable band, women can also grab the pendant set for wearing the stylish device like a necklace. It includes a fully faceted crystal in a Swarovski-exclusive cut, and comes with a velvet pouch for storing it in your jewelry box when you aren't wearing it. But chances are, a lady will don this one 24/7, since it can track steps, distance, calories, and sleep patterns, with white LEDs displaying activity progress and time. Plus, the easily-replaceable coin cell battery never needs charging – it just has to be replaced about every 4-5 months. In the box also comes a white sport band so you can wear it while working out, or when you just want a more casual look. $210
Still looking for that special tech gift to buy?  Check out these gift guides.
Gift Guide: Smartphones and Tablets
Gift Guide: Cool gadgets that make an impact