Canadian and international researchers are shining a light on new techniques to prevent copyright violations and digital counterfeiting.
In today's digital world it's a black hole they're peering into. According to a recent Forecast of Disruptive Technologies in Security Printing and Brand Protection, the combined global market for security and brand protection is estimated to exceed $45 billion by 2026, up from $27 billion today.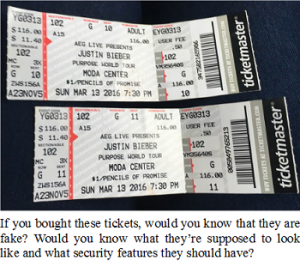 Protection is needed for pretty much anything that can be bought or sold, from personal apparel and high-tech gadgetry to health care products and pharmaceuticals. Printed materials such as currency, passports, books and event or concert tickets are often faked.
It's not just legitimate sales that are being lost to counterfeit goods, but national and local tax revenues, above-board employment and job opportunities, even customer health and safety, according to the Canadian Anti-Counterfeiting Network.
Visible watermarking and optical techniques have long been used to help identify legitimate goods and to differentiate them from counterfeit copies, but new approaches make use of marking techniques found in nature and in nanotechnology.
Innovative developers at a Vancouver-based company, Nanotech Security, say they were inspired by shiny, shimmering butterfly wings.
They've developed cutting edge nano-optic solutions that can distinguish authentic banknotes, tax stamps, tickets and other high-end branded assets from counterfeits using authentication features embedded into futuristic holograms with unmatched colours and incredibly crisp, interactive images.
Unlike many holograms (many not much more than sticky labels that can be peeled off), Nanotech's KolourOptik images are embedded right into the packaging, the product, or both.
Based on the optical properties of the Blue Morpho, one of the world's largest butterflies, Nanotech creates a grid of nano-sized holes that mimics the reflective, almost iridescent, shine of the butterfly's wings. Depending on the angle (intended or otherwise) of light striking the nano-surface, unique and identifiable colours and patterns can be detected. Insects, birds lizards and more demonstrate similar lighting and reflective properties; now, high-tech is using an approach similar to nature's.
For its unique and colourful developments, Nanotech has been named as one of the country's most innovative public technology companies by the Canadian Innovation Exchange (CIX).
# # #
Another new light-based technique is also making it more practical to create secure, invisible watermarks that can be used to detect and prosecute counterfeiting.
"In our research, we use a complex pattern of light, or diffraction pattern, as a unique watermark," described Yishi Shi, from the University of Chinese Academy of Sciences, in a science paper article. "The invisible watermark is embedded into the content we are trying to protect. Imperceptibility is one of the most significant advantages of optical watermarking."
In The Optical Society's journal Optics Express, the new approach to encode the optical watermark and to optically encrypt or hide identifying information within images is described.
It's based on something called single-shot ptychography encoding, or SPE, that uses beams of light to generate a diffraction pattern from a complex object. The researchers use SPE to create a complex watermark consisting of a diffraction pattern of multiple tiny spots, smaller than 10 microns. The spot pattern is computer-generated so it can be manipulated and scrambled, upping the security factor tremendously.
The small, invisible watermark can then be detected using a special security key and algorithm-based detection methods.
-30-