Text and photos by Gadjo Cardenas Sevilla
Detroit – The future, it seems, has arrived here at Detroit's Cobo Center, home to the 2017 North American International Auto Show (NAIAS). Chevrolet's Bolt EV won the coveted  North American Car of the Year, it is the first electric car to do so.
Volkswagen, who is still reeling from the embarrassing 'Dieselgate' scandal, has revealed an electric and autonomous driving future in the guise of its I.D. Buzz concept. A callback to VW's iconic hippy van from the 60's.
Hybrids, EVs and new automotive technologies are everywhere to be seen on display and are drawing the same attention as the wild concept cars and the ultra-luxurious exotics that are usually the show's biggest draw.
General Motors, who invited me as well as other technology and automotive writers to attend the show, kicked off the proceedings the night before by taking over the Museum of Contemporary Art of Detroit to turn it into a museum for GMC where they showed off various design and engineering techniques that go into their vehicles, including their mastery of interior materials like wood, leather and metals.
On the show floor the next day, technology was definitely front and centre. The Bolt EV, which was launched here just a year ago, won both Motor Trend's Car of the Year as well as the Car of the Year for the show. These accolades are affirming to GM who beat out Silicon Valley darling Tesla in producing a more affordable all-electric vehicle with a 383 kilometer range on a charge.
GM's range of vehicles on the floor under their Chevrolet Cadillac, Buick and GMC brands all feature an incredible amount of technology including 4G-LTE hotspots, OnStar service, Apple CarPlay and Android Auto compatibility plus a bevy of assistive driving technologies including lane departure warnings, forward collision warning, rear seat alert to ensure small children and pets aren't left behind and even a teen driving feature that reduces distractions and reports speeding or unsafe driving incidents to parents.
Choice was evident on the show floor, many car-makers had hybrid cars sharing space with their petrol-powered models. Others showcased autonomous driving technologies and new concepts that take the idea of mobility to another level.
VR headsets were present at the NAIAS this year, with more companies using the technology to simulate various experiences from future in-car infotainment experiences, how it feels to be in an autonomous vehicle and even some race and off-road virtual reality experiences.
Other cool technologies include Nissan's V2V technology. Vehicle to Vehicle makes it possible for cars to talk to each other. This makes it possible for cars to relay real-time traffic information, updates on speed alerts, upcoming tolls and other information that's vital to making trips smarter.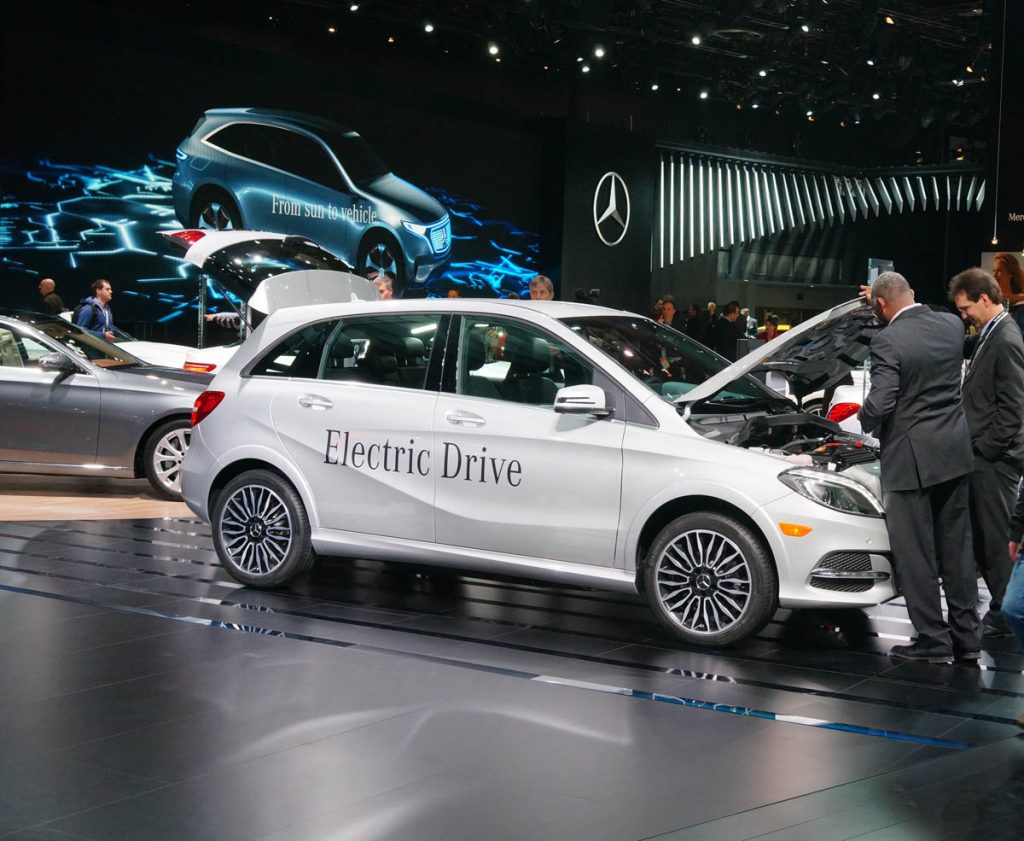 While technology  companies like Tesla and, to a much lesser degree, Faraday Future, have long hogged the limelight on electric cars, batteries, autonomous driving and all the cool features that come with their premium models or prototypes, traditional carmakers have responded this year with a lot of options.
It took a while, but traditional carmakers have flexed major muscle and have very realistic roadmaps for mass-produced electric cars which will have various autonomous driving technologies already built it. What car markers have shown here at the Auto Show is that they have
What everyone is waiting on is legislation as well as advanced testing to ensure that these vehicles are safe on current roads, how long that takes is anyone's guess.