By Gadjo Cardenas Sevilla
Toronto – This year's Dx3 Canada Conference continued its discussion on merging technology with business, retail, marketing and customer loyalty solutions.
Focused on  harnessing data and analytics, optimizing commerce, using technology creatively and building loyalty across various customer demographics, the event had lots of ground to cover.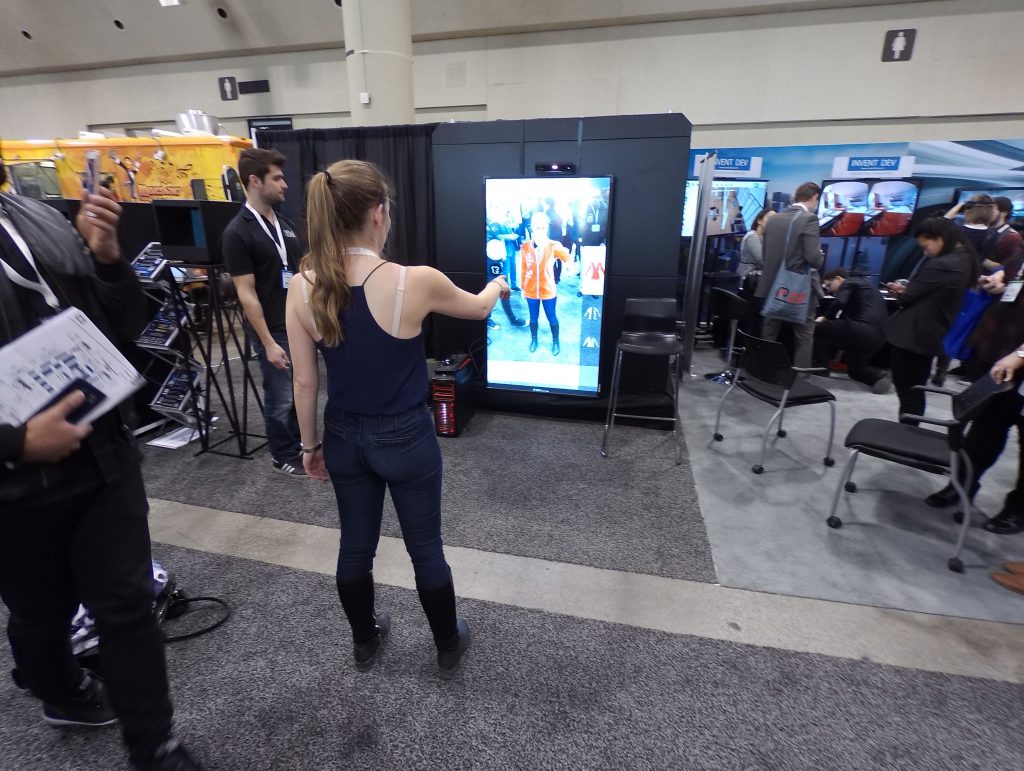 Walking the show floor, a couple of standout technologies caught my eye.
Holocube's projection and mixed reality clothing simulator showed how customers can virtually try on various clothes and accessories by simply pointing, dragging and setting them on their reflection on a smart screen. Faster than actually trying on various clothes, the system is useful for whittling down choices of  dresses or clothes to a few that you'd like to try on. The demo at the show floor was impressive and drew the most interest.
These Holocube kiosks are a smart solution that can be used in stores (to help manage traffic during busy times), or independently for customers who may want to try on virtual clothes and order directly on their mobile device or through the kiosk.
Sefltraits was another innovative demonstration of technology. The company has customers stand inside a dome that's surrounded by DSLR cameras which take their photos from various angles as they pose.
These photos are then fed into a 3-D printer which outputs an extremely detailed mini-figurine of the subject.
While more of a vanity concept or something for promotional purposes, Selftraits was innovative and managed to compress various technologies into a unique service and product offering.
One of the displays at Dx3 that many found interesting was iGotcha Media's facial recognition billboard which uses cameras and crunches data to determine your gender, age, mood, height and even your attention span to generate advertising that's tailored to you.
If this all sounds familiar, it is reminiscent of the Tom Cruise movie Minority Report where billboards morph to cater ads and offers to specific people. This hyper-focused advertising is the Holy Grail for marketers since it offers a surgical way to directly promote products and services. This is not unlike what Google and Facebook are already doing by pushing targeted ads based on our interests, but taken to a whole new level.
In this age where fear of surveillance and government snooping at are an all time high, it is quite an eye opener to see how advanced this technology is. How long before we have a Person of Interest scenario, where software can instantly track and identify us as well as raise red flags if needed.
Payments and Point of Sale technology as also very much the focus of Dx3 with companies offering even more variety for entrepreneurs, retailers and establishments of all sizes to take various forms of payments from customers. Moneris showed off its iPad-based point of sale solution which they said is becoming the standard.  Solutions are even available for artisanal crafters or folks who sell their wares on sites like Etsy, to have pop-up shops to show the merchandise as well as enable sales.
The biggest takeaway from Dx3 2017 is that technology has leveled the playing field for everyone from single proprietors, SMB's and even larger enterprises to better engage with their customers, market more effectively as well as make transactions truly friction less and even more delightful.