STEM initiatives are more important than ever in Canada, today.
What motivates girls to consider careers in STEM? How are schools celebrating the passion of STEM teachers? What programs encourage youth to apply their digital know-how to real world situations? Are there regional opportunities to create a groundswell for STEM across Canada? How are tech companies sharing their mentors?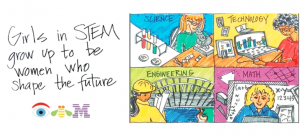 Krista Shibata, Leader, Women in Technology Initiative for IBM Canada, recently shared with WhatsYourTech,
"While representation by women in STEM fields has risen over the past fifty years, gender inequality in STEM is prevalent today as women continue to be underrepresented in STEM fields. In 1987, 20% of the STEM workforce was women. Today, it is 22%." It is clear to me, too, that more has to be done.
Actua is Canada's largest science, technology, engineering and mathematics (STEM) outreach network representing 35 university and college-based members. Actua aspires to build skills and confidence among youth in STEM and digital literacy. And, Actua's program reach is wide, spanning across Canada and into indigenous communities. "Each year 250,000 young Canadians in over 500 communities nationwide are inspired through exciting, hands-on STEM workshops, camps and community outreach initiatives," explained Jennifer Flanagan, Co-Founder and President and CEO of Actua.
"In order to be active in the digital, knowledge-based economy youth must have early access to learning experiences
that help them build these skills. Through hands-on experiential learning we inspire youth to take risks, solve problems they are interested in with technology. We work to move youth from consumers of tech to producers of it."
Flanagan also recognized the role that women, companies and culture have on inspiring STEM. "The biggest influencers for youth," shared Flanagan, "are their parents and teachers. We need to equip parents and teachers with the experiences and information to support their daughters in pursuing their interests in STEM."
"We also engage dynamic young women working in STEM fields who can share their stories and their interests in ways that connect to the lives of young girls. This connection is very important so that girls can start to imagine themselves in these careers in the future.
"Culture [also] plays such a huge part in girls' interests in STEM and movies that portray women in strong STEM roles are very important. We also want girls and their parents to know that women have played a huge role in STEM fields historically and that their contributions have often not been recognized. We need girls to have all kinds of different roles models both in real life and in popular culture."
"STEM outreach is more important than ever because Canada's ability to compete in a global economy depends on our capacity to innovate," stated Flanagan. "We know that innovation requires both STEM skills as well as entrepreneurialism to not only come up with new ideas but to then bring new products to market. We also understand that jobs in all sectors are becoming increasingly reliant on digital skills, meaning youth need as many opportunities as possible to build their confidence, skills and knowledge in these areas."
And, I couldn't agree more.
Contact WhatsYourTech.ca if you are supporting STEM in Canada.
Related:
IBM Shines a Spotlight on STEM
Women Who Invent, Analyze and Mentor: STEM in Action
New Coding Toys for Kids Coming in 2017