Father's Day is fast approaching, which means trying to find that perfect gift for all the dads in your life.
Whether it's your own papa, grandfather, husband, brother, or friend, here are 6 great gift suggestions from the tech space.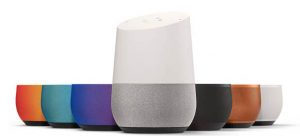 Google Home Smart Voice-Controlled Speaker
Officially confirmed for Canada, this smart, voice-controlled speaker will help make any working dad's life a bit easier. Connect it with a multitude of smart devices in the home, and he can use it to control things like lighting, the thermostat, and music playback. He can also check in every morning by saying "OK, Google" to find out about the weather, current traffic situation, and hear the news headlines as he gets ready for work. While it won't hit stores until June 26, you can pre-order a Home for dad now so he has a cool gift to look forward to before the long weekend. $180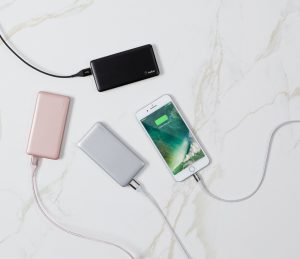 Belkin 15,000mAh Pocket Power Portable Charging Bank
Help keep dad powered up while on the go with this ample portable charging bank that can recharge multiple devices at once, or a smartphone up to five times via its 15,000mAh and 3.4A output. That will give dad up to 57 additional hours of call time, or more than 50 hours more Web surfing. It's ideal for Android devices with an included 6" microUSB cable. It'll be available later this summer if you want to give dad an IOU, or pick up the 5,000mAh option now ($30), which affords 1.5 charges for 19+ hours of additional call time and 11+ hours of additional web browsing.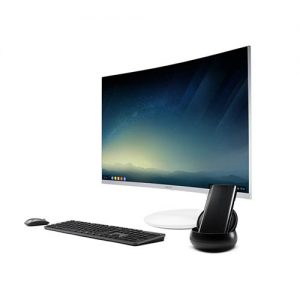 Samsung DeX Mobile Station
Work can become a bit more seamless with this device, which lets dad access apps, edit documents, browse the web, watch videos, and more from a compatible Android smartphone, including the Galaxy S8 and S8+, using a larger display, keyboard, and mouse. With an Android UI, the DeX is compatible with Microsoft Office and Adobe mobile apps like Acrobat Reader mobile and Lightroom Mobile. Use it to access virtual desktops as well, through partner services like Citrix, VMware and Amazon Web Services. Pop the phone into the DeX station, then connect it to an HDMI-compatible monitor, and use any Bluetooth, USB, or RF keyboard and mouse. It has two USB 2.0, Ethernet, USB type-C power-in and a cooling fan. The Adaptive Fast Charging (AFC) technology will also charge dad's Samsung smartphone quickly while connected.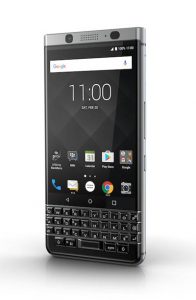 BlackBerry KEYone Smartphone
If dad is a die-hard BlackBerry supporter, he'll appreciate if you grab him the new KEYone. It's the first smartphone from the Canadian company to be made by TCL Communication since BlackBerry outsourced manufacturing. Features include a 4.5" touch display, Smart Keyboard with customizable shortcuts, flick typing, and a fingerprint sensor. Operating on Android Nougat 7.1, he'll get full access to Google Play apps and the BlackBerry Hub. And any working dad can appreciate the long battery life (up to 26 hours), Quick Charge 3.0 technology that can boost the battery by 50% in half an hour, and plenty of security features, including a hardened operating system. Bell, Bell MTS, Rogers, SaskTel, and Telus Business, starting at $200 on a two-year term.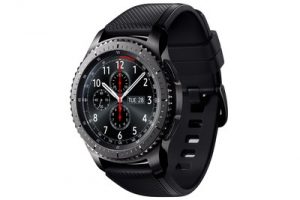 Samsung Gear S3 Frontier Smartwatch
Any dad, no matter his age, will appreciate a watch as a gift. And for the working dad, a smartwatch is a great idea. The Frontier from Samsung is water-resistant, and has a rugged, manly look to it that dad will love. It can connect to a smartphone via Bluetooth, and has built-in GPS, and speakers. If dad likes to get a morning run or workout in, he'll particularly appreciate the 4GB of memory for storing tunes, and pairing directly with a Bluetooth headset – no smartphone needed. Dad can manipulate the screen using the signature rotating bezel found in previous-generation Gear watches. The face itself has a full-colour, always-on display. It can run for up to four days per charge, then recharge in the convenient wireless dock. $469.  WhatsYourTech.ca is giving you a chance to win a Samsung Gear S3 Frontier smartwatch.  Enter our contest.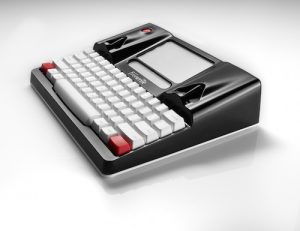 Astrohaus Freewrite Smart Typewriter
Do you feel like dad has everything he could possibly need? Then consider a thoughtful but clever gift like this cute smart typewriter that combines modern day technology with a throwback to simpler times. It has a full-sized mechanical keyboard combined with a small E Ink screen that dad can use to type away his reports or notes in peace, rid of distractions like the constant dinging of app, e-mail, or instant message notifications. The only sound will be that nostalgic clacking of the keys. Store more than a million text-based pages in its memory, and transfer them to a cloud service like DropBox or Google Drive when ready to switch back to a computer. Because of the E-Ink screen, dad can also more comfortably work outside on the deck at the cottage, for example, or in the backyard, without worry about glare from the sun. Conversely, use the front light to work in the dark. $670.
Related: