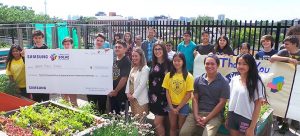 Samsung Canada announced the final four, regional winners in its Solve for Tomorrow Challenge, a science, technology, engineering and math (STEM)-based education initiative that seeks to spark student interest in these subjects.
Burnaby South Secondary School (Burnaby, BC), Ryerson Elementary School (Winnipeg, MB), St. Malachy's Memorial High School (Saint John, NB) and Brock Public School (Toronto, ON) will each receive $20,000 in Samsung technology as a result of their inventive and inspiring solutions to solve a community issue, using STEM.
The four winners will also participate in an exclusive event this summer with Natalie Panek, Solve for Tomorrow Ambassador, Canadian rocket-scientist, Forbes '30 Under 30′ and member of a Canadian contingent working on the European Space Agency's ExoMars rover.
"These student-led projects are a true inspiration," said Natalie Panek, Solve for Tomorrow Ambassador. "To see how committed and creative these students are—taking STEM to that next level—shows that Canada's future in STEM is in strong hands. I can't wait to meet these amazing students and celebrate their innovative Solve for Tomorrow ideas!"
For the second consecutive year, the Samsung Solve for Tomorrow Challenge was supported by The Learning Partnership, a national charitable organization dedicated to advancing public education in Canada, and Let's Talk Science, a charitable youth development organization that creates and delivers free STEM learning program and services that support educators and strengthen student leaning outcomes.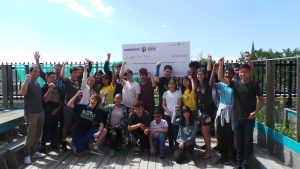 To learn more about the Samsung Solve for Tomorrow Challenge, visit solvefortomorrow.ca, or follow #SamsungSolve in Twitter, Facebook and Instagram.
Happy Canada Day!