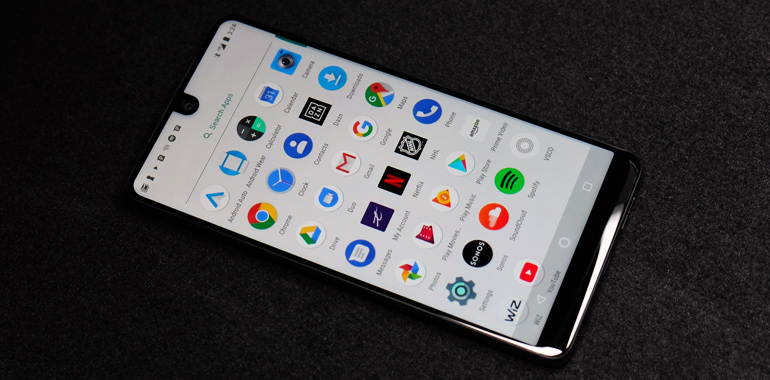 As a newcomer to the constant battle among smartphone manufacturers for relevance, Essential looks to pry away a few hands from others in the flagship price point.
The Essential Phone, which technically goes by PH-1, is the manifestation of Andy Rubin, one of the co-founders of Android who has presided over this since leaving Google. Why make a phone in an otherwise crowded market struggling behind the likes of Apple and Samsung? Coming in with some flair is one way to grab attention.
Design, hardware and software
It is an eye-catching device, no matter how you look at it. A 5.7-inch LCD (2560 x 1312) that almost covers the entire front panel, save for a strip at the bottom and camera enclave at the top. The glass on the front flows seamlessly to the ceramic back with titanium fusing them together. That Essential used titanium and ceramic speaks to how seriously the startup took the phone's design. These are tougher materials, and while there's no rugged quality to its durability, the phone does feel like it can hold its own.
The clean lines that pervade the body are evident in how flush the back is. Apart from the slight indent for the fingerprint sensor, it looks and feels like a smooth surface. Unique to it are two magnetic mounts designed for accessories, like the 360-degree camera attachment the company also produced separately.
Power and volume buttons are on the right side, with speakers at the bottom flanking the USB-C port. There is no headphone jack, which may be upsetting, but an adapter does come in the box to plug in.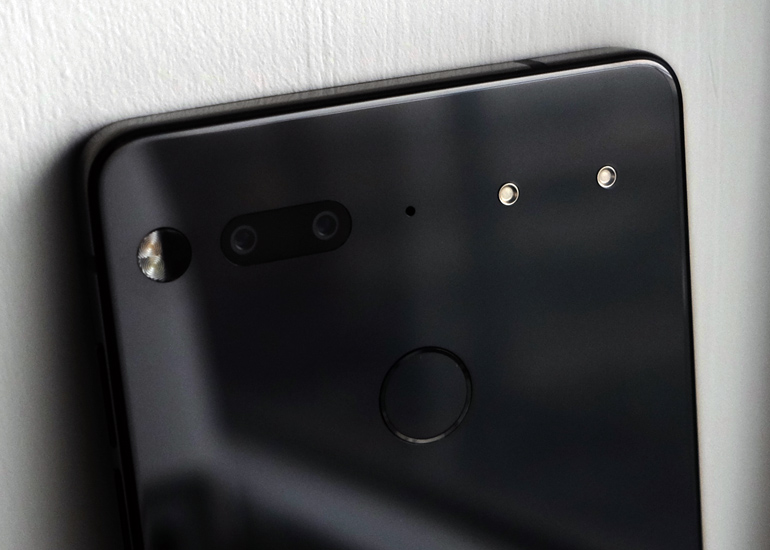 At first, the screen size feels smaller than it is because of the tiny bezels. It's not unlike how TVs had the same optical illusion as they shed their surrounding bezels. What was a 50-inch a decade ago could almost fit into a 60-inch today. The Essential isn't that different. Despite having a screen 0.2-inches larger than the iPhone 8 Plus, it is noticeably smaller. A better size comparison would be with the upcoming iPhone X.
Rubin and his team wisely chose to go with a stock version of Android — basically an untouched version of Android 7.1.1 Nougat that is no different than what the Pixel used. The lack of any bloatware should clear a path for quicker updates to 8.0 Oreo, though carrier partnerships, like the one Essential has with Telus in Canada, tend to delay such things.
Still, the hardware benefits greatly from the lightweight software experience. It runs on a Snapdragon 835 processor and has 4GB of RAM with 128GB of internal storage (there's no memory card slot). The 3,040mAh battery is sizeable enough to squeeze through a full day of usage, and certainly benefits from a leaner Android.
Mind you, the one caveat was that apps don't necessarily translate to the aspect ratio the phone uses, so a black bar lines up with the front-facing camera, showing the time, battery level and notification icons. Some apps will match the colour scheme to blend in more, but outside of that, there's little else going on there. This doesn't happen on the home screen, or when navigating the operating system, so it is a little disjointed, assuming you truly notice all the time.
Performance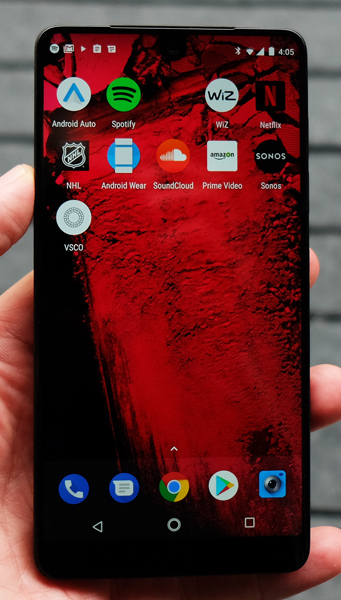 So, what's missing? There is Quick Charging for plugging in, but no wireless charging inside. The phone has no water resistance, so an accidental drop in the drink could be an expensive problem. I've already noted the lack of a headphone jack and memory card slot, though the latter isn't so bad with all that internal storage available.
The screen's maximum brightness isn't especially good in bright sunny conditions. Sweaty palms can also make the device slippery, which can be rectified with a case. Then, there's the camera, which I'll address further down.
Otherwise, this is among the smoothest Android phones I've used to date. It never really slowed down, nor caused a problem when taxed with heavy usage. It was stable and efficient, not to mention consistent. It didn't get too hot, randomly crash or behave strangely in any way. Whether I was streaming media, playing a game, working on email or using it in the car with Android Auto, it functioned beautifully.
Call quality is superb, and the speakers at the bottom aren't as tinny as I expected. Speaker calls wouldn't be a problem with this handset.
The positive effect on battery life didn't go unnoticed, either. With fairly heavy usage, I still had more than 20% left at bedtime. Assuming this holds up well enough over time, Essential could theoretically improve battery life even more through software optimization.
Camera
The simplicity theme applied throughout the Essential Phone extended to the camera, which was a miscalculation. If the premise was to make it as easy as possible to snap photos, the result would have only resonated with an image output to match. Essential got off to a rough start with the camera prior to officially launching the phone, thereby rolling out software updates to stabilize the situation.
The layout and options are basic to a fault. HDR isn't automatic. There is no manual mode to better compose images. Settings are limited to toggling shutter sounds and location on or off. Video shoots in 1080p or 4K at 30fps or 60fps. It's great to have something easy to navigate, except the missing pieces could have really helped the camera compete with others of the same calibre.
The Monochrome mode is an interesting choice to throw in for shooting in black and white (it works with its own 13-megapixel sensor), but it begged the question of why there wasn't more added to improve those shots. Essential was likely betting that users could just find an alternative on Google Play — a mantra that permeates the device. There are no dedicated apps from them because there are plenty already available to download elsewhere.
Granted, part of the reason the second lens was made for monochrome shots was to assist the main lens in capturing more light. It's not unlike what Huawei did with the P10 and P10 Plus. Without optical image stabilization or manual controls, however, low-light shots are challenging at the best of times.
Not only that, but Essential managed to enable good focusing with sharp output in better lighting conditions, yet treated colour saturation too cautiously. Photos with bright coloured subjects don't pop out all that much.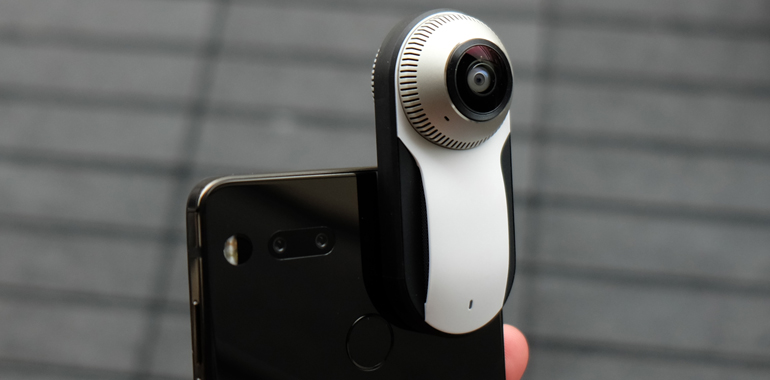 The $270 360-degree camera attachment is interesting, largely because of how it showcases accessorizing the phone. Image quality is decent for something that isn't a standalone product, like a Ricoh Theta or Samsung Gear VR, though there is plenty of room for improvement via software updates.
Conclusion
While Telus is exclusively carrying the Essential, it is actually an open device, otherwise. Telus and Best Buy sell it for $1,050 unlocked and outright. Should a Telus store decline to sell it to you as a customer of another carrier, there are options online.
It's undoubtedly one of the smoothest Android phones currently available, though achieves this partly by refraining from adding anything of its own. Addition by subtraction is really the theme encapsulating this device, which will surely please those looking for it. The 360-degree camera is meant to show off what could be a viable accessory aftermarket for the device, but the jury's out on whether manufacturers will jump on board.
The built-in camera is the one weak link that needs improvement, which is possible through future software updates. Alternatively, third-party apps with more features can always step in to help out.