Today's business world is fast-paced. A lot of people have flexible work hours, or travel often, which means calling them at 10 a.m. on a Tuesday doesn't necessarily mean they'll be in the office. Conversely, these flexible hours have often led to our always-on work lives, whereby businesspersons may find themselves having to tend to clients or colleagues in the middle of dinner, or while away with their families.
Phone calls are still essential, but messaging apps allow business communication to be a bit more palatable in today's changing work environment. Rather than have a five-minute phone call while running errands, you can stop, send a short reply via text, and go on with your day while the work-related issues remain solved or addressed.
So it's no surprise that, according to recent data from Flurry Analytics, messaging apps have demonstrated a massive year-over-year growth of 98%.
What are the best apps to turn to when you want to connect with clients, colleagues, and employees, both inside the office and out? Here are 4 great options to consider.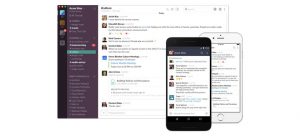 Slack
Your company may already use this messaging app to communicate among teams. If you're a small business or start-up company owner, you might want to consider adding it to the mix. Slack encourages conversation among staff members, whether these conversations are related to business or off topic. Sure, employees could easily chat using another messaging service, CC'd e-mails, or social media. But this app helps keep distractions away, and makes sure that conversations are both monitored and secure. Set up groups for conversation – ideal if there are multiple people working on a particular project. Send private messages to specific individuals, or send messages that everyone in the company can access and weigh in on, perfect for brainstorming ideas with the entire small business or start-up team. The service can also be used to drag and drop files for sharing.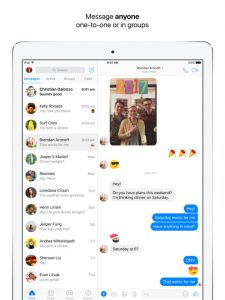 Facebook Messenger
Believe it or not, Facebook Messenger can actually be a valuable tool not only for communicating with friends and families, but also for businesses. Companies like Rogers and TD have already launched customer care services through Messenger, allowing customers to reach out directly in a messaging window on their mobile device or computer when they have a query, and receive a quick answer. Facebook has also integrated its Messenger service with TransferWise, allowing people to send money to one another directly in the social media messaging app. Receive daily updates on the exchange rate daily, so you can make payments between currencies when the rate is most favourable. Facebook Messenger can be accessed through the Facebook app, and works as a standalone app, in and of itself, for iOS, Windows Phone, and Android. It's becoming a true competitor in the world of mobile messaging, and a viable customer service tool for businesses.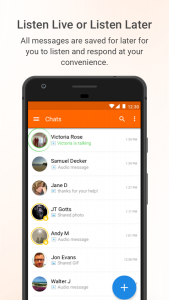 Voxer
For small businesses, Voxer can be a godsend, allowing you to message one another not with text, but via voice. Speak into the phone's receiver, and your message will be sent to the person or persons on the other end, who can play it at their convenience, and respond in kind. Consider it like the modern-day walkie-talkie. It's a great way to communicate among teams who can't be interrupted by phone calls, and don't have the time to tap out lengthy responses. As a plus, the Desktop app lets the boss stay in the loop while he's back at the office. You'll have to pay a small fee of $3.99/mo. to get all of the functionality available in the Pro version, including unlimited message storage and admin-controlled chats.  But it could save your team tons of time in the long run.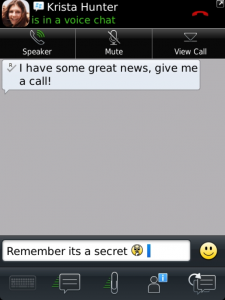 BlackBerry Messenger
If your company still uses BlackBerry devices, then BlackBerry Messenger is an ideal option for messaging. But keep in mind that BBM, as it is known, is now downloadable as an app on other platform devices as well, including Androids and iPhones. If there are some staunch BlackBerry supporters in the company, this service will allow them to communicate offsite with new employees who might be under a bring your own device (BYOD) policy, or simply prefer to use Android or iOS. Once downloaded and an account is set up, you can connect to people by sharing your unique PIN, then send text-based messages to contacts, including photos, and more. Plus, the app enhances the experience further through feeds with information from BBM Channels.