"Back in the day," if we wanted to own or listen to a song, we'd play our favourite radio station in hopes of eventually hearing it, or buy it on a popular media format, be it vinyl, cassette tape, or CD. Today, we consume most of our music online. According to the IFPI, the global recorded music market grew by 5.9% in 2016. And while it can be tempting to access tunes or music video for free, it can also be highly dangerous.
Anyone who participated in the Napster peer-to-peer era knows all too well how the single download of a song file from an unknown source can single-handedly bring an entire computer down. And while the industry has shifted to streaming online via subscription services versus purchasing, some music lovers are still tempted to get, or at least listen to, the latest tracks online without having to tether themselves to a subscription, or listen to ads.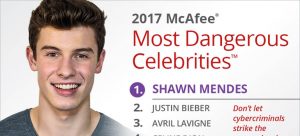 Security company McAfee released its latest results for the Most Dangerous Celebrities to search for online, referencing the riskiest results that pop up in a search for the person's name that could potentially expose fans to malicious Websites. The list has historically included a mix of musicians, actors, and TV hosts. But this year, musicians accounted for the entire top 10, pointing to our growing desire to consume music online, and cybercriminals honing in to take advantage of this fascination.
At the top of the list was Canadian pop singer Shawn Mendes, followed by Justin Bieber, Avril Lavigne, Celine Dion, Carly Rae Jepsen, Drake, and Alessia Cara. Stateside, the list similarly included all musicians, naming ones like Bruno Mars, Zayn Malik, Calvin Harris, Diddy, Katy Perry, and Beyonce as well as some of the most dangerous.
So what can you do to protect yourself? Here are a few tips.
Don't click on a link from an unknown source. While it might be tempting to hear the presumed new track from Taylor Swift's upcoming album, or see a teaser of the leaked music video everyone is talking about, if the artist hasn't officially released it, the source you're accessing has probably acquired the content illegitimately. And there's no telling if cybercriminals are behind it, luring you in to direct you to potentially malicious Websites that can be used to install malware, steal personal information, or passwords. Wait for the official release, or search news sites online to find out if the artist has released the song, or a teaser, through a reputable outlet. Then access that site directly by punching in its URL, versus selecting it from a list of search query results.
Never search for an artist name followed by the words "free mp3." That, says McAfee, returns the highest number of risky Websites. According to McAfee, a search like "Avril Lavigne free mp3," for example, results in a 22% chance of being directed to a malicious link. That means more than two of every 10 results you see could mean trouble. How do you know which ones are legitimate and which are sinister?
Make sure your computer, phone, or other device is protected. It's worthwhile to invest in third-party security protection to help fend off any potential attacks. Options like McAfee WebAdvisor can identify malicious websites and warn you about the risks to hopefully prevent you from clicking. Also, check out this previous article on anti-virus software for your mobile devices for software you can use to protect your smartphone and tablet.
Research to find reputable sites. Do your research to find niche sites that you may never have heard of, but that actually offer legitimate music downloads. Bookmark them, and access them directly versus through a search engine. Some include NoiseTrade, Musopen, and Soundcloud. And while you may only be able to get music from indie artists, might have to partake in promotional activities, or even be asked to donate funds to support the service, it's a much better alternative to risking a costly computer repair bill or worse, dealing with the loss of data or identity theft because you downloaded or viewed content from a malicious site.
Consider investing in a streaming music subscription. Streaming music options are abundant these days, and in Canada include popular ones like Apple Music, Spotify, and TIDAL. For music videos, there's everything from Apple Music to YouTube and Vimeo. While you may have to pay upwards of $10/mo., you'll be able to access just about every track imaginable through a service like Spotify. Sure, you won't get "leaked" and unreleased items. But you'll get high quality music, and isn't that what it's all about? Note that if you simply can't part with the money, most streaming sites offer free access, with the occasional ad playing before you can continue listening. Unlike television, you can't skip by them. That said, if accessing top tunes is a priority for you, it will be worth the minor annoyance. And you can keep yourself entertained until that tune you're waiting for is officially released.
Gary Davis, Chief Consumer Security Evangelist at McAfee, says that consumers often prioritize their convenience over security by engaging in risky behaviour when searching for music online. "It's imperative that they slow down and consider the risks associated with searching for downloadable content," he warns. "Thinking before clicking goes a long way to stay safe online."