If you're getting ready to drop more than a grand on one of the latest iPhones, including the iPhone 8, 8 Plus, or X, or one of the new Google Pixel devices, including the Pixel 2 and Pixel 2 XL, you should also consider grabbing a protective case for the smartphone.
While the latest flagship phones are pretty resilient, able to withstand the occasional accidental drop and fall, sometimes if you're phone falls just right, it can end in cracked screen disaster. But even less dramatic, why leave the beautifully sleek phone design open for scuffs, scratches, and nicks? For under $100, you can get a pretty great case to protect that hefty investment.
With that said, here are some neat case options for the new phones.
Cases for the iPhone 8, 8 Plus, X
Urban Armor Gear (UAG) offers a number of cases for the new iPhones, including the Plyo Series Case, which is ultra-slim, and employs U.S. military-grade protection. Available in ice, ash, and crimson, they have air soft corners for a cushioned impact in the event of an accidental drop, and clear translucent designs so you can show off your iPhone finish and signature Apple logo. US$40
For just US$15, you can pick up the Silk Vault Slim Wallet case, which not only houses your phone, but also other wallet essentials, like ID, credit cards, and cash. Light, durable, and thin, it has high-grip textured sides, and tactile buttons. Plus, the corner air pockets can "act as airbags for your iPhone," says the company. Grab this one in black onyx, crimson red, blue jade, or purple orchid.
A beautiful option for the fashion-conscious is Case-Mate's Karat Petals case, which comes with genuine dried flowers inside, so that no two cases are alike. Get it in pink, purple, or antique white for about US$60.
Cases for the Google Pixel 2, Pixel 2 XL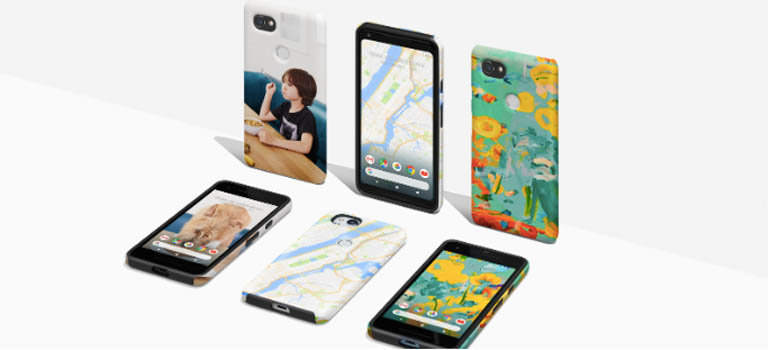 UAG also has case options for the new Google phones, including the Plasma Series cases, which are built to meet or exceed U.S. military drop-testing standards. Yet they are also slim, with an armor shell and impact-resistant soft core. You can still access the touchscreen and all buttons and ports while the phone is safe inside the case, as well as use Android Pay at contactless terminals. Available in ice and ash, it starts at US$40.
For a sophisticated look, consider the Made for Google Bellroy Leather Case for the Pixel 2, which is made from environmentally-certified flex polymer leather, with a microfiber lining. Designed to be ultra-thin, it has cutouts so you can access the camera, fingerprint scanner, power, and volume buttons. It comes in black, navy, caramel, or stone, starting at about US$45.
One of the coolest case options for the Google Pixel 2, however, are the Google Live Cases, which you can personalize by using your own photos or stylized images, including ones from Google Earth. With the Active Edge-compatible designs, you can still squeeze the sides of your Pixel 2 to activate Google Assistant, even with the phone protected inside the case. Designed to be slim, they come with a hard exterior shell and dual-layer design, and run anywhere from US$50 to US$65.