As remote work, road warriors, and flexible schedules become more common, we find ourselves needing to get things done virtually everywhere – at home, in the office, while on vacation, and yes, even in the car.
Naturally, whilst driving, one should be focused solely on the road. That said, there are a number of products that can help ensure you still safely stay connected while in transit.
Many of the newest vehicles include features like built-in Bluetooth and navigation, and can connect to smartphones via Android Auto and/or Apple Carplay, allowing you to do things like listen to incoming messages, and safely send replies by voice. But there's some third-party gear worth considering for older vehicles, as well as for other ways of helping you stay connected.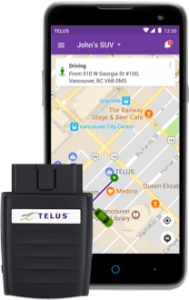 The Telus Drive+ can work with a Telus data plan to turn your vehicle into a Wi-Fi hotspot, able to connect up to five devices. This allows road warriors to get work done from a computer, tablet, or phone in the parking lot after a client meeting, for example, or at a rest stop during a long road trip. But at its core are some great safety features. Compatible with most vehicles built after 1996, it plugs into the car's On-Board Diagnostic (ODB-II) port, then works with the companion iOS or Android app to provide useful driving information and trouble notifications, including driving behaviour and speed alerts. It can also be used to track the car's location.
SureCall makes cellular signal boosters for homes and offices, as well as for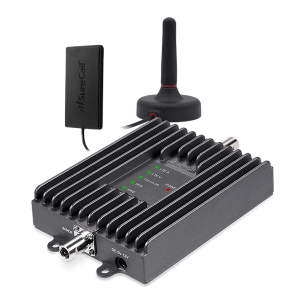 use in cars. The Fusion2Go 2.0 booster, for example, can boost 3G and 4G LTE signals while you're traveling through remote locations, or areas where signal is usually weak or dead. It comes with a 3" high-gain exterior antenna with a strong magnetic base that can withstand harsh Canadian winters, and continually adjusts to maximize performance and connectivity. For on-the-go businesspersons, it can help eliminate annoying dropped or missed calls.
Navigation can be achieved in newer cars through built-in systems, or via apps like Waze with a smartphone and conveniently-placed mount. But there's also a case to be made for dedicated portable navigation units, like the TomTom GO 52. It has Wi-Fi that provides updated maps and software, and can connect to your phone to read text and instant messages aloud,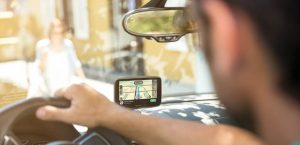 thus conserving your phone's battery. Compatible with Siri and Google, you can also use it to make a call, or look up a calendar appointment while you drive without having to take your hands off the wheel. With a 5" touchscreen, it comes with Lifetime TomTom Traffic and Lifetime Map updates.
For a full upgrade of the entertainment system in an older car, there are options like the Pioneer NEX series single-DIN AVH-3300NEX in-dash multimedia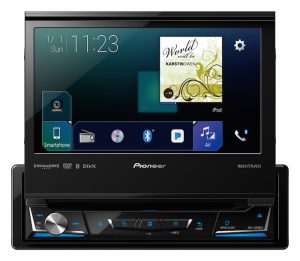 receiver, which supports Apple CarPlay, Android Auto, and Bluetooth. Using it, you can not only play and control music from apps like Spotify on your smartphone, but you can also use the App Radio Mode+++ to access the Waze app for navigation. Additionally, it's compatible with back-up cameras, with dual camera inputs so you can connect a back-up camera system and ensure safety while driving.
Road warriors know how essential it is to keep their devices charged at all times, and Brandmotion has an interesting option in its Freedom Charge line of custom-fit wireless charging kits. Able to work with any Qi wireless charging-enabled smartphone, including the new iPhone 8, 8 Plus, and X, it allows drivers to simply plop their phone atop the surface to give it a recharge, and use the 12V socket of the car to recharge other essential tech items, like a Bluetooth headset or speakerphone, tablet, or camera. Requiring professional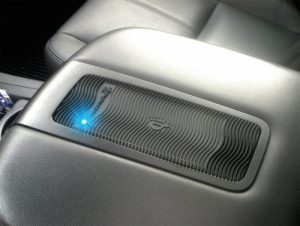 installation, the rubberized, moisture-proof charging pad is hard-wired to the vehicle's electrical system, and pre-configured to fit into a compartment or tray that's within the driver's reach. It currently covers 13 specific vehicle applications, along with a cut-to-fit universal kit that can be placed into the centre console area of most vehicles.
Related: