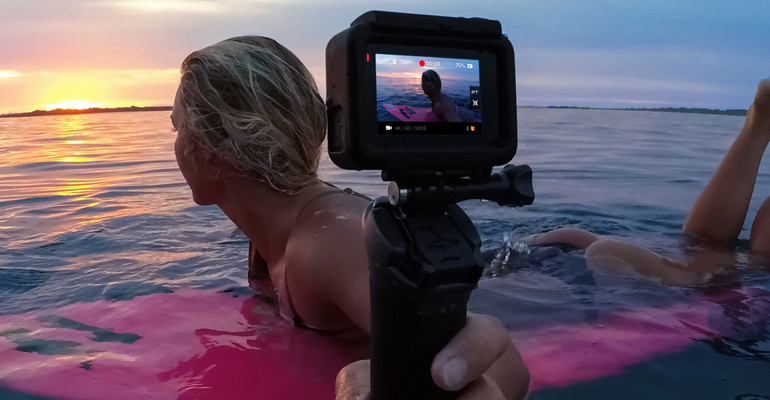 The GoPro has become the go-to of all action cameras, and the HERO6 Black is the latest model. It's packed with features, but here's what you can look out for.
Many of the changes inherent in this version hinges on the GP1 processor inside. Developed specifically for the HERO6, the new chipset puts the GoPro over the hump on 4K recording and adds digital image stabilization for better results.
Experienced GoPro users may not find any surprises in this list, but if you're not so well-versed and want to try out the camera, these tips could come in handy.
Better image quality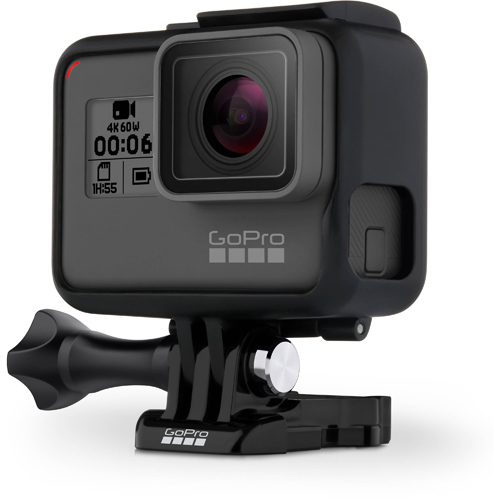 At first glance, it's evident the HERO6 has better image quality than its predecessor. This is the first time the GoPro could shoot in 4K at 60fps, 30fps or 24fps. The camera defaults to a proprietary colour mode raising the saturation and contrast to make images look more lively and dynamic.
This isn't really optical trickery, either. Footage genuinely looks great when viewed on smartphones, tablets and TVs. It also applies to the varying framerates as well, where shooting in 2K (1440p) or 1080p get the same visual treatment. Having three different angles, be it linear, wide-angle and super wide-angle, add the usual GoPro-style effect in capturing the scene.
Unfortunately, the digital image stabilization won't work in 4K or 240fps modes, so keep that in mind if you're shooting fast action or moving objects that aren't on smooth surfaces. .
Using Protune
Keeping with the improved image quality, the saturated look tends to do better in outdoor situations. Indoors is more challenging, leading to potential skews in white balance or contrast.
Enter Protune. This mode isn't new, but it figures a little more prominently with the HERO6. Swipe left from the right edge of the main screen to bring up the menu, which offers manual controls. First, you can fiddle with the ISO, shutter speed, exposure and sharpness to find the right balance.
Second, there's another colour mode. The default GoPro one is juxtaposed by another one called Flat, which doesn't apply anything to the image. Its flatter, unsaturated look is by design, allowing you to adjust it more thoroughly in post-production or editing later.
As good as images look under the GoPro colour mode, shooting in different situations will require some tinkering. Shoot indoors in 24fps, for example, and you may need to adjust the ISO, reduce the sharpness and raise the exposure. Shoot at night, and you may have to use the Auto Low Light mode. Except it can sometimes make footage look noisy. Protune's controls could offer better control.
Faster Wi-Fi and app support
By including a Wireless-AC chip inside, the HERO6 Black can transfer files over 5GHz Wi-Fi connections. That makes a big difference when transferring footage over to a phone or tablet, especially in the field.
Couple that with the GoPro and Quik apps, and you get a timely way to mash up clips for a finished video called QuikStories. The GP1 processor figures into this in how it processes images faster. To move over multiple clips and splice them together takes only minutes to do.
Get an extra battery
The sub-head says it all. All of the extra power under the hood has done a number on the HERO6 Black's battery. Continuous shooting drains it quickly, and capturing footage in 4K only adds to that. Buying a backup can make all the difference in getting every shot on an excursion.
You may need the Karma Grip
If you plan on shooting often and with a greater level of stability and control, you may have to splurge more to get the Karma Grip. The handheld grip adds extra stability to every shot, but stands out most when shooting in 4K at 60fps. The HERO6 can't stabilize footage under those settings on its own. The Grip's integrated battery helps keep the camera going for up to another two hours.
It's pricey at $400 though, putting the two over $1,000 together, so it is a big commitment.
Any way you look at it, the HERO6 is an especially big upgrade from the HERO4, and a noticeable one from the HERO5. GoPro even compares them, which you can check out here.
The camera is already widely available at a variety of retailers, including Amazon.ca, Best Buy, Sport Chek, Canada Computers, Apple Store and various camera stores.