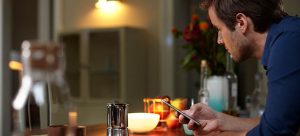 A few years ago, the concept of the smart home typically meant a household where you could access YouTube and Netflix from your smart TV, turn your lights on and off from an app, and view live footage from a connected security camera on your phone or tablet.
Then, companies like Nest came along, and the idea of remotely controlling and automating a thermostat became something that the average consumer could wrap his head around. Soon enough, the smart home began to explode into connected crockpots, refrigerators that speak to you, and washing machines that you can trigger from the office.
Now, thanks to the latest developments in artificial intelligence (AI), and smart robots, the smart home is getting even smarter. It has shifted from being defined by a series of gadgets that can be controlled from a phone, to outfitting your home with items that an intelligent AI can tap into to predict future behaviours, order items online, or even sense your presence. Your smart refrigerator can remind you when you're running low on milk, and Amazon can guess when you're about to run out of laundry detergent and re-order your usual brand for you. Smart robots can follow you around, snapping photos of precious moments, or determine when you typically arrive home from work, then turn the TV on to the news and adjust the lights in anticipation of your arrival.
The NPD Group reported last October that 15% of U.S. Internet households currently own a home automation device, and that figure had risen in a few short months from just 10% in April. The growth in digital voice assistants is helping further fuel the trend. The research firm found in its Digital Voice Assistants: Ownership & Applications Report, that ownership of voice-activated wireless speakers more than tripled in the span of a year. Consider that in Canada, Amazon's Alexa-enabled products, including the Echo and Echo Dot, only became available late in Q4 2017, which means there's even further opportunity for rapid growth north of the border.
This has led to the smart home becoming a common part of home renovations, and home building, so that customer homes are ready and waiting to connect a multitude of devices; or buy ones with some already installed, like a Nest thermostat or carbon monoxide detector, or smart lighting throughout the home. The 2016 Houzz Smart Home Trends Survey found that, in the U.S., almost half (45%) of those who had planned to renovate their homes, or and recently done so, included a system or device of some sort that could be monitored or controlled by a mobile device or computer. Key devices include those that provide security/safety (25%), entertainment (18%), climate control (14%), and lighting (12%).
An area that will see growth as a result of these trends is broadband Internet – the more connected devices that exist in the home, the greater the need for a faster, more reliable, and – most importantly – more secure, wireless network.
Now that these core smart categories, including security, lighting, and even climate control, are fairly well-established, we are seeing new and creative ones emerging to further the smart home's dominance – from robotic lawn mowers and vacuums, to remotely-controllable sprinkler systems, furnace filters that let you know when they need changing, and kitchen appliances, like the Instant Pot, that you can control by voice using Alexa.
Despite rapid growth in a number of categories, the smart home still hasn't quite hit "mainstream" just yet. Consumer awareness is there, but many households are watching from afar, and haven't yet taken the leap. That is poised to change. As more smart thermostats are installed in homes, along with automated lighting, wireless speakers, and smart voice AI speakers, customers will continue to expand the smarts in their homes, and seek out a myriad of products that they can control from their phones and, more commonly going forward, their voice.
Related:
Smart Home and IoT products and services
Smart Home Technology Options for Managing Energy Usage Bring Cost Savings, Market Opportunities