Ritual, a Canadian social food ordering app connecting users to their favourite local restaurants and eateries, has hooked up with a number of partners to offer discounts and deals to its users across North America, and along King St. in Toronto.
It's part of the tech developer's push to gain a bigger share of the multi-billion dollar quick service restaurant segment (QSR). It's a huge market: according to Restaurants Canada Foodservice Facts 2017, the QSR sector generates some $30 billion in annual sales. It's said that in Toronto alone, the annual QSR spend is $1.5 to 2 billion.
The Ritual smartphone food app lets people order food or coffee from participating eateries in their area, using a credit card to pay. The idea is to reduce or eliminate waiting in line while encouraging a shared and social approach to placing the order in the first place: Ritual users pay no extra charges for their food, unlike other food-delivery apps. Instead, the developer takes a percentage from the new, incremental revenue its service drives.
For example, the app offers what it calls the Piggyback service, kind of a peer-to-peer social delivery network inside of a company or office doing the ordering. If one worker is going to pick up a coffee, a co-worker can "piggyback" on that order and bring back two cups – or lunch for the whole team!
The app also rewards users with redeemable points on every single order, triggering special offers and new order opportunities. Merchants participating in the Ritual app platform (partner participation is also free, except for the percentage taken for incremental sales) can do over $100,000 just because of their partnership, Ritual says.
So, not surprising that a recent (March 5 to 16) digital food festival called Ritual Eats Week had thousands of restaurants participating in cities like New York, L.A., San Francisco, Boston and Toronto.
Any customer who ordered with the Ritual app and paid with Apple Pay had access to exclusive daily deals. In T.O., more than 500 QSR-category restaurants and cafes participated from February 26 to March 9 in Toronto.
Those dates coincided nicely with another promotion staged specifically for folks ordering from Toronto's King Street restaurants and food establishments.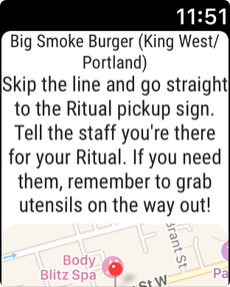 Food is King gave Ritual Android and iOS users a one-time $15 discount if they had not previously ordered from the more than 40 participating restaurants on King Street in Toronto.
The Food is King promotion was put into place to help businesses that claimed they were negatively impacted by the ongoing King Street Pilot project, which covers west of Bathurst Street to Jarvis Street.
The promotion is part of a collaboration between the City of Toronto, the Toronto Association of Business Improvement Areas (TABIA) and the Toronto-headquartered food ordering app developer Ritual.
"Ritual is one of the City's growing success stories, and as a King Street business they are offering an innovative way to support local establishments as we pilot this new street design," said Mayor John Tory when the promotion was announced. "I'm happy to see Toronto technology used to support Toronto businesses, as part of our continued commitment to making sure the King Street Pilot works for everyone."
The project was announced February 20, and it ran until March 4.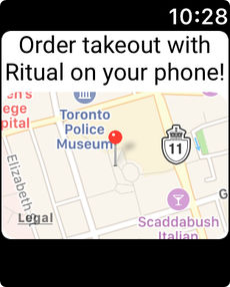 During that period, many users shared snaps of the great food they enjoyed and stories about the discounts they received on the developer's Twitter feed; some users were also thanking the City (and municipal taxpayers) for their discounted meals.
Unfortunately, WhatsYourTech.ca inquiries to both Ritual and the City about the results – and costs – associated with the Food is King promotion were not answered by post time.
In a brief note from the City, it was noted that "the end result was successful in terms of new business generated for restaurants" according to preliminary data. While many positive comments were said to have been received from participating restaurateurs, final data from Ritual were not yet available (as soon as they are published, this story will be updated).
What can be updated is Ritual's on-going success in obtaining funding to help build its business: Ritual raised $53 million CDN in a Series B funding round led by Insight Venture Partners late last year. According to The Wall Street Journal, investors included Greylock Partners, Mantella Venture Partners, Golden Venture Partners, and Mistral Venture Partners, bringing the company's total raised investment to more than $70 million.
Founded by former Google Shopping lead Ray Reddy, along with Robert Kim and Larry Stinson, Ritual's unique platform is built on the Google Cloud Platform, and it uses Google BigQuery to serve up personalized restaurant recommendations down to the menu item-level by combining data from hundreds of millions of in-app events, transaction logs, restaurant capacity and accumulated order behaviour patterns to target hyper-local commerce opportunities at more than 1,600 restaurants in the U.S. and Toronto.
# # #
As mentioned, the Food is King app received support from TABIA, the Toronto Association of Business Improvement Areas. That organization sees digital tools as crucial to the success of its members and the economy as a whole. As such, it has also launched the Digital Main Street Forum, which assists businesses as they embrace digital technologies to grow and thrive.

Digital Main Street is holding an information event on Friday, April 20 at Toronto City Hall.

The program is overall managed by the City of Toronto.
-30-