Major government agencies in Canada are hiring top U.S. tech experts to lead significant open government projects and digital initiatives in this country, and the door's still open.
The first person to take on the role of CEO at Canadian Digital Services (CDS), for example, is Aaron Snow, the former head of a similarly mandated digital services agency in the U.S.
CDS is our federal government's in-house tech team, charged with stick-handling the digital development and delivery of government services to citizens and other government departments; Snow's term there began early last month. Underlying its operations is the core belief that data can be used to better understand Canadian society and more effectively deliver government resources and services across the country.
Among the announced CDS initiatives, a publicly accessible energy guide and ratings system, a new system for Canadian veterans to help them access benefits and services, and the Open by Default project, allowing researchers, businesses or students to connect with government officials and the big data-driven projects they're working on. Launched last year, the Canadian digital services agency has a three-year mandate and a $25.5 million start-up operating fund.
Snow is seen as a significant catch for Canada; graduate training in both law and computer science, as well as a self-stated passion for public service (he's also worked in the private sector, having held a senior executive role at international data services company eBrain), led him to become executive director of the U.S. government agency said to be the inspiration for Canada's CDS.
Snow in fact helped co-found the U.S. group, called 18F (for the address of its offices in Washington, D.C.), and he led private and public sector tech innovators there in efforts to make government services simple and easy to use in the digital age.
The group was, as they say, a disruptor: with an open approach to everything supported by a nimble start-up attitude, its activities were criticized by oversight bodies, and its ultra-fast rate of growth during controversial times in Washington surprised many.
While the agency cites several successes in improving a user's experience with government service delivery, criticism of its management style and operational parameters continued even after Snow announced his departure from the agency.
Snow was not the only one to leave: reports indicate that the new U.S. administration started shrinking the digital services agency almost immediately upon taking office: 18F had a headcount of around 300 staffers when Trump stepped in; it's lost half that number.
Among those who left was another co-founder at 18F, Lena Trudeau: she actually joined CDS even before Snow.
Trudeau, a Canadian with degrees from the Richard Ivey School of Business at the University of Western Ontario and the University of Ottawa, has a comprehensive tech background as well, with stints in both public and private sector (she's worked at Amazon Web Services, and is co-founder and CEO of Nuage Cloud Strategies). Trudeau is a senior advisor at CDS, and she was the one who announced the Snow hiring.
Meanwhile, yet another of the founding members at 18F has come to the Great White (Digital) North!
Hillary Hartley is the Ontario government's Chief Digital Officer. With a similar mandate as that of 18F or CDS, Hartley oversees her team's efforts at Ontario Digital Services (ODS) to streamline the province's online services, making them more effective, efficient and easy to use.
Hartley is also pushing digital transformation across government by attracting and empowering digital talent.
In that sense, she is still working with Aaron Snow!
In some early Tweets about his new job in Canada, as well as expressing his excitement and enthusiasm for the position, Snow made a wide call for folks to come and join him: "We're hiring! DM me if you're interested in spending some time north of the border."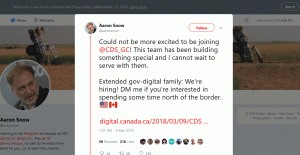 Snow also says he's always "[H]appy to talk to folks about the Xs and Os of applying their software talents in public service", and he will be doing so at next week's True North Conference, a three-day event bringing together technology influencers, innovators and policymakers for crucial conversations about the intersection of humans and technology.
Trudeau, meanwhile, will speak about concepts of open government and digital services on Digital Access Day, another tech sector gathering of policy-makers, academics and those who can speak to the impacts and effects of living on either side of the digital divide. It will be held June 19 in Ottawa.
Snow and Trudeau (how's that for a tag for a Canadian duo), Hartley and many others are responsible for helping our government think digital, and for coming up with ways to improve digital services for us all.
They have said that government won't build such services all on its own, but it will look to work with digital advisors and end users across the country. As one example, a digital youth advisory council has been set-up for those "interested in helping make Canada digital".
Looks like the door to open government is wide open.
-30-