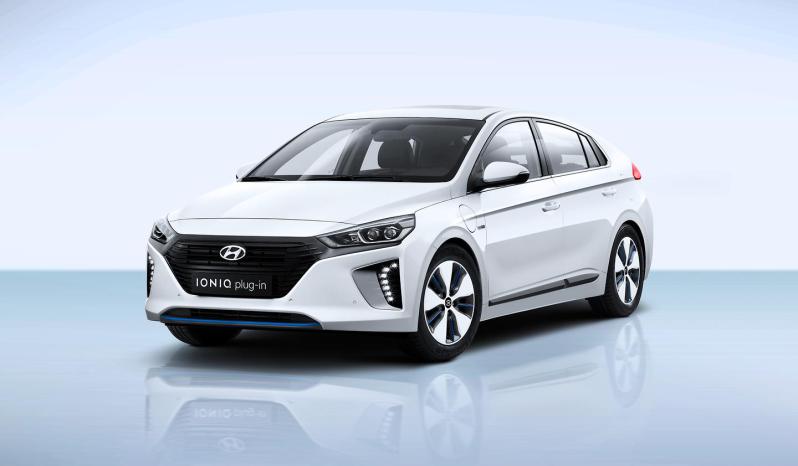 By Gadjo Cardenas Sevilla
The Hyundai Ioniq Plug-In Hybrid Electric Vehicle looks like a cohesive and balanced four-door hatchback that's both practical and incredibly roomy.
There are hints that this is not a regular Hyundai, it is one of three vehicles sharing the Ioniq name, this one can be plugged in to charge its electric motor, but you can also fill it up at your local gas station. Think of it as a best of both world's scenario, an EV that still has a gas engine. The 2018 Ioniq Electric Plus will get you a range of 47 kilometers on battery power and, on ot of that, it promises over 1,000 kilometers on a tank of gas.
Your mileage, will really vary on how fastidious you are at driving this EV. Lead footed drivers will find themselves burning through the battery quite quickly, but if you maintain a good pace during highway driving, this Hyundai is capable of outstanding range and fuel economy.
I didn't test the Ioniq for performance but, when pushing the engine, it does take a bit of time for power to kick in. This sensation is like turbo lag, what is happening is that the gas engine is engaging at a certain point. Suffice to say, the Ioniq PHEV isn't going to excite too many people in a drag race. That's perfectly fine.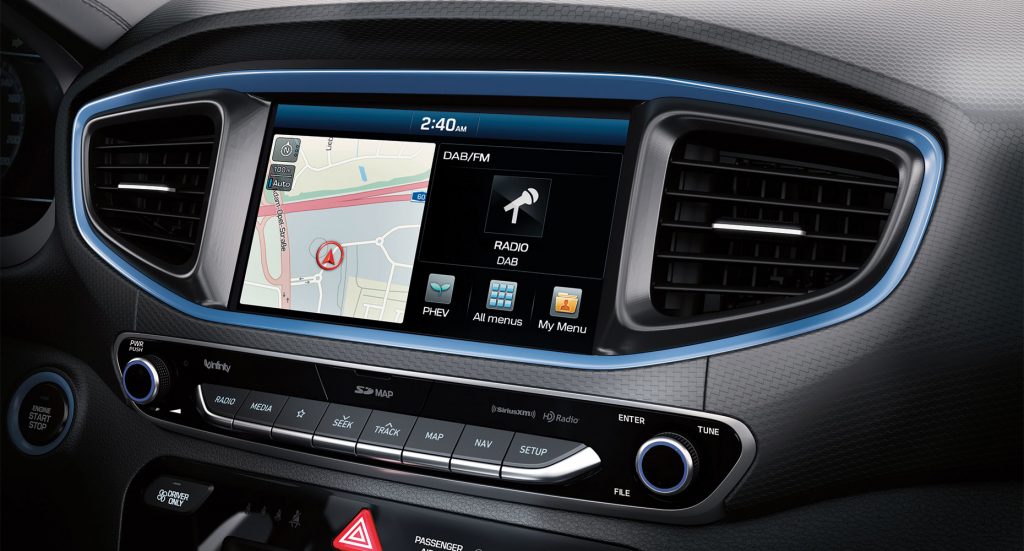 Most of the time, the car is ninja-like silent except for a mild hum that sound more like a Star Wars speeder than a passenger car.
Once on Drive, it requires practice to stay within the ECO level of driving, as being more aggressive with the accelerator pushes you to PWR which sees your battery reserves plummet dramatically. Smart coasting, especially downhill, or braking regeneratively, feeds energy back into the battery.
The interior on my fully-decked out model had tasteful leather seats in rather generic light gray colour with blue piping. The dashboard is well appointed and easy to understand.
I like that the infotainment display was sized just right and not too big. Android Auto synched nicely with my Samsung Galaxy S9. This allowed me to use Waze and Google Maps as well as various podcast and music playback services.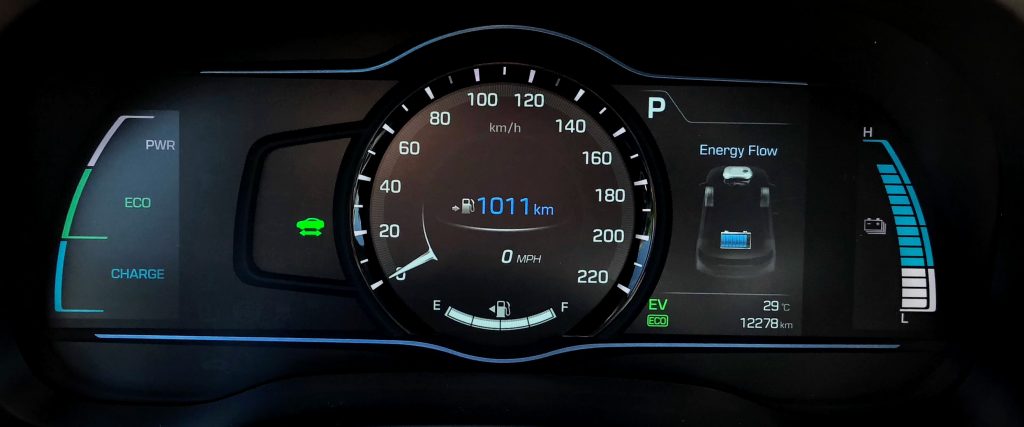 Starting the Ioniq can throw you in for a loop. It is deceptively quiet. There's zero starter or idling sounds, you just need to trust that the car has started because all the lights go on.
Ride and handling are solid. The steering is a bit too feathery to my taste, but nonetheless responsive and very accurate. Visibility in this car is generally good except for the rear-view which has a spoiler covering around 40 per cent of the rear view. Braking is exceptional as are the various lane departure and safety alert systems.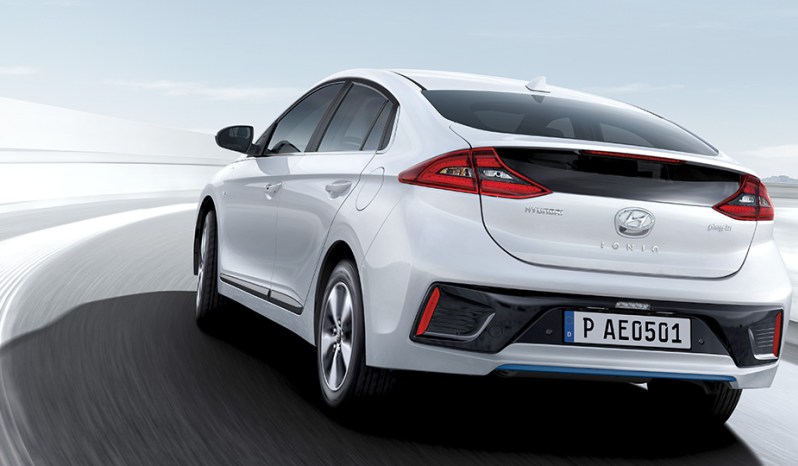 Driving the Hyundai Ioniq  for a week taught me new things. The LED instrument cluster doesn't focus on speed, acceleration, or RPMs. Instead it focuses on range, as well as on driving economically. It really challenges drivers to consider a better and more economical approach to driving.
Each minute decision, whether its braking, coasting or accelerating, has an overall effect on you power storage and your mileage. This car has taught me to change the way I drive to better extend the battery life.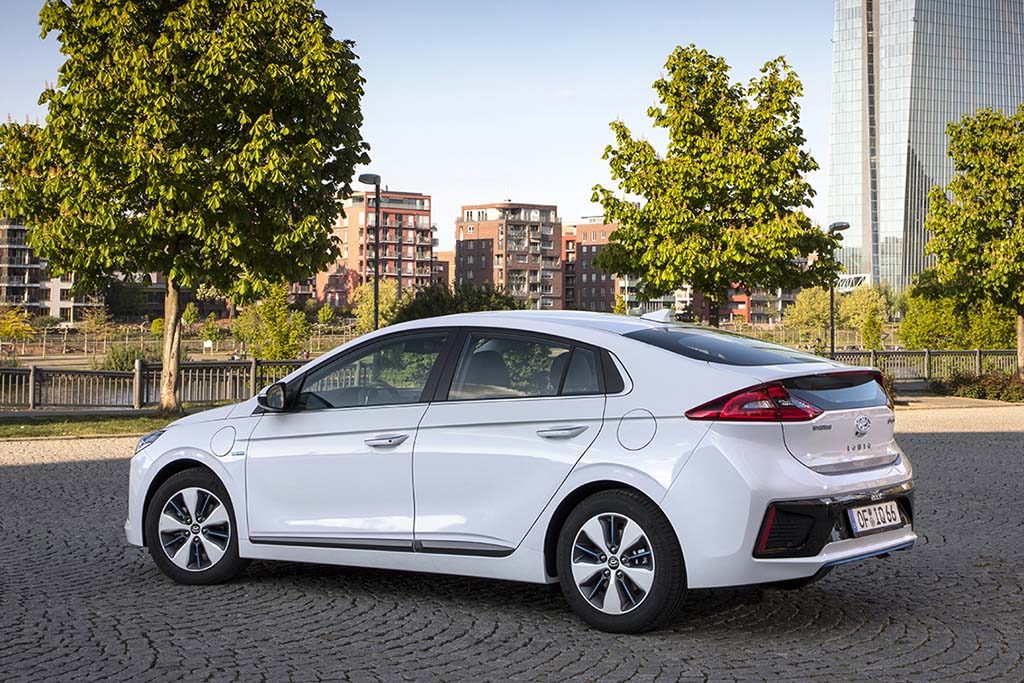 If you, like me, panic when your smartphone's battery is below half, then driving the Hyundai Ioniq, or any similar PHEV, might be a source of anxiety. It shouldn't be.
You still have around a 700 KM range once the battery peters out. But the idea for me was not to use the gas reserves, so I opted to charge the car as often as possible
I'm happy to report that after a week with the Hyundai Ioniq Hybrid as my main ride, I never had to head to a gas station. My trips involved driving to press events, dropping off my son at camp, running errands and scouring Toronto's downtown core for charging stations that weren't broken.
I did have to charge the car's EV battery twice in a public charging station, a total of five hours, yet managed to return the car to Hyundai with a full gas tank (or a 977 km range) as well as the battery on reserve. All-in-all I must have saved the equivalent of $60 on gas which I would have had to fill my regular petrol vehicle.
This would be a family car I would consider as someone who likes the certainty of a gas engine but feels strongly about the benefits of going green through hybrids and EVs.