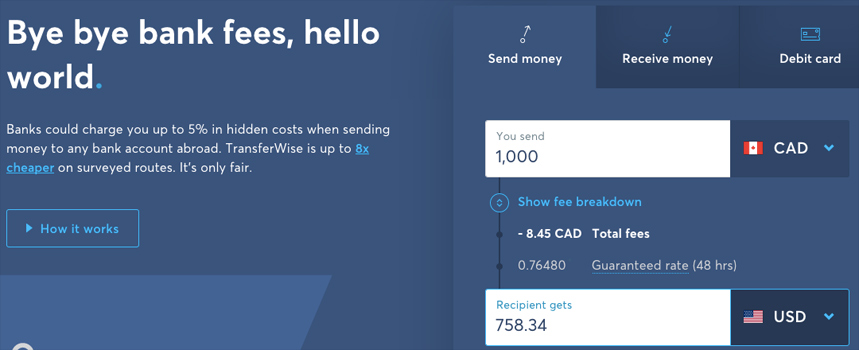 Converting currency usually means losing money in the exchange, but TransferWise is offering tools to keep more of it your pockets.
When it launched in Canada in 2016, the app-based service acted as a go-between to simply convert currency. If you had U.S. dollars you wanted to convert to Canadian funds, you could do so at the mid-market rate, going from an American bank to a Canadian one.
The basics of how that process works were previously covered, so rather than rehash that, I'll focus on the service's usefulness in other aspects. One of them is TransferWise's own deposit option in the form of what it calls a "borderless account," meaning a holding spot for up to 44 currencies.
Beyond borders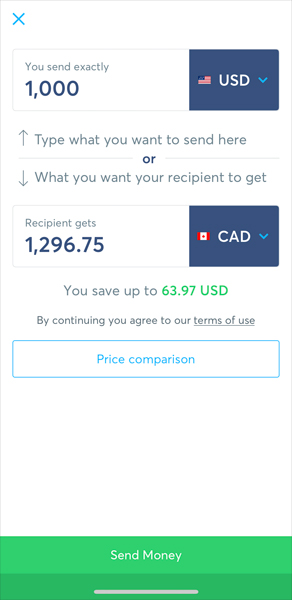 Like its name implies, the borderless account mirrors what it's like to have a local bank account in each country's currency. That includes account and routing numbers to accept direct deposits and wire transfers for the United States, Britain, Australia and European Union. While Canadian dollars could be held in a borderless account, they would have to be transferred over first. Regulations don't allow TransferWise to provide account and routing information for the loonie.
The fintech company says that will change soon, but hasn't confirmed when. As it stands, it means that Canadian freelancers who get paid in U.S. dollars, pound sterling or Euros can receive them without paying higher fees.
As an example, a wire transfer to a U.S. dollar account at a Canadian bank typically costs about $15 per transaction. That adds up if there are multiple transactions coming in over time. Payment via online services, like PayPal, also incur fees to the tune of 2.9 per cent and an additional $0.30 per transaction.
That's just for receiving the money. Convert it to Canadian dollars, and banks will usually charge a markup on the mid-market rate. Indeed, banks across the world make billions of dollars every year by essentially hiding their fee within that extra margin.
The borderless account can handle both of these scenarios at a lesser expense. For instance, if you were to transfer $1,000 USD to Canadian funds, you would save over $60 USD in the transaction based on TransferWise's much lower fee at the mid-market rate. Done the other way, you stretch out the loonie's true value to get a little more.
The process is also considerably faster. The currency exchange is instant, and transfers to banks are pretty quick, too. Under the antiquated SWIFT system, a wire transfer can take two days to clear and appear. TransferWise is breakneck by comparison.
It gets even better if you're paid by direct deposit from any of those three jurisdictions. For example, if you get paid bi-weekly or monthly through a direct deposit, the money is there immediately. Since it's like any bank account, there are no real obstacles to facilitating the payments, like there would be through the wire.
The PayPal conundrum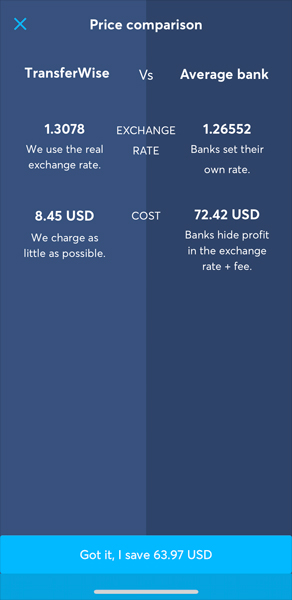 PayPal is among the most popular services for online payments, either to merchants or other people. Sending money to friends usually doesn't come with any fees, but commerce always does. And while it's possible to hold multiple currencies, converting them comes with expensive rates that are often no better than banks.
Exacerbating this further was PayPal's decision to cancel its Mastercard Debit in April. This card had the advantage of acting like a credit card at point-of-sale, and a debit card at an ATM. If you had a U.S. dollar balance and were doing business or shopping south of the border, the card effectively negated the need to convert any currency during your time there.
The card's cancellation, including for Canadians grandfathered into the program, meant that foreign currencies were held hostage in practical terms. While they could be transferred and converted to Canadian banks, the exchange rate would mean losing money. Sending it to a U.S. dollar account at a Canadian bank wasn't allowed. Tying a PayPal account to a U.S. dollar credit card issued by a Canadian bank only meant the card was a backup, not an avenue to load the funds.
TransferWise's borderless account offered a shortcut. You can link a PayPal account to a U.S. dollar borderless account and then transfer the funds for nothing. The company itself doesn't offer step-by-step instructions on how to do it, but other resources online can guide you. It's a simple and painless process that I completed myself. As no conversion is taking place, no fees are charged on either end. TransferWise would only make a buck once you converted it to something else.
However, there is a caveat, particularly with the next step of getting greenbacks over to a U.S. dollar account at a Canadian bank. Technically, it's possible. TransferWise allows it, but can only do it through the SWIFT system, which means you pay a fee to TransferWise plus the wire transfer fee your bank charges. It's not the most ideal situation, but it's one of the only ways to move dollars over without having to convert them.
Waiting for a new card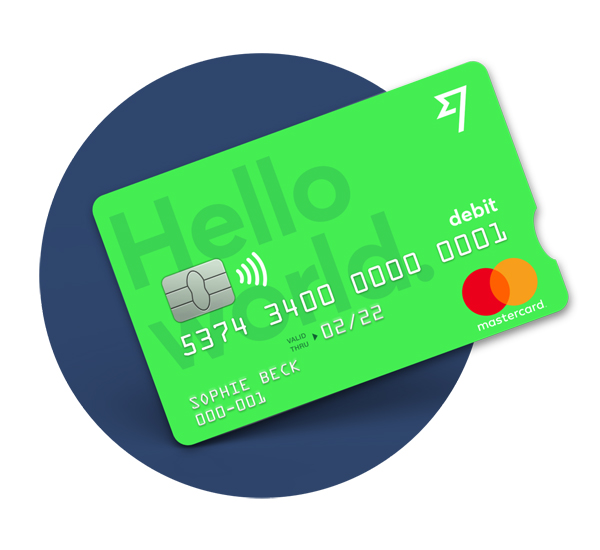 TransferWise has already issued its own debit Mastercard in the U.K. and Europe. The U.S. looks to be added next, with the potential for Canada to join the party in 2019.
The card's advantage would mirror that of PayPal's card, only it would work with any currency you're holding. If you travel to Europe, and you converted Canadian dollars to Euros prior to the trip, you can pay for things using that currency, thereby avoiding a second currency exchange.
It would also work in Canada with Canadian dollars, though without any real advantage over debit cards. Actually, one advantage might be a case where your chequing account has a limited number of transactions. TransferWise's card could work as an alternative. There would still be limits as to how much you could spend at point-of-sale or withdraw from an ATM, however.
There's no annual fee for the card, though it appears there are some limits. The British card, for instance, limits cash withdrawals to £200 per month, with a 2 per cent fee after that. That's not all that convenient.
Either way, the card would invariably replace a foreign currency credit card — albeit with the downside that TransferWise doesn't participate in any rewards programs. If you like collecting points for travel, their card doesn't do any of that.
Travel money
One of the primary reasons anyone looks to convert currency is for travel, which was one of the use cases that sparked TransferWise's existence. How do you get the most for your money in exchange?
On the one hand, the service makes it easy. Convert whatever amount into the currency you want, and then send it to a friend or relative's bank account in the other country. They can then withdraw it for you, or you can pull from it once you get there.
It's great in how it works, but it's entirely reliant on having someone at the other end. If you're travelling solo, or to a place where no one knows your name, it's a solution that doesn't really work out. Hence, the importance of the debit Mastercard.
It is technically possible to get the U.K. or European cards if you know someone in either place that the card can go to, except that you may not be able to get another one in your home country afterward.
Competitors
One of the closest competitors out there is Revolut. At the time of this report, the Europe-based service is only available to "early access" users. Sign up with your email and you may have to wait up to 10 days to gain access via the iOS or Android app.
It's been up and running in other parts of the world for some time now. The service even offers subscription plans for special offers that go as far as overseas medical insurance, cryptocurrency access and virtual cards for short-term online payments. Overall, it covers a wider range of payment features and extras than TransferWise does, though you do have to pay monthly for them.
Regulations
TransferWise falls under regulatory oversight in Canada, as quoted on the website:
TransferWise Canada Inc. is regulated in Canada by the Authorité des Marchés Financiers (AMF) with license number 902804, and is licensed as a Money Service Business (MSB). We are also registered with the Financial Transactions and Reports Analysis Centre of Canada (FINTRAC) with registration number M15193392
Bear in mind that, at this time, that doesn't include deposit insurance, so holding Canadian funds in a borderless account is potentially risky if TransferWise goes under. It doesn't appear that will be the case, but needless to say, the account isn't designed to be a vehicle for savings and interest accruement.