Lacking affordable and sustainable Internet access, some Indigenous communities and First Nations leaders are taking the D.I.Y. approach to technology and connectivity.
Doing it for yourself in this case means setting up Internet and mobile phone access in remote rural and northern communities.
It's been more than two years since the Canadian Radio-television and Telecommunications Commission (CRTC) said that broadband Internet access and mobile wireless services are a basic right for Canadians; it even specified the speeds required, setting a target of at least 50 Mbps for downloads and 10 Mbps for uploads that should be available to all of us.
But many Indigenous communities in this country still lack even the most basic of services; some have no service at all.
Tackling the digital divide is not just about getting access to Facebook or Netflix; connecting under-served communities is a way to empower the people who live there, and a way to get access to good medical services, basic education and skills training, and a wider pool of job opportunities.
Expanding one's social network is also a way to tackle issues surrounding mental health, teenage suicide, and cultural inclusivity.
The lack of high-speed internet in Canada's Arctic communities is often cited as one of the biggest hurdles to economic and business development in the region.
Many regions of Canada's Far North rely on satellite signals that can be blocked by heavy rain or snow, meaning connections can be knocked out for long periods.
That's why finding and acting upon solutions to get affordable, high-quality, and sustainable Internet access in Canada's rural and remote northern communities is a goal of attendees at the 2018 Indigenous Connectivity Summit, to be held next week in Inuvik, NT.
In fact, the event will highlight unique success stories about Internet and mobile phone networks that are built, managed, and used by the local communities themselves.
Attendees may learn about Bruce Buffalo (if they haven't already), and how he used his home Internet connection as a gateway for his community, patching in some repeaters, switches, and access points to create Maskwacis, a public and free high-speed network that has grown to a multi-point Wi-Fi-enabled platform in just a couple of years.
They might hear about Ochiichagwe'Babigo'Ining, an Internet Service Provider created by some entrepreneurial young people in the community.
These stories and more are also conveyed in a new book called Stories from the First Mile, a collection of reports about digital innovation in remote and rural Indigenous communities across Canada.
The beautifully illustrated and very informative book comes out of a First Nations Innovation (FNI) research project at the University of New Brunswick, initiatives of a group called the First Mile Connectivity Consortium, and more than ten years of research into innovative digital technology developments and applications conducted by Indigenous organizations across Canada. The Social Sciences and Humanities Research Canada (SSHRC) funded FNI, and the book highlights the depth of the research and production work it accomplished.
Reps from First Mile will, of course, be in attendance at the Indigenous Connectivity Summit. It is one of the presenting partners at the Summit, along with the University of Alberta, the Town of Inuvik, and the Inuvialuit Regional Corporation, as well as The Internet Society (ISOC).
The Internet Society actively supports Internet connectivity on a global basis, and it understands that Internet access is a critical step on the path towards reconciliation with Indigenous populations in Canada. It works with people in rural and remote communities to help them acquire the skills to build their own community networks and connectivity solutions.
"Ensuring First Nations, Inuit and Métis can access high quality, sustainable Internet empowers Indigenous communities to have a say when it comes to decisions and policies that shape their future," said Mark Buell, North America Regional Bureau Director for the Society.
More than 140 Indigenous sys ops, ISP reps, policy-makers, and community leaders are expected to participate in a series of panels, presentations, and workshops during the Summit.
They will make personal connections with folks from other participants and sponsors including CIRA, the Canadian Internet Registration Authority; ICANN, the Internet Corporation for Assigned Names and Numbers; as well as public and private telecom providers such as CANARIE, Cybera, Telesat, and Iristel.
"We want to take advantage of new technologies and high-speed Internet bandwidth," said Duane Ningaqsiq Smith, the CEO of Inuvialuit Regional Corporation, in advance of the Summit, "not only for the preservation of our cultural identity and values but to enable Inuvialuit and other Indigenous communities to become equal and meaningful participants in the Northern and national economy and society."
As innovative and ingenious as the Indigenous first milers have been, luckily there are also financial supports and other resources available from different levels of government to build out affordable and sustainable Internet access.
The CRTC has announced details of a $750 million, five-year project to improve broadband Internet access services in underserved areas. The new CRTC Broadband Infrastructure Fund puts in place a comparative selection process and community consultation requirements to assess and initiate new fixed and mobile connectivity projects. The CRTC will begin the competitive process to evaluate and select projects in 2019.
The Broadband Project is one of several such initiatives (and funding opportunities) put forth in recent years. As was reported back in 2014, much-needed boosts to connectivity for remote areas were contained in a budget commitment of the federal government: $305 million over five years at that time.
As much as bringing Internet connectivity could do for isolated communities in Canada, there are always other issues they face:
Canada has more than 200 Indigenous communities not connected to an electricity grid (they rely on diesel to keep the power on). But under terms of an agreement between Ontario First Nations, the federal government, and the province, 16 northern communities expect to be connected to the power grid as part of a $1.6-billion project expected to complete by 2023.
That will help increase Internet access, for sure.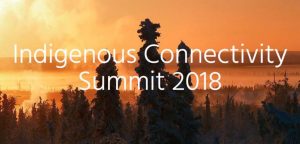 -30-