On International Day of the Girl a couple of weeks ago  I read about a first-of-its-kind illustrated book for kids about engineering. The book, titled Ara the Star Engineer, follows a 6-year old girl, Ara, on a quest to build an algorithm to solve a big problem. During her adventure, she's helped by a diverse set of real-life women engineering leaders at Google.
I thought this sounded terrific so I reached out to Komal Singh, the book's author and Program Manager within Engineering at Google Canada in Waterloo, to learn more about Ms. Singh and her inspiring children's book.
Q1:  Tell me a bit about yourself.
Komal Singh: "I currently work on [the] Ads Infrastructure team [at Google], that builds and maintains one of the biggest distributed systems," responded Singh. "Prior to Google, I worked as a software engineer and technology manager at consulting firms for a decade, working with clients in many industry sectors. I grew up in India and did my bachelors in computer science from Delhi University, and moved to Canada to complete my Masters' in Comp Sci from Simon Fraser University."
Q2: What is it like working at Google, and particularly working at Google as a woman?
Singh: "Simply and humbly put, it's mind-blowing," shared Singh. "It's amazing to be surrounded by some of the smartest and most compassionate people. It is really mesmerizing to work with technology and products that are used by billions of people globally, and things have such a large-scale impact."
"I've never felt more comfortable as a woman in tech, even though majority of people are men here."
Singh added, "This combined with our Googley culture that really enables you to think outside the box, and also excel at your passion projects (such as my book project) is cherry on the cake!"
Q3: What inspired your children's book?
Singh: "I decided to write this book when I was taken aback by my four-year-old daughter's assumption that 'engineers are boys'," shared Singh. "That, coupled with three other forces, inspired me to write the book:
Empowerment: I discovered that girls start doubting their STEM intelligence as early as age 6 and there is a lack of STEM educational materials that feature women in this profession.
Inclusion: I also discovered that there are only about 5% of books feature people of colour.
Inspiration: Finally, few efforts exist to inspire kids under 8 yrs, and books are a universal medium to reach this age group."
"I soon realized there exists an untapped opportunity to empower and inspire young kids to learn about and explore STEM."
Singh went on to point out, "We have some amazing role models at Google that I wanted to incorporate into the story to show representation to kids. They come from diverse cultural backgrounds, have different tech specialties and personal interests, and represent a spectrum of age brackets. They are: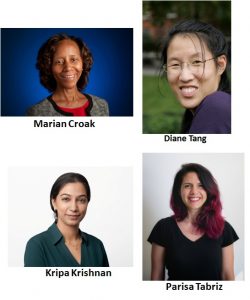 "I pretty much emailed them with a 'book proposal and vision', and … luckily they all loved the idea and were onboard from the get-go!"
Q4: What do you think inspires girls to consider study and professions in STEM?
Singh: "The book is designed to introduce kids to computing concepts in a whimsical manner," responded Singh. "At the same time, [the book offers] real-life role models of diverse backgrounds, so kids can easily see representation. This hasn't been done before!"
"Plus through the narrative kids see how one goes about solving real problems, how to use computational thinking concepts such as break big problems into smaller ones."
"The experience," Singh explained "is designed in a multi-layered manner: the semi-tech story narrative, the attached notebook with some more tech details, and downloadable activity sheets with more tech exercises. This hasn't been done before!"
"Also, we have an immersive Virtual Reality experience via Google Expeditions so kids can 'feel' in 3D how huge a Data Center is or how vast the sky is. This is the first published kids book to be accompanied by this immersive experience!"
Ara the Star Engineer, which is available in hardback in stores and online at Amazon.ca in book or e-book format, aims to inspire kids, especially girls and minorities of colour, to explore STEM. All profits from book sales will be donated to charities encouraging girls and underrepresented groups to participate in STEM fields.
Related:  STEM