Dell Technologies, which aims to provide greater access to technology for people around the world, recently launched a new study that dives into the attitudes and expectations of Generation Z joining the workforce.
Gen Z is the first generation to have grown up with technology deeply ingrained in every aspect of their lives. It is not surprising, for example, that 91% of #GenZ say a company's technology would be a factor in choosing among similar job offers, but what else motivates and concerns Gen Z, I wondered.
I asked Kevin Connolly, President of Commercial Sales at Dell EMC Canada, about the research findings and how it relates to tech employment interests and AI, in particular.
"Dell Technologies commissioned a study, Gen Z: The Future Has Arrived, to help better understand Gen Z – the first digital-native generation – and how its tech-first mentality will impact the workplace and how humans and machines work together," began Connolly. "It [also shines] a light on Gen Z's perspectives on their future careers, as well as how they see themselves working and interacting with technology," Connolly added.
So, will Gen Zers lean in to AI? Will robotics be the way forward? What careers inspire post-millennials?
Connelly remarked, "The research found that Gen Z is entering the workforce with a deep understanding of technology and its potential to transform how we work and live. We found that 70% of respondents want to work with cutting edge technology in their future careers and almost one third are interested in IT careers, including cybersecurity."
"In terms of AI and robotics, an overwhelming 76% recognize that we are entering the age of human-machine partnerships and 47% of those surveyed believe that humans and machines will work as integrated teams," shared Connolly. "With that being said, companies should take a tech-first approach to appeal to Gen Z – from the hiring process, to onboarding, to the daily work experience. Advanced technology, especially AI, machine learning and immersive tools, should be integrated into the learning process early on."
What else did the study reveal?
"From a Canadian perspective, while Gen Zers have interacted with electronic devices practically since birth and have grown up with social media, the study revealed that Gen Zers worry they lack the needed soft skills and crave more human interaction in the workplace," Connolly added. "Interestingly, the survey found that only 45% are confident they have the tech skills employers want but not necessarily the non-tech skills, and 44% indicated that in-person communication is their preferred method for communicating with coworkers."
I also asked Connelly about the role of mentorship with Gen Z.
"Based on the questions we asked," replied Connolly, "we found that with five generations now in the workplace, IT leaders should consider tech mentorship programs to address generational variances in IT competencies throughout their organization. Internships, apprenticeships, rotation programs and ongoing development opportunities will enable Gen Zers to gain experience, build confidence and learn leadership skills."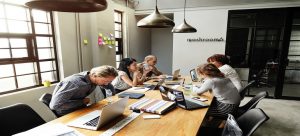 "With Gen Z potentially accounting for 20% of the workforce by 2020, the digital divide already separating five generations in the workplace will only deepen. It's up to business leaders to set up all workers for success. Organizations that bridge the divide across the generations will reap the benefits of a diverse and future-ready workforce empowered to drive digital transformation."
Related:
Tech Brings Transparency and Automation to Managing References