January is an exciting time of the year for a few reasons; one it's the start of a new year and second is the Consumer Electronic Show (CES). This was my first time attending CES, and I was impressed by it. It truly is one of the biggest trade shows out there.
In fact, you don't really get a sense of how big CES is until you actually go to the show in-person. Each of the halls of the Las Vegas Convention Center was filled with hundreds of companies, like Samsung, LG, Intel as well as medium and small businesses, too, and with everything from drones and TVs to robots that make bread. As you roam the show, there were thousands of people who are right there with you in awe of all the exciting products. It's a place where it's wall-to-wall technology. While it's virtually impossible to see everything at the show, there were a few items that stood out. These products are ones that will pave the way for future innovations and are the start of something new.
Virtual reality usually gets all the attention, augmented reality and mixed reality were the real stars of the show. A Chinese company by the name of Nreal (founded by former Magic Leap engineers) revealed their mixed reality glasses called Nreal Light.
The Nreal Light is powered by the Qualcomm Snapdragon 845 processor, weighs just 85g and offers a 52-degree viewing angle and 6DoF (Degrees of Freedom) tracking. Think of the Nreal Light as a much lighter version of the Magic Leap. The Nreal Light is set to be released later this year for around $1000 USD.
Waterloo-based North was also at CES, to show off their latest product Focals. They may look like regular glasses but they're so much more than that. You can get quick access to the information you need and connect with the people you care about.
Information is projected onto the glasses including things like directions, messages and more. There's even Amazon Alexa built-in, so you can control them using your voice. Focals are available now for $999 USD but you'll need to go to one of North's showrooms (in Toronto or Brooklyn) to be able to purchase them because they're custom fit to you.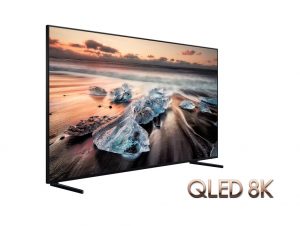 8K was the big thing for TV manufacturers with Samsung, LG and TCL, for example, announcing 8K TVs. While we're still a long way before there's an abundance of 8K content, companies like Samsung are finding ways to supplement that. Samsung's QLED 8K TV uses the company's Quantum Processor 8K chip which will help delivery stunning picture quality using AI. The chip will be able to dynamically upscale 1080p and 4K content into 8K resolution. The QLED 8K TV will be available in multiple screen sizes from 65-inches all the way up to 98-inches. LG not only announced an 8K TV set, but they also announced their Signature OLED TV R, the world's first rollable TV. It has a 65-inch 4K HDR screen that can be hidden at the press of a button.The base of the Signature OLED TV R has a 100W Dolby Atmos speaker and uses the company's Alpha 9 Gen 2 intelligent processor which will use AI to offer better picture and sound quality.
In terms of voice assistants, there was no shortage of devices with the Google Assistant.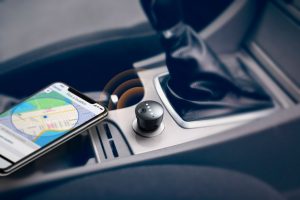 The Roav Bolt plugs into your car's cigarette lighter and can connect to your car via Bluetooth or AUX. Essentially the Roav Bolt adds the Google Assistant to your car, so you can ask for directions, reminders, hands-free calling and messaging.
Lenovo announced its Smart Clock with the Google Assistant. It has a 4-inch touchscreen with a 1.5-inch 3W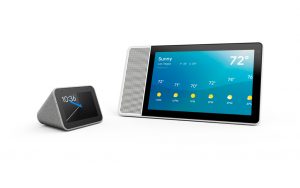 speaker and 2 passive radiators. Since the Lenovo Smart Clock comes with the Google Assistant built-in, you can use Google to control your smart home, ask for the weather and more.
These are just a few of the products announced at CES 2019 and it'll be exciting to see what comes next.
Related:
CES 2019: The hottest tech trends from the show
CES 2019 Keynotes and Panels Featured More Women Than Ever