With their energetic announcements about the use and popularity of their music sync and listening app, Montreal-based mobile application developers are clearly amp'ed about AmpMe.
Citing over 20 million users worldwide and claiming title to the record of most devices synced ever at a live event, AmpMe is a leader in the mobile music sync and listening app category.
And late last year, the company introduced its desktop app so PC users as well as mobile device owners can join the party.
That's what AmpMe calls any number of users (two to 22,000 – more on that record-setting number later) who are listening to the same music at the same time, no matter where they are.
Once you download the app, AmpMe lets you play music or watch video in perfect sync across multiple devices as if they were playing on one giant system, creating a party out of synced listeners. The app lets you crank up the volume, even if you do not have a big stereo or set of Bluetooth speakers nearby, by connecting multiple devices wirelessly with its proprietary technology.
The app also has a set of tools for social sharing and connecting with friends old and new; it has links to popular media streaming services including Spotify, SoundCloud and YouTube; and it can be used to sync and share tunes from a personal digital music library.
"For the first time, AmpMe users can crank up the party on their own with just the devices they use during the normal course of a day; no longer does AmpMe require multiple people to make the party louder," said AmpMe CEO Martin-Luc Archambault when releasing the new desktop app (available for both Windows and MacOS, it works with any iOS or Android device).
The AmpMe patent-pending AutoSync algorithm and its proprietary "server-centric proprietary audio matching technology" syncs devices together using inaudible ultrasonic sounds or triggers, the developer describes, with millisecond accuracy.
The software can send and receive such signals, and so it can actually measure distances between two nearby devices to detect latency issues and get the best sync between them. Sharing songs more widely means sync signals are transmitted to devices over the connecting network.
(AmpMe's ultrasonic sounds measure and eliminate latency between devices, but there are several other products that use inaudible sounds to do other things – or not. Amazon reportedly used such signals to control its voice-operated Alexa device during the recent Super Bowl TV broadcast. Its own commercial used the Alexa word so often that the company had to remotely turn off the devices for the sake of those 30 second adverts. And as you might imagine, ultrasonic messages and inaudible cues can be used to control – or hack – all sorts of technologies from voice-activated digital assistants to smartphones and more.)
AmpMe taps into a database of smartphone, tablet and Bluetooth speaker characteristics that helps it identify each device's unique latency specs. Then, using some old fashioned machine learning techniques, the software learns how to predict and compensate for latencies caused by cellular or Wi-Fi coverage speeds and other audio playback issues encountered with new devices.
AmpMe can use the device's location to detect other nearby devices if those devices are connected to the same Wi-Fi Network or if the devices' own Internet connections are to be used: AmpMe may consume cellular data if all the devices are not connected to the same Wi-Fi network.
Connection detection makes syncing music easier among a small group of people, but streaming a song for a stadium full can also be accommodated.
It was during the 375th anniversary celebrations in Montreal last year that AmpMe users set the world record for most phones synced: some 22,000!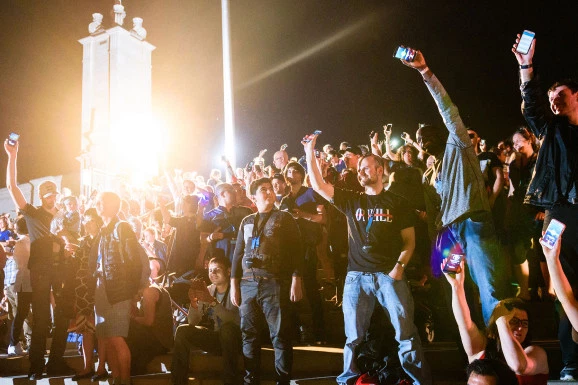 The celebratory announcement did not specify the number of participants who downloaded the core AmpMe app, as opposed to opting for added features available with a subscription (available in weekly, monthly or annual terms).
While the basic app is free, to enjoy the full AmpMe service, paid subscription-based access to added services (such as hosting a video party, connecting unlimited friends, getting to other paid services through iOS App or Google Play stores) is recommended.
By signing in with Facebook or Google, AmpMe users can connect with friends, follow their profiles and get notified when they start a party. Users can set up an AmpMe account to build even more contacts with potential party-goers, and the app's built-in chat feature connects with the host of the party to give song suggestions.
With all that syncing and sharing and connecting going on, app users are recommended to read the privacy policy, too.
Depending whether AmpMe's free service or a paid subscription is used, policy criteria will differ. If an account is created, certain personal information is collected, which can be user-controlled. Logging in though an existing account at Facebook or a subscription to Spotify, for example, means AmpMe will collect information associated with that account as well.
Targeted ads or in-app purchase opportunities may be served up through Facebook using a unique identifier provided by AmpMe to third parties for that purpose.
Using the chat function in the app makes more information available to AmpMe (or other app users) and as is often the case the data collected by this Canadian company is stored in Google and AWS data servers in the U. S.
So while 20 million users ain't bad, and if the power goes out at your next soiree, having half a dozen fully-charged smartphones and the AmpMe app could be a real party-saver, I'm more worried about all those data collection points (account/s info, Wi-Fi and cellular transmissions, in-app chat logs, location/GPS, inaudible tones and open microphones, third-party providers, etc.) than I am leading an impromptu sing-along by candlelight.
-30-