March Breaks usually means vacation time as parents book the week off to spend with their kids. And that sometimes involves escaping the cold Canadian winter to visit somewhere warm and relaxing with the family.
If you have young kids, or are traveling far, whether it's a road trip to visit family in another province, or you're taking to the skies in an airplane to visit an exotic resort, you'll want some tech to help make the trip run smoothly.
Bring all of the essentials
I'm one of those people who makes lists for everything, including what to pack, whether I'm traveling for vacation or business. Of the many categories of items I include, from toiletries to clothing, tech is always present. For me, essentials include my laptop and charger (if I'm traveling on business), noise-canceling headphones, smartphone and charging cable, and a portable battery bank for my phone. Even though most planes have USB outputs at every seat, they don't always work. Plus, the battery bank can come in handy once you arrive to your destination as well.
If you are traveling with kids, make sure to bring their tablets and charging cables as well, along with volume-limiting, child-appropriate headphones. It's a good idea to pack some low-tech items, too, like a book, or travel-sized game (you can get magnetic game sets for things like checkers and chess), and even just a pen and pad of paper or colouring book.
Don't forget the easy-to-forget tech items
Do your headphones use batteries? If so, pack an extra set just in case. If they're rechargeable, don't forget to recharge them. I always pack a cheap pair of earbuds as a back-up, though you can often buy some from most airlines if you're in desperate need.
You could also invest in a new pair of true wireless buds that eliminate the wires, and won't take up any room in your carry-on, purse, or backpack. The JBL Endurance Peak buds are sweat- and water-resistant, so you can safely use them on a plane, in a car (passengers only, of course) by the pool, or for a morning run.
If you still use wired headphones, make sure to bring the appropriate Lightning adapter if you have one of the new iPhones – don't forget that they don't have 3.5mm headphone jacks! A kickstand is also a good idea if you don't use a folio-style case with your smartphone or tablet. I use either the Spigen Tough Armor XP Case, which has a built-in, pop-out kickstand, or something like the Case-Mate Balloon Dog, which suctions to the back of any phone or phone case to prop it up for more comfortable viewing of movies or TV series while you travel.
When traveling with more than one child, you might want to consider a headphone splitter so they can hear audio from the same source, like a tablet playing a movie or cartoons, and watch together. You can grab one for under $10, but make sure you buy it from a reputable brand, and reputable source.
Get your tech ready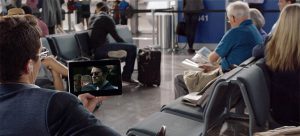 In addition to packing all of the essentials, make sure to load your devices up with the content you'll need before you leave the house. Streaming services like Netflix and Amazon Prime Video both allow you to download videos to your device for offline viewing, but you'll want to do this while you're still on your home's Wi-Fi network. Make sure there's sufficient room on your devices to store the files temporarily, then download individual episodes, movies, or even entire full seasons to binge while en-route. Always download more than you might need – it can come in handy if the flight is delayed. And you might also want to enjoy watching during a rainy, lazy night in. Amazon Prime Video makes it simple to download an entire season of a show in just one click. It only takes a few minutes to download each episode, depending on your Wi-Fi speeds. But do it right before you head to bed so the series can download overnight and you aren't rushing in the morning to get it done before you have to head out.
If you're traveling by car, get a good "road trip" music playlist ready ahead of time that includes tunes that everyone in the family will love, and can sing along to. Play it from a streaming service using your in-car entertainment system, Carplay, or Android Auto; or add a few favourite satellite radio channels to your favourites list so you don't need to spend the whole car ride flipping through stations.
Bottom line
Make a list, check it twice, and enjoy your March Break travels with some great tech in tow.
Related:  Travel