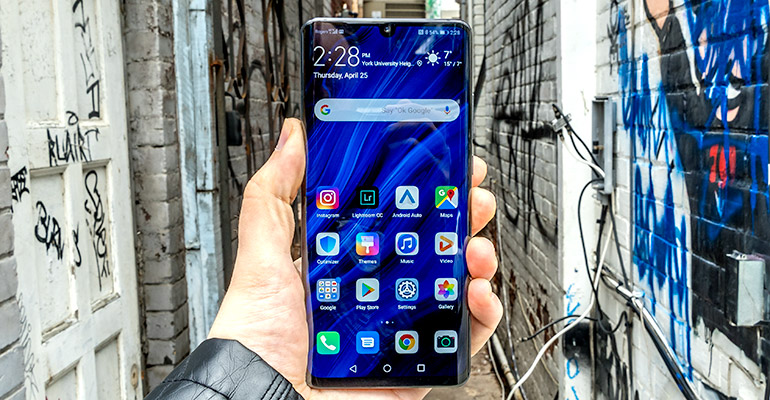 Huawei's latest flagship smartphone is more than capable competing against the best in the market, thanks in large part to its camera performance.
It's hard not to catch a glimpse of the P30 Pro these days. Actress Gal Gadot is the celebrity star power pushing it, while Huawei's sponsorship of the NHL playoffs in Canada consistently mentions its. Word is getting out there, so is it worth listening?
In a word, yes. Huawei hasn't come out of the blue with a stellar smartphone in the P30 Pro, it simply carried on from what it was already doing the last two years. Not surprisingly, the company has focused on the phone's camera performance, and with good reason. On its own, it's a compelling reason to give the phone a chance, albeit with other factors to consider.
Design and hardware
The P30 Pro is like an amalgamation of the P20 Pro and Mate 20 Pro. Huawei went with the latter's curved display, which to me, was a design flaw. I found this device harder to wield for that very reason, but I recognize others might prefer it.
Huawei went with a 6.47-inch OLED screen, though its resolution is effectively 1080p. If you're a stickler for screen quality, that might be an issue. You do get an onscreen fingerprint sensor, though not of the ultrasonic type that is in the Samsung Galaxy S10+. Despite that, it's often faster than Samsung's, even though it's not as secure.
The notch at the top is less obvious than past models. It didn't bother me much, but it's long been an aesthetic issue for people. The back is all-glass, making this a fairly delicate handset, and for that reason, I advise getting a case to protect it.
The Kirin 980 processor is fast, though I like that 8GB of RAM and at least 128GB of storage come standard. A 4,200mAh battery is equally nice, and does a great job keeping the lights on for longer than a full day.
To be honest, there is little performance difference between this phone and the Mate 20 Pro. The specs are similar, and so is the effectiveness of the hardware inside.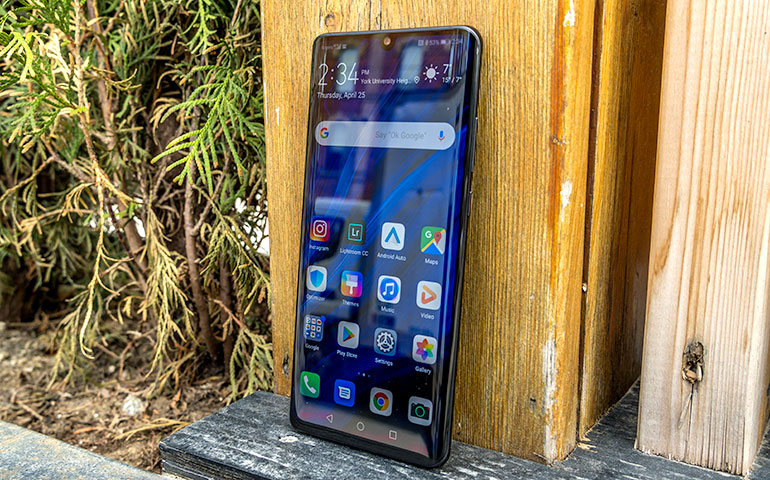 Software
It's great that the P30 Pro runs on Android 9.0 Pie, but it's Huawei's own skin on top that is so divisive. Yes, EMUI 9.1 is arguably cleaner than what the company has done before, but it doesn't look great, nor is it as intuitive as it should be.
Using a third-party app launcher can help change up the flavour and overall look of the interface. I could also do without Huawei's bloatware apps, though I do appreciate that they're largely tucked away in separate folders.
One of Android's key differentiators is the ability to customize the software to some degree. I suspect seasoned users will get right on that when using the P30 Pro, and perhaps more novice ones might take the plunge as well.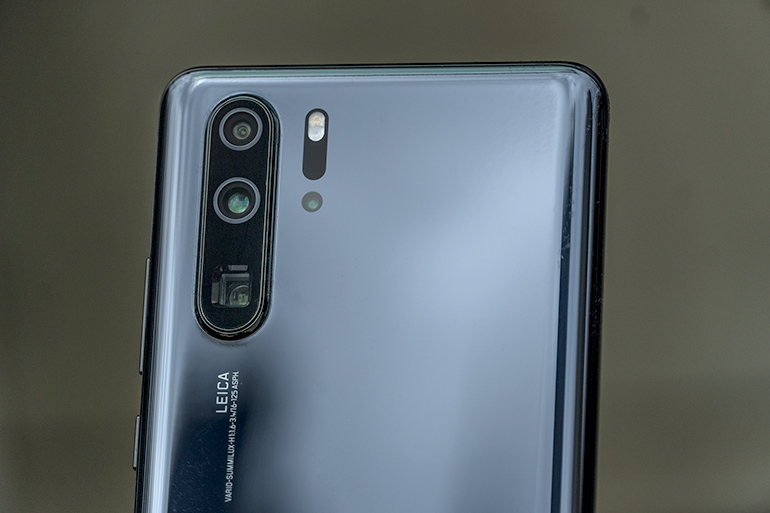 Camera
This is the cornerstone of the device, so for that reason, it has to be key to what you're looking for. The P30 Pro camera is an iterative update to what was already a fantastic shooter in the previous two models.
Huawei outfitted it with three rear lenses, plus a Time-of-Flight (ToF) sensor for bokeh effects. The standard wide lens is complemented by an ultra-wide lens and 5x optical zoom lens. The latter one is new, and its periscope design is unique for a smartphone. Others, like Asus, have tried it before, but not to this extent.
It's the camera's depth of features that make it what it is, which is why it's worth the time to learn what they do. For example, Huawei touts the AI (artificial intelligence) of the regular Photo mode, which recognizes what's in a scene and optimizes for it. That could be making the sky bluer, grass greener or illuminating a backlit subject. It also applies some sharpening when processing the shot.
It works well, but dig deeper and you find real gems. Pro mode is excellent for capturing photos with a greater degree of manual control. You can also shoot in RAW in that mode, giving you much more to work with when editing afterward. Night mode is an excellent way to capture a lot of light in a dark scene, and the best part is you can control it to a certain degree. Set the ISO and shutter speed before taking the photo, or stop the process in mid-shot to get the lighting you want.
Aperture mode utilizes the ToF sensor to create greater depth of field, or in layman's terms, better blur in the background. This mode lets you adjust a virtual aperture from f/0.95 to f/16 before shooting. The lower the f stop and closer to the subject, the blurrier the background becomes. It still needs work, but since the ToF sensor also applies to Portrait mode, you have some leeway to capture pretty interesting bokeh images.
Monochrome mode is excellent, and you will appreciate it if you're into black and white photography. Within the mode are other modes to better control how you shoot with it. HDR is also a dedicated mode, though I'm not quite sure why. HDR (high dynamic range) is great for pulling out more detail in highlights and shadows, except it should've been made an elective feature as part of the existing Photo mode. Super Macro is another one worth trying, and Huawei smartly triggers it whenever you try shooting a subject really close.
Huawei has heavily promoted the P30 Pro's 50x zoom, but it's not something I would get excited about. For quality photos, it's hardly good enough because it's basically digitally zooming the 5x optical zoom lens. I found it more useful as a telescope, which is also a potential problem when it makes it easy to spy on someone. Not a good look for a company with questions looming over its ethics and practices.
But I digress. The real surprise was the 10x hybrid zoom, which doubles the 5x zoom. Far more practical, and maintaining a decent level of quality throughout, I relied on it when I needed to. One catch was that I couldn't shoot with it when using Pro mode in RAW.
While I'm not crazy about Huawei's habit of sharpening images after the fact, I do like that not every mode does it. Plus, if colours appear dull, consider trying the Vivid colour setting (look for the film icon in the app), which adds more saturation and contrast.
Video is okay, and quality will look good, but I do have one gripe. Huawei engineers added a stabilizing feature to video recording, yet never made it something users can toggle on or off. The result is a clip that can change framerates at any given time. You can go from having a fairly soft and normal pace to an increase that compensates for faster movement. Use it and you'll immediately see what I'm referring to.
Battery life
I found plenty to like about the P30 Pro's battery. It's big to begin with, and equally efficient. I shot relentlessly with it on a trip to Europe and was never concerned with it dying on me at the end of the day.
Even when I had mixed usage, like streaming media, social media, web browsing, messaging and phone calls, battery life was outstanding throughout. The lower-res screen does help in that regard, but I believe it may also have something to do with how Huawei's chipset works with its software overlay. Whenever I maintained screen brightness at 50-60 per cent, I could go on for more than 24 hours easily.
Conclusion
The P30 Pro is one heck of a phone. I don't love every ounce of it, as I noted already, but for me, camera performance is important, and this is one of the best on the market, bar none. The only other non-Huawei phones that come close are the Google Pixel 3/3 XL and Samsung Galaxy S10/S10+ and Galaxy Note 9. The new LG G8 is also quite good, and makes a strong case. The iPhone XS has some bright spots, but loses badly in night and low-light shooting.
It currently sells for $1,100 outright, which is expensive, though less than most competitors' flagships. Bell, Rogers, Telus, Virgin Mobile, Fido, Koodo, Freedom Mobile, Videotron and SaskTel are all starting it at $150 on a two-year plan. Some are offering $0 down on specific tab-based plans.