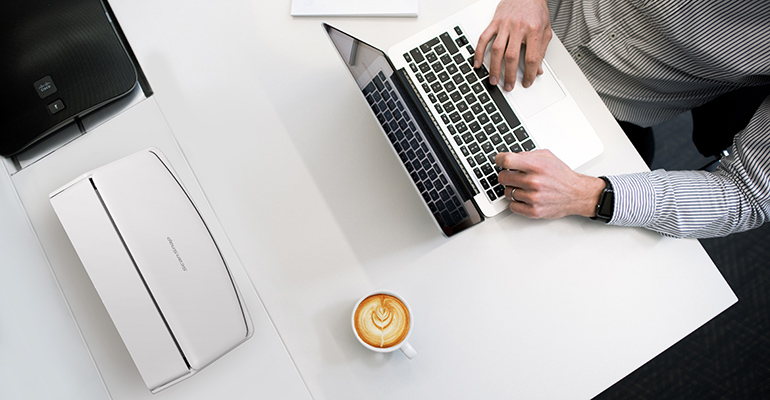 For Jennie Moore, going paperless through scanning to the cloud was key to running an accounting and auditing business.
To make her bookkeeping practice, Moore Details Inc., a paperless one, it required using her Fujitsu ScanSnap scanner to scan and organize documents. Without it, she says, her revamped workflow couldn't have enabled her to bring on more clients.
"The ScanSnap scanner was a connector to becoming more paperless, whereas before, we wouldn't have been able to take on a restaurant client, or a large non-profit organization because they would still need to transfer paper to us," says Moore.
She went as far as buying ScanSnap scanners and shipping them to clients to improve workflow on both ends — even helping them install the scanner and set up ScanSnap Cloud remotely. "The best thing about that was they could just start firing in their receipts. We're starting to process the data right away, as opposed to them calling FedEx and sending me a banker's box full of paper," she adds.
Scanning moved the paper to the digital realm, but there were still hundreds, or even thousands, of pages coming in on any given week. To manage that, Moore used a bookkeeping automation application called Hubdoc to collect, collate and manage it all. That allowed clients to simply scan documents through their own ScanSnap units and go directly to Hubdoc via Hubdoc's integration with ScanSnap Cloud.
Hubdoc automatically files documents, where they can be processed, coded, and posted to Xero and QuickBooks Online to complete the bookkeeping process. The bookkeeping app can also push them to cloud storage platforms like Google Drive or Dropbox for redundant backup.
"It's super important that we have an audit trail of cash disbursements within an organization for tax compliance," she says. "Using the ScanSnap and an application like Hubdoc creates tighter controls, which essentially helps us pass an audit, like having a CPA (certified public accountant) firm go in and look at our client files."
Those tighter controls mean the images the ScanSnap captures and sends to Hubdoc also transfer to cloud accounting systems. "With this suite of tools, the bookkeeping process becomes seamless, and paperless," explains Geoffrey Gualano, Director of Marketing at Hubdoc. "Once documents are scanned to Hubdoc, or automatically fetched by one of Hubdoc's automated connections with banks, utilities, telecom providers, and online vendors, Hubdoc will automatically extract the key data. Bookkeepers can then configure the document to be coded and posted to Xero or QuickBooks Online, enabling one-click reconciliation and audit preparation."
That basically creates two filing environments for an audit trail. When the scanner separates receipts, invoices and other documents, it also makes them searchable. When an auditor wants specific source pages, numbers or figures, it's much easier to find them, she explains.
ScanSnap scanners are capable of combining many pages together as one file, but Moore sets her scanner to have each scan go through as a page-separated file. "Regardless of size, that creates a source document for each transaction in the accounting system, so we don't have to go looking for stuff anymore," she says.
Only certain eyes can see what comes through, offering some scalability to the process. For instance, "separating duties" could enable junior employees to run paper through the scanners without having to integrate them into the accounting system, Moore says. That helps larger organizations with varying roles deploy paperless automated workflows.
"We don't accept paper, and we don't give out paper, so we're completely virtual and paperless. "she says. "(Clients) trust us, it's part of our engagement, they pay us for it, and that's just how we roll."