The Virtual & Augmented Reality World Conference & Expo takes place from June 1 until June 3 in Toronto. This professional conference and technology exhibition attracts thought leaders, academics, innovators, inventors, researchers, scientists, programmers, gamers, game developers as well as policy makers. And, industry attention in virtual reality technologies spans film, TV, education, healthcare, hardware manufacturers, travel agents, realtors, artists and musician.
I asked VRTO Executive Director and Founder, Keram Malicki-Sanchez about the advancements in virtual and augmented reality for education and healthcare, in particular, to which he responded,
"There are countless applications in healthcare for VR and AR. From pre-visualization and education to surgical or operations simulation and practice. In hospital, VR is being used to gamify certain anxiety producing procedures, for example, getting a needle. For burn victims, or chemotherapy patients, VR can be used to help mitigate pain and distress."
"Neuroscience and VR are perfect partners, affording new insight into how cognitive abilities coalesce, and newer applications like eye tracking, and bodysuits with biometric feedback will afford far greater data over time of responses in the body."
Malicki-Sanchez added, "beyond health, VR and AR are helping enormously to save costs and iterate rapidly in all fields of industrial design and research.
Malicki-Sanchez also highlighted a few of the speakers who will be sharing their insights about virtual and augmented reality:
o   Douglas Rushkoff – digital theorist and host of the NPR-One podcast Team Human will reveal the dynamics of this antihuman machinery and invites us to remake these aspects of society in ways that foster our humanity.
o   Blake J. Harris – best selling author of 'The History of the Future' will share the stage with early VR game developer Blair Renaud (Technolust and the upcoming LOW-FI) and Keram Malicki-Sanchez to drill down into the experience of tracking a small DIY kit into a 2.6 billion dollar acquisition by a massive media platform.
o   Keisha Howard – founder of Sugar Gamers will explore the ways we can humanize the approach of making VR more compelling through use of language and articulation of how VR will solve the problems for many, not just the few.
o   Galit Ariel – founder of Wondarlands will explore how we will unleash a new era of space exploration – right here on earth. In her talk, Galit will talk about the opportunities and challenges of such new space, where the boundaries between the public and the private, the tangible and the infinite, and the real and fictional no longer exist.
o   Tiptatat Chennavasin, co-founder of the $50 million dollar Venture Reality Fund, will deliver a keynote backed by real data, about their last 3.5 years of investing in immersive tech start-ups across Silicon Valley and beyond, and why some succeeded while others failed.  The VR Fund has looked at over 5000 start-ups in the space and invested in 30.
o   As Head of Business for Intel Studios, Sarah Vick and her team will explore how breaking the  fourth wall through volumetric capture and immersive formats can help us create new and  more impactful media experiences.
o   Amelia Winger-Bearskin, who was awarded the 2018 Bloomberg Mayors Challenge $1 million grant to prototype their AR Citizen toolkit, and creator of the Stupid Hackathon, which now holds events around the world, will employ her soulful approach to finding ideas for what to make with VR.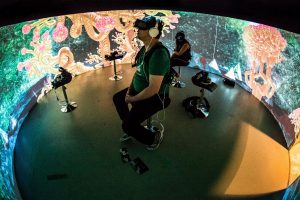 "VRTO 2019," said Malicki-Sanchez, "brings provocateurs, digital media harbingers, authors, and outsiders to the table to discuss the future of culture, society, humanity and how we collectively can work together, communicate better and leverage this media to improve the world and reverse our dangerous courses not only mechanically, but ethically."
I asked Malicki-Sanchez about Canada's contribution in the development and application of VR.
"Toronto is an important hub not only in Canada and North America, but in the world scene," stated Malicki-Sanchez. "From Artificial Intelligence Research (most notable Geoffrey Hinton at U of T) to Steve Mann (inventor of wearable technology), to digital human capture companies like Quantum Capture and Cream Productions, to leading immersive artists like Elli Raynai, Paola Dawkins, Blair Renaud, Lee Vermeulen, Occupied VR and the many start-ups supported by the Canadian Film Centre and ideaboost, to the FIVARS festival that we run every September during TIFF, Toronto is a notable hub for immersive tech innovation."
What VR trends and applications should Canadian consumers look for in 2019 and beyond?
Malicki-Sanchez replied, "This year alone we will have seen the launch of the Oculus Quest and Rift S, the Valve Index, the next generation of the Pico Goblin and all of the improvements to evolving systems like the Pimax 5K and 8k headsets." Malicki-Sanchez added, "We will also see Augmented Reality headsets like Magic Leap, and Microsoft's Hololens 2 finally in the hands of many creative developers and all in one 360 camera solutions like the Kandao, LivePlanet and Insta360 Pro cameras expand their markets."
"This is the year," elaborated Malicki-Sanchez, "that we start to realize the fruit of the previous 5 years in hardware and concept development. In the next year or two, we will see a maturation of the content – a far richer set of experiences that are far more accessible to many new audiences. It is not too late to get in early to VR and AR. It is waiting for you to bend its laws and share your unique perspective in ways we could once only have imagined in the deep future science fiction."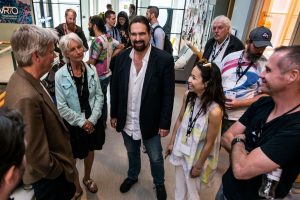 If VR and AR interest you, consider learning more at the Virtual & Augmented Reality World Conference & Expo.
Related:  Virtual Reality