Last summer, in a multi-part series on smart home tech, I covered tech you could get for the backyard. Here, I'll discuss more tech items, both smart and not, that can enhance the exterior of your home, simplify tedious tasks, and potentially help you save money in the process.
Philips Hue Outdoor Lights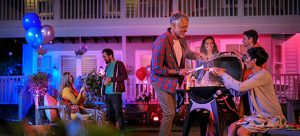 As of last summer, Philips Hue lighting products extended to the outdoors. This allows you to add coloured lights for your front porch or back deck, or even around the perimeter of the home. All of the lights, which are dimmable, can be controlled using the app. You can turn them on or off remotely, put them on a schedule, or adjust the lighting to reflect the mood – whether it's bright red for an evening dance party, or cool white for a late night relaxing cocoa on the porch swing. A three-pack Lily Base Kit that can provide up to 16 million different colours of light is $350 (a Philips Hue Bridge is required for purchase separately at about $65), and additional Lily Spotlight Extension lights are $120 ea. There's also the Calla Outdoor bollard ($170 base kit, $120 ea. for add-ons) that is ideal for adding light to your garden or pathway; and the Lucca Outdoor wall light/lantern ($70). For perimeter lighting around the home, on the back deck, or to illuminate a pathway, consider the Lightstrip Outdoor (about $100), a 197" flexible light strip that's fully waterproof, can be expanded with additional pieces (and cut to fit your space) and comes with a power supply. Enter our contest for a chance to win a $270 bundle that includes a 197" Lightstrip and Philips Hue Bridge that can be used to connect and control up to 50 lights and accessories.
MSE Audio Rockustics Cherry Bomb Speaker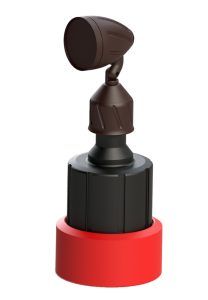 Extend music to the outdoors with this weatherproof speaker that can be inconspicuously buried in the ground, within outdoor landscaping. Because the subwoofer is included in the same cabinet, you'll get full-range sound. It measures 26.5" tall, 10.63" in diameter, and weighs just over 15 lbs. Install one by the pool, in your backyard, or beside the patio, and wow your friends by pumping tunes. It sells for about US$650, but note that you'll need to run wiring, so it might be wise to enlist the help of a professional.
Sunbrite Outdoor TVs
I never thought I'd sit outside and watch television until we got one of these outdoor televisions and installed it on the backyard deck. We've had many a barbecue where people opted to stay inside to catch a big sporting event or pay-per-view fight. And with the Raptors in the finals this year, sitting on the back deck while sipping a glass of wine or beer with snacks and watching the games seems like a great plan. Opt for the Pro Series, which can withstand direct sunlight, and is all-weather, meaning you can leave it outside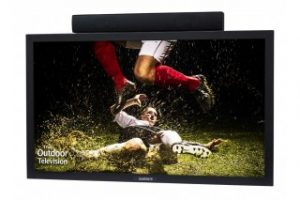 in the rain, snow, or other inclement weather. If US$3,295 for a 32" is too rich for your blood, there's also the more affordable Veranda series, which is US$1,500 for a 43" 4K LED HDR TV that can be placed in a fully shaded area. Have a professional connect it to a set-top box situated inside the home or use the weatherproof media bay to connect streaming devices like a Roku box or Apple TV whenever you want to watch. There's also an HDMI input for connecting a device like a Chromecast. Protect the investment with the optional dust cover.
Rachio 8-Zone Smart Sprinkler Controller
We all want to keep our lawns looking luscious and green, which requires constant watering during the hot and humid months. To automate the process, and avoid forgetting to water the grass or leaving the water on too long, use this smart sprinkler. It connects via your home's Wi-Fi, allowing you to control it remotely from a compatible Android or iOS device. Start and stop watering (the latter if it has started to rain unexpectedly, for example), and schedule when you want the sprinklers go on and off. It works with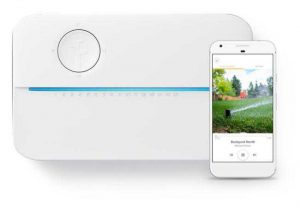 any existing sprinkler system that's up to eight zones (a 16-zone option is also available) and can work alongside other smart devices and platforms in the home, including Nest, Alexa, and Control4. It can even learn over time and schedule itself based on weather patterns and real-time weather forecasts. About $230.
Read our Smart Home Series