Shopify's partner and developer conference, 'Shopify Unite' ' recently took place in Toronto from June 18 – 20, 2019.  Vanessa Lee, Product Director, Shopify, explained, " Shopify Unite is our annual conference for our partner ecosystem of developers, agencies and freelancers around the world. … [And] provides insight into our product roadmap…. "This year at Unite, we focused on the opportunity ahead – for partners, merchants and the entire tech ecosystem – and how we work together to shape the future of commerce and capitalize on this unprecedented opportunity." Lee further shared that Shopify announced an all-new Shopify Plus fulfillment platform for enterprise brands.
Lee remarked, "When it comes to tech talent, we believe that there is immense opportunity in Toronto and across Canada. Toronto has exceptional talent from leading colleges, universities and boot camps, and others coming to the city from all over the world. In fact," Lee said, "we recently expanded our presence in Toronto, and have a new office space at The Well, set to open in 2022. We're extremely proud to have been part of fostering the tech and entrepreneurial ecosystem in Toronto and helping pave the way for more opportunities in the city."
I asked Lee to share what is on the horizon for e-commerce.
"… Our mission is to make commerce better for everyone. We recently shared our first global State of Commerce Report, which has insights on what's driving direct-to-consumer (DTC) commerce and buying behaviour. One highlight was that over 62 million buyers around the world have bought from the same Shopify store twice, with buyers purchasing 3.8 times on average from the same store, showcasing the battle for brand loyalty. We also found that consumers in the US buy nearly twice as often (6 items) as any other country (2-3 items); buyers in Germany make the fastest online shopping decisions, making a purchase in less than 18 minutes; while Japanese consumers spend the most per transaction, around $142 USD on average, compared to the US at around $81 USD. Lastly, we discovered that while social media drives discovery, it's not where most shoppers buy; online stores represent over 80% of sales, followed by point of sale (POS) purchases."
Leigh Sevin, Co-Founder of Endear, a B2B app that helps track and improve brick and mortar sales of fashion, footwear and lifestyle brands, spoke about the changing future of retail, why brands are choosing to open retail stores and how they are using personalized technology to offer unique in-store experiences for customers. I asked Ms. Sevin about her company and how it works for consumers and retail associates,
"Endear is an Omni channel clienteling app that gives associates the power to email and text with customers in order to keep driving sales even when foot traffic is limited," explained Sevin. She added, "… associates have all the tools and data they need to maintain high-touch relationships with customers on a dramatically larger scale. The result for customers is ongoing support and attention, regardless of if they want to shop in-store or online."
Endear uses CRM to target the right customers at the right time and leverage shoppers' activity and preferences across all channels in their outreach.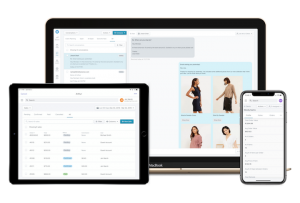 "[With] Endear," Sevin explained, "associates can embrace e-commerce as a new sales opportunity because our platform will report back how messages are converting into sales, whether the purchase happens at a store or online. Endear [can also] incorporate products from a brand's inventory directly into their messages, which means no more taking the same low-quality photos over and over – all products are directly connected to product pages on the brand's website."
Will retail consumer apps disrupt or evolve retail?
"We're all about helping stores evolve and take advantage of what they offer that online can't – touch, feel, smell, experience – and of course the human element of a store associate," stated Sevin. "But to us, that human relationship should extend into the digital world so that customers can design their own shopping journey without having to make any sacrifices on experience along the way. We have a few competitors at the enterprise level but our focus is on solving this problem in a way that is affordable for merchants of any size, and scaling with brands as they grow from their first few stores to their first hundred."
I asked Sevin if there been much receptivity by Canadian retailers, to which she responded, "As a Shopify app, we've been very lucky with how simple it has been to offer Endear to brands outside the US. So far the reception across the board has been incredible, because for the first time retailers are not only able to measure the impact of their clienteling efforts, but with Endear our retail customers have seen an 18% increase in sales and almost double the frequency of purchase from shoppers.