The Accessible Canada Act (Bill C-81) became law in June after receiving Royal Assent, and with websites in Ontario being required to meet strict accessibility criteria by 2021, the call for accessibility is gaining momentum.
I asked Mike Cart, Managing Director, Siteimprove Canada to shed some light on website accessibility, and how Canadian organizations are to meet accessibility standards.
What makes a website accessible? 
"A website is accessible when it can be navigated, operated and understood completely by all users, regardless of individual ability or disability," explained Cart. "Meaning, those who are blind or have low vision, limited physical mobility, are hard of hearing, colour blind, or have cognitive or learning issues can all use [an accessible] website without a barrier to the experience." Furthermore, Cart added, "Websites must be compatible with the assistive technologies that people use to interact with them, such as screen reader software, custom keyboards, switch controls and joysticks, zoom magnification and tools for high contrast."
So, are Canadian websites accessible?
Compared to other countries, Canada trails a number of developed nations, including the U.S., the United Kingdom, and Australia. Calculated using the Siteimprove Digital Certainty Index™(DCI) Accessibility Score*, the scores on the Accessibility World Map are rated out of 100, with 100 being the most digitally accessible, and 0 being the least digitally accessible. Here are the key Canadian findings:
Canada scores 63 out of 100. Globally, the U.S. has the highest score with 65, and United Arab Emirates has the lowest score with 58.
Of the Canadian industries ranked, Education is the highest with a score of 66. Surprisingly, Retail ranks the lowest with a score of 59, meaning that Canadian retailers are missing out on a large percentage of potential customers.
Other Canadian industries are ranked as follows (from most inclusive to least inclusive): Government – 65; Healthcare – 64; Financial Services – 63; Manufacturing – 61; Tourism and Hospitality – 60
"Like most businesses globally, Canadian organizations in private, public and non-profit sectors have not prioritized digital accessibility as a business practice, nor have they invested the time in training developers and designers and content contributors to create accessible website experiences," remarked Cart. "Similarly, many legacy systems and software on which websites are built never included accessibility functionality when constructed. Digital accessibility is still often an afterthought, like adding a ramp to the side of a building with steps."
"Canada [is] still on the journey to making accessibility a priority", added Cart. [Canadian companies] still don't fully understand the needs of people regarding digital accessibility. This is the first step to removing the barriers in their current websites and social media platforms.  Once you understand how people use your website, it's much easier to design for their experience."
"Those in Canada leading the way for accessible websites and inclusive design thinking to the reach all audiences include CBC, CIBC, Scotiabank and TD Canada Trust," said Cart.
"The Government of Canada website has for a long time been accessible due to the creation of the AODA and laws against discrimination, held up by the Canadian Human Rights Commission.  The government of Ontario has made fantastic strides in accessibility recently as well. Now, with the Accessible Canada Act passed in June, all federally-regulated entities must make their websites and digital properties (PDFs, video, animations) accessible, with the understanding of compliance to the standard set by the AODA: to Web Content Content Guidelines (WCAG) Level AA.  This includes federal government websites, telecommunications, crown corporations, financial institutions, transportation and the military."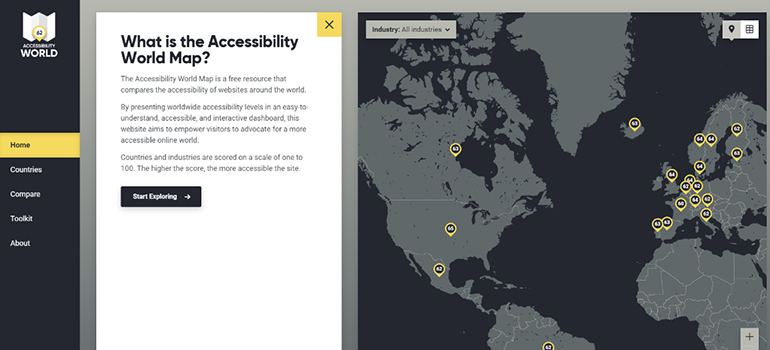 Who are the global leaders in website accessibility?
"Globally, companies like Microsoft, Google and Amazon are now working hard to make their sites and products accessible, and [are] hiring a diverse workforce to help them test websites and train staff."
Accessibility must also be addressed in social media.
Cart explained, key things to remember when making social media accessible:
Ensure videos have closed captioning and an audio description, if necessary.  It benefits those who are hard of hearing, or anyone who wishes to keep a video silent on a crowded train.
Use the settings now available in Facebook and Instagram to add alternative text to your images, GIFs and memes.
Provide an informative description of the image or joke ensures that those who cannot experience it visually are included.
Be as descriptive as possible [with content], using simple language to get the point across (not cluttered with acronyms, jargon or clichés).  You have a better chance of impacting more of your audience, including those with cognitive issues or those with English as a second language.
Leave your hashtags to the end of your message, and use something called 'camel' text which puts a capital letter on each word you use to make it for easier for everyone to understand.  #AccessibilityRocks
Cart remains positive that Canadian website accessibility will be more universally implemented.  "Now is the time to become a leader within a global movement," shared Cart.
"Many people around the world advocate for accessibility, including those with lived experiences with disability and discrimination. The laws in Canada support this right to equal access and opportunity and in many ways, but it's so important to move beyond the law and treat people with respect and acknowledge their abilities rather than disabilities."
"Business leaders and their teams (project managers, user experience designers, developers and marketers) are recognizing that being able to access information and complete tasks online is not a privilege but a right, and as research has shown, good business. They are adopting technical, writing or design skills to support accessibility to become accessibility champions to move their organizations forward as leaders in innovative thinking. Many organizations are hiring accessibility consultants, technical specialists and / or business strategists to help them build a culture of awareness, inclusion and people-first business."