A new AI-(artificial intelligence) powered mobile and desktop chatbot app helps homeless people find the services and supports they need.
The free, 24/7 support service puts real-time information about free meals, clothing banks, overnight shelters, drop-in facilities and more on the screens of desktop computers and mobile phones through a simple, scripted question-and-answer text box format.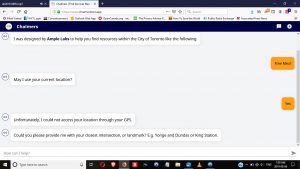 Called Chalmers, the chatbot also provides emergency crisis lines (other than 911) so people can get help with domestic abuse cases or mental health concerns.
Unfortunately, the rapid adoption of Chalmers demonstrates an immediate and ever-increasing need for its service.
In 2016, an estimated 133,000 people "experienced homelessness", according to Employment and Social Development Canada (ESDC).
That's way too many in a country like Canada.
Based on numbers gathered from recognized emergency centres, the number is most likely also way too low.
It does not easily capture the number of homeless people who do not want to go to a shelter, and it surely does not capture those who want to go to a shelter, but cannot find space at one.
That scenario is all-too-common in Toronto: the city regularly reports that its total shelter capacity — 7,200 per night — is almost always full, with 95 and 100 per cent capacity figures regularly reported.
(In the State of Homelessness in Canada 2016 report, it was estimated that at least 235,000 Canadians experience homelessness in a given year, and that some 35,000 individuals experience homelessness on any given night in Canada.)
So perhaps it's not surprising the folks behind the homeless assistance app report that finding a place to sleep for the night is the second-most common request Chalmers receives.
The top inquiry: where can I get something to eat?
Ample Labs is a not-for-profit technology and media lab in Toronto, and its stated focus is using tech to help the homeless. Its initial focus is Toronto, but the developers say the app could be rolled out in other locales internationally.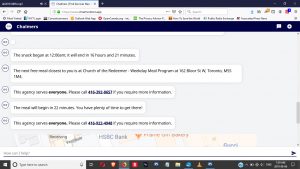 Ample Labs worked with another Toronto tech firm, Ada, a specialist in automated customer experience (ACX), to develop, test and roll-out the chatbot application. Their efforts were kick-started through a crowdfunding campaign, with half of the contributed funds used to pay at-risk young people who help manage and maintain the chatbot.
"Nothing has been more meaningful than seeing the connections, potential, and even excitement our Chalmers chatbot is bringing to its users," said CG Chen, founder of Ample Labs. "We've spent a lot of time in shelters … to ensure Chalmers addressed their needs — and the response has been overwhelmingly positive."
A lot of that time was spent conducting interviews with clients and providers, conducting workshops and holding consultations with front line staff, homeless and at-risk youth, community organizations, and social services in Toronto.
Along with the careful fact-finding, chatbot developers did a lot of usability testing, asking potential users abut navigation choices, resource listings, chatbot dialogs and more. Ample and Ada worked with another Canadian non-profit organization, this one known as GRIT Toronto: it is a civic usability testing service that connects tech developers and creators with underrepresented user groups to enhance and improve the digital products they deliver.
Recognizing the value of personal information that may be shared when accessing the Chalmers service, and recognizing the care with which data must be collected and used in such a situation, GRIT Toronto, Ada and Ample are cognizant of privacy and security concerns with app.
For example, many of the Chalmers prompts ask the user for his or her location, but there is an option to decline and select a nearby major intersection as a reference point. Chalmers will ask a user for their age and gender (to determine the best overnight shelter, for example) but no other personally identifying info is needed.
After some six months of beta testing, Chalmers was released and reports indicate it is now supporting well over 700 users each month, providing a total of 6,500 recommendations, including tips on 4,000 meals and 800 overnight shelter opportunities.
"[W]e're sharing our insights and expertise from working with enterprise businesses to bring purposeful, automated assistance to our local Toronto community," said Mike Murchison, CEO of Ada."Our partnership with Ample Labs is meaningful for all of us at Ada. Above and beyond driving profit, we believe in using our technology and expertise to support important social causes."
Along with the number of homeless people that use the service, and the number of services those people tap in to, an interesting number seemingly validated by the chatbot and the developer's efforts is the high mobile-phone possession rate among Toronto's homeless.
If it is at all close to the number suggested by recent research across North America, then more than 90% of homeless individuals have a phone, many if not most are smartphones, and that a web-based chatbot is an appropriate solution to address the real-time needs of this community.
# # #
Tragically, those needs are often life-threatening: in Toronto alone, nearly 100 homeless people die every year.
# # #