Summer is the perfect time to enjoy a good read. Book or eReader?
Rakuten Kobo recently announced the winners of the fifth annual Emerging Writer Prize, adding three authors to Canada's growing list of esteemed and celebrated writers. Debut authors in Literary Fiction, Romance, and Nonfiction each receive a $10,000 CAD cash prize, and will have promotional, marketing and communications support from Rakuten Kobo to aid in fostering their writing careers.
The 2019 winners in each feature category are:
"This is a special year for Rakuten Kobo and for the Emerging Writer Prize. 2019 marks Kobo's tenth anniversary, a decade of making reading lives better, and our writing prize marks five years of, we hope, making writing lives better for debut authors," said Michael Tamblyn, CEO of Rakuten Kobo. "As a global company with a catalogue of more than 6-million titles, we recognize how brave it is to write and publish your first work and how difficult it is to fight for a reader's attention. As a Canadian company we also recognize the importance of a country's voices and stories. We are proud to support Canadian talent and to help bring it to the rest of the world."
I asked Tamblyn how eReaders have evolved over the past ten years to which he responded, "It has been fascinating to watch the evolution of eReaders over the last 10 years. Initially, eReaders were synonymous with eBooks. They were easy to use, they quickly became affordable, and millions of people were introduced to reading digitally for the first time."
Tamblyn continued, "As smartphones and tablets became ubiquitous, there was a thought that all media — text, video, music, games — would converge to one device. We went through a few years where eReaders were seen as a transition technology — fine for now, but not for long. Now we have realized that they are a specialist device."
In fact, Kobo began with a different idea of what digital reading would be.
"Kobo began with a handful of people trying to figure out what would happen if people started reading digitally," began Tamblyn. "Looking back, a lot of assumptions we made were wrong. In 2009, we called ourselves Shortcovers, believing that people who read on their phones or tablets would want things that were short and sweet. Turns out, not at all. We thought people would want to read on devices they already owned – at that time, computers and phones."
Tamblyn added, "We learned what people really wanted was instant access to any book and the freedom to fit reading into more parts of their day. They wanted to immerse themselves in stories, without distractions. Our best customers read on eReaders that offer a reading experience and nothing else – no instant messaging, video streaming or email to be found."
"What we got right," explained Tamblyn, "was that eBooks were coming, and that people were going to love being able to carry their whole reading life around with them, buy new books instantly, read on the phone they already have or an eReader designed just for reading."
I was amused to learn about the vision of an eReader for the bath!
"We were the first to make a premium waterproof eReader – and people thought we were crazy," said Tamblyn. "But we asked readers what they wanted, where they'd love to be able to read if only they could, more than 60% said in the bath. Or on the beach, without fear of either the water. They told us to do this they were wrapping their devices in Ziploc bags or plastic wrap. We thought we could offer something better than that, and now "waterproof" is a standard feature for us."
"We were the first to offer blue light filters in our eReaders for night time reading, so while the story may keep you up all night, the screen won't for those who are sensitive to sleep disruption from light.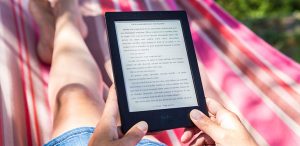 Kobo now brings eReaders, eBooks and audio books to over 38 million users worldwide, and sell into 190 countries.
"Like any start-up, every couple of years brings another major shift in business. Whether it's eBooks, self-publishing, audio books, and now, more recently, subscriptions, we've always innovated with the reader in mind—to make their experience the best it could possibly be. We're also experimenting with machine learning to create hyper-curated recommendations.
"Originals are exciting for us—right now we're creating a suite of original audio content with full casts and sound production," revealed Tamblyn.
So who are Kobo's eReaders in Canada?
"Like most tech revolutions," said Tamblyn, "we thought that digital reading would be led by the young, the early adopters. In actuality, it's perhaps the first technology shift that is being forged by people 45 and over, with a base that skews female."
WhatsYourTech.ca is giving away a Kobo Clara eReader.  Enter for your chance to Win
Enter our poll eReader vs Tablet. What's your preference?