As students gear up to head back to school, there's one tech item they will require for their studies: a laptop. Or will they? Is a laptop truly necessary for every student? One would initially think yes. But with the latest generation of students who can type on the tiny virtual keyboard of a smartphone just as quickly as they can on a computer, and are completely mobile and digital, can a student get away with not having a laptop at all?
Why Get a Laptop?
Depending on the field of study, a laptop might be an essential tool you can't go without. Particularly for secondary students where typed reports, frequent research, and presentations are par for the course. A laptop will make things easier.
Laptops are more powerful, robust, and comfortable to use then a tablet, with full QWERTY keyboards and full versions of important software programs like Word, Excel, PowerPoint, and Photoshop, and access to specific programs that might be required downloads for a course.
Laptops today are small and lightweight; they aren't the heavy burden they once were. Convertible and touchscreen laptops, in particular, like the HP Spectre x360, provide the best of both worlds, functioning as traditional computers when word processing is required then flipping to tented mode for watching videos and tablet mode for more creative applications and note-taking using a digital pen. The 15.6" x360 has a battery that can last for up to 17.5 hours per charge, has a privacy screen to ensure that fellow students aren't copying your notes, 4K video editing capability for students in creative studies, Bang & Olufsen audio, and it works with the HP digital pen.
In these respects, a laptop might be a no-brainer.
Why Use a Tablet Instead?
But there are also super-powerful tablets that let students do anything they might need to do with a laptop in a much smaller and lighter package, sometimes with better battery life. With many tablets, you can connect a wireless keyboard and mouse and use them like laptops when word processing or other more intense activities are required. You can send print jobs from a mobile device to compatible WiFi-enabled printers using their respective mobile printing apps; Epson Connect, for example, is a feature found in some of the company's printer that allows for wireless printing from tablets and smartphones.
But for the most part, you can take notes in class using a digital pen then translate them to digital text and upload to the cloud or local storage, access mobile apps that utilize the touchscreen, download and watch videos offline from streaming services (which you can't do from a laptop), and slot a tablet into a small purse or backpack, housed in a protective case, some of which come with physical Bluetooth keyboards built in.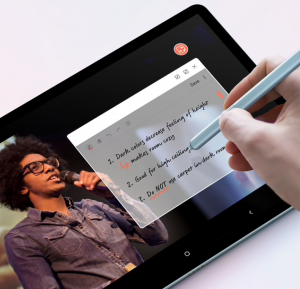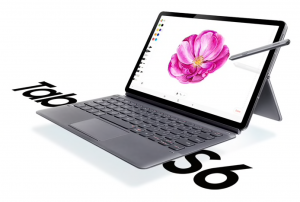 The premium Samsung Galaxy Tab S6 is $900, but that's still less than you'd pay for most laptops, and in a much more compact package. Yet it has a 10.5" screen, 2.8GHz processor, 128GB of memory ($100 more to double it to 256GB), and works with the Samsung S Pen. The Pen magnetically attaches to the device and automatically charges while attached; and it works with the Samsung Notes app. The tablet comes with a keyboard cover and touchpad so you can convert it to a laptop-like set-up as needed. With DeX access, you can also connect it to a larger display using an HDMI cable whenever you need to, using a monitor at home or in your dorm.
Tablets are more versatile nowadays than ever before, and for tech-savvy students, their affordability, functionality, and lightweight design could negate the need for a laptop altogether.
Can You Make Do With An E-Reader Alone?
E-readers are designed for reading text in black and white, mimicking the look of a paperback book. If the main function of a laptop for a student is to read digital textbooks, make notes, and browse the web, a connected e-reader could be a more affordable and lightweight solution worth considering.
Some e-readers have built-in Web browsers that let you surf the Web as well. You can download digital textbooks, novels required for reading, and other content, then make annotations right on the text for reference and studying, look up definitions of words and phrases, and find more details about historical events, figures, and concepts.
The new Kindle Oasis ($360) has a 7" screen with adjustable warm light that makes it  comfortable for long reading sessions, which can help with eye strain and fatigue that often plagues students who are usually staring at computer screens all day. With access to millions of eBooks, it can last for weeks per charge, and can withstand accidentals drops into water.
With the Kobo Forma ($300) you can leverage the OverDrive feature to borrow or purchase eBooks from participating public libraries, and page turn buttons adjust depending on whether you are right- or left-handed. You can also read on the 8" screen in either portrait or landscape mode. While reading, long press on a word, sentence, or phrase to get a definition or more information, and highlight and add notes using a pop-up virtual keyboard.
For fields of study that require a lot of reading, note-taking, and studying, an e-reader could suffice. Or at the very least, one can replace the heavy physical textbooks that were once a requirement for secondary and post-secondary students, provided you can load digital versions onto the device. The advantage in doing so even when a mobile option is available for your smartphone is that you can save battery on your mobile device, and enjoy a more easy-on-the-eyes paperback-like reading experience with the e-ink display of an e-reader.
Bottom Line
The long-held belief is that every student needs a laptop in order to achieve success in school. But with feature-laden tablets and even e-readers, a student can take a good, hard look at what he is required to do and decide if they can get away with using a much more affordable tablet with extra memory or a cloud storage subscription along with a wireless keyboard, or even a web-connected e-reader. In some cases, one of these devices could help get them through a school year without ever having to fork over thousands of dollars for a laptop.
Take our poll and let us know what you would use – laptop, tablet or eReader?
Check out our Back to School contests and enter for your chance to WIN!
Start the Year Off Right – WIN a Tech Bundle from Microsoft and ESET!
Stay on Trend – Win Back to School Tech Accessories from eBay!