If you own a small business, chances are that one of the things that is or was on your to-do list is to set your team up with smartphones and cellular service so they can keep in touch with the office and clients remotely. Bring Your Own Device (BYOD) set-ups are becoming more commonplace nowadays as employees like to use their own phones for both personal and business. But if their phone is being used for work purposes, chances are the company will cover the cost of the plan.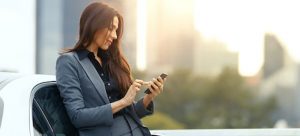 So what is the best route to take when setting up a mobile phone plan for several employees? There are plenty of options, and you can speak with a business salesperson at the carrier of your choice to learn about deals and suitable plans that meet your needs. Or better yet, speak to several to compare and contrast before making a final decision. But here are a few tips to consider when selecting the right plan for your business.

Look for Unlimited
You can get unlimited data plans that will allow everyone to stay connected without you having to worry about shared data and paying exorbitant overage fees because one staff member downloaded a ton of Netflix content right before a business flight, not realizing how much data it would eat up. These plans are unlimited in the sense that you pay monthly to get the maximum LTE speeds up to a certain point, like 10 or 20GB, for example, after which you can still continue to use the device, but at reduced speeds. It's a great option for peace-of-mind, especially if your company has lots of workers who are constantly in transit, work remotely, or who travel a lot.
Finance Phones
If you do not use a BYOD policy and you need to get hardware for your staff as well, look into financing the cost of the device throughout the term of the contract, paying monthly versus buying the devices outright. This will spread the cost evenly throughout the two-year period, which can keep things consistent on the books versus having to pay thousands of dollars upfront for several new phones. Especially for start-ups, this option could make more sense, allowing you to keep a large sum of critical funds on hand to invest back into the business. Conversely, however, you might find that buying devices outright works better, allowing you to write the costs off at once and keeping the recurring fees down.
Consider Travel
Speaking of travel, if you or others in your company travel a lot to other provinces in Canada, to the U.S., and/or international destinations, make sure to tell the salesperson this so they can offer up the best roaming options for travel as part of your plan. This might include special roaming plans or ones that include Canada or North America-wide calling and/or data so you're covered through the year. They might also suggest a dual SIM device so you can include a SIM card from another country you visit often and use a local plan there whenever you're in town.
Ensure Sufficient Network Coverage
While it might seem tempting to go with a carrier that offers the cheapest plans, consider the network coverage within your core areas, which includes where your business resides and where key employees live, especially if it's in the outskirts of the city and they often work from home. If a critical employee lives in a rural area where they have expressed connectivity issues with a particular carrier, for example, it might be a deciding factor in going with a competitor. Or you might want to broker a deal for cellular signal boosters to ensure you can reduce the instances of dropped calls or slow connectivity in trouble areas, like the warehouse or your home office in the basement.
Check Out Bundles
It might be in your best interest to sign up for a bundle deal that combines broadband Internet in the office, possibly even television service, with mobile phone plans. If you order everything from the same provider, you might enjoy extra savings that can be put back into the company to help you grow.
Find a Good Rep
Above all else, make sure you find a good sales rep who seems attentive to your needs, is fair, and is knowledgeable about the products and offerings. Also look into the customer service reputation of the carrier, particularly on the business side. You might have questions or concerns about the plan going forward or want to make changes or upgrades. You want to be confident you can do so quickly and easily, which is particularly important for busy business professionals running small companies, and especially for start-ups.
Related:  small business