Roku is a beast in the video streaming market, offering an intuitive platform through which people can watch streaming content from a variety of subscription-based and free services, navigating seamlessly as though they were using a traditional TV guide.
In addition to media players and streaming sticks, Roku's platform is also built into televisions from brands like TCL and Hisense, allowing you to access services like Netflix and Amazon Prime Video directly from your TV without requiring a separate device.
This Fall, Roku released new devices in Canada, along with partnerships that will please those looking to binge their next series or cuddle up on the couch with some good movies.
Here's a rundown of everything Roku has announced over the last few months.
Roku Express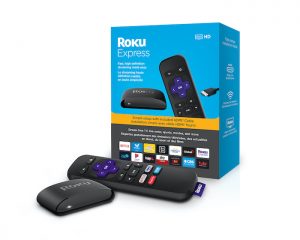 This device is 10% smaller than its predecessor and is designed to blend in and disappear once connected to a TV. Because it can be fully powered by the TV itself, you don't need to worry about running a cord from one end of it to an AC outlet on the wall. Just plug it into a TV's HDMI port with the included high-speed HDMI cable, set it up, and you're good to go. (If it can't be powered by your TV, a power cord is also included.) You can watch content in HD (with a compatible TV) and control playback using the included remote that even has shortcut buttons for the most popular streaming services. It sells for $40.
Roku Premiere
With this $50 device, stream in 4K Ultra HD and 4K HDR when connected to a compatible TV and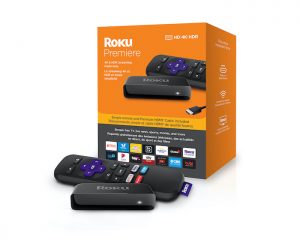 streaming from a site that offers 4K content, like Netflix and Amazon Prime Video. It has a quad-core processor and comes in a low-profile design with a high-speed HDMI cable, remote with shortcut buttons, and power cord.  Enter for your chance to WIN Roku Premiere.
Roku Streaming Stick+
This $90 device is for those looking for a streaming stick option that is easy to bring with them and plug into virtually any TV. It provides playback in HD, 4K, and HDR (depending on the TV and content source), a long-range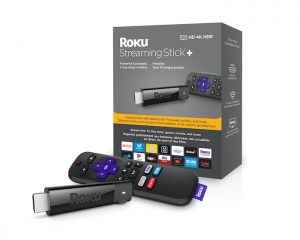 receiver, and comes with a voice remote. It's great for using in different rooms of the home, at the cottage, office, dorm, or even in a hotel room.  Enter our contest to win a Roku Streaming Stick.
Roku TVs
Five TV brands offer Roku TVs in Canada – Hisense, RCA, Sanyo, Sharp, and TCL – and 11 in the U.S. The latest Roku TV to launch in Canada is the massive 75" 6-series model from TCL. Selling for about $1,800, it comes with the Roku OS built-in along with HDR and 4K, an iPG engine, Contrast Control Zone, Dolby Vision, and 120Hz refresh rate.
Content on the Roku Channel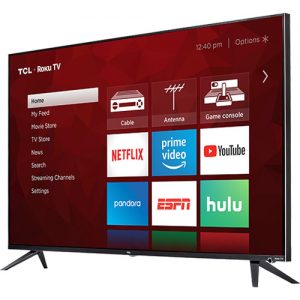 In addition to new hardware, Roku announced new content to be available through the Roku Channel, which launched in Canada last year. On this channel, you can view hundreds of movies, TV shows, and documentaries without a subscription or login. New are 14 live linear channels, ranging from courtroom dramas to investigative reporting, pop culture news, comedy videos, sports content, and more. These include: Law & Crime, Now This, AllTime, TMZ, America's Funniest Home Videos (AFV), Fail Army, Pet Collective, People Are Awesome, Adventure Sports Network, Food52, Tastemade, FileRise Free Movies, FilmRise Crime, and FilmRise Classic TV.
It should also be noted that all Roku streaming devices in Canada provide access to popular streaming services like Netflix, Prime Video, and The Roku Channel as well as services like DAZN, Global TV (newly-added this year), CBS All Access, Acorn TV, hayu, Britbox, VMedia, and more.
Apple TV App and Apple TV+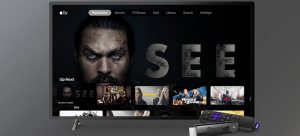 The question on everyones' minds these days is what about Apple TV+? Apple's streaming service launches this Friday, November 1 and many who are excited to check out the original programming are wondering if they will be able to do so from their Roku streaming devices and Roku TVs. The answer is yes for most Roku devices (some older models might not be supported). The Apple TV app can be added via the Roku Channel store and accessed alongside an iTunes video library. You can also subscribe to Apple TV+, which will be $4.99/mo., directly from the interface using with Apple ID and password.
Tidal Music Streaming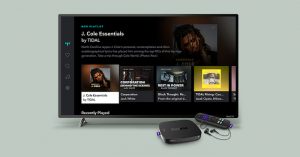 Also of note for hifi music lovers is that the hi-res music streaming service Tidal is now also streaming on the Roku platform. Subscribers can add Tidal, then search videos, albums, playlists, and other exclusive content to stream directly on the Tidal channel on a Roku device. The channel features a custom interface for Roku devices, and provides access to the more than 60 million songs and 250,000 music videos, along with playlists curated by Tidal's editorial team, industry experts, artists, and others. There are also live and on-demand streams of concerts, exclusive music documentaries, original shows, and podcasts. A premium subscription is $10/mo. for standard sound quality or opt for HiFi. It costs twice the price of $20/mo., but you'll get lossless high-fidelity sound quality. Both options come with a 30-day free trial. New subscribers can sign up directly through the Tidal channel on Roku.