The saying that "there's an app for that" really is true. And when it comes to organizing your life, apps can come in really handy.
Because we carry our phones with us 24/7, we can refer to them to help organize things like travel details, projects for work, family obligations and schedules, and even a busy social life.
If you have an Android device, here are some great organizational apps, some of which are available for iOS as well.
Google Keep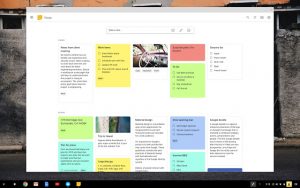 What's particularly great about Google Keep is that it's free. Available on most Android devices, you can use it to add items to your grocery or to-do list and get alerts to remind you when something is due. It integrates with Google Calendar, Maps, and Gmail as well, allowing you to manage everything in one place. Just add a simple one-line note, like "dog vet appointment January 14, 2020 at 12 p.m. and ask for a reminder, collaborate with someone else on the note, even add a photo to it or change the colour so it stands out as a priority. Click the "pin" icon and voila! You've added it to your virtual bulletin board. The more items you add, the more it starts looking like a well-organized bulletin board. Except it won't take up valuable wall space in your home or office.
Evernote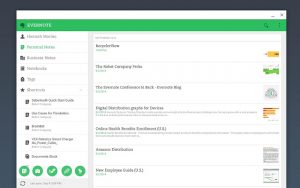 One of the most popular organizational apps, Evernote works much like Google Keep but with additional features, like the ability to make voice reminders. That's perfect if you're in a rush but just remembered something important you don't want to forget. It's your own digital "note to self," essentially. Everything saved to the cloud through Evernote as well, which means you can easily access your content and calendars from any device, including your computer. And you can collaborate with others in the family or on your team at work. You can get free basic access for two devices or subscribe to Plus for $4/mo. for more. Premium adds features like offline access for $8/mo.
Coorganiz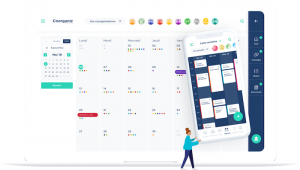 Great for a small work team or big family, this app helps you organize everything in one place, including to-do lists and calendars. But members of a group can also direct message one another and chat live through the app. You can also share files. So dad can share a PDF of the updated soccer schedule with mom, for example, while the kids can message mom and dad to let them know that they'll be late coming home from school, or add important dates, like the school concert or trip, to the shared calendar so everyone is aware of what's going on. It works for business as well, as teams can share files they're collaborating on while working remotely, and everyone can be updated of meetings and appointments to avoid double bookings. You can use basic features for free or upgrade to the plan that's $5/mo. or $50/yr. to get the shared calendars, tasks, and to-do lists, access from tablets and the web as well as smartphones, unlimited organizations, chat, and more.
Bring!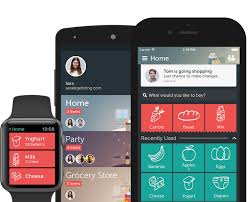 Whether it's for your weekly or bi-weekly trip to the grocery store for the family or if you're shopping for a big event, this app is a great way to organize your shopping list. Multiple people can have access to a list then add or remove items as needed so nothing is forgotten or picked up in duplicate. Type in an item, like apples, and a little icon will pop up of apples that you can add. If the item you want is more specific (e.g. gluten-free bread) just manually type it in and the icon will show the text only. You can set up multiple lists, such as one for regular grocery shopping, one for Billy's birthday party, another for the big family reunion, one for the office potluck, and so on. It's integrated with the Google Assistant as well, so, with a compatible smart speaker, you can simply say "Hey Google, add ground nutmeg to my shopping list" and it will be added to the list that you can reference from the app when in the store.
TickTick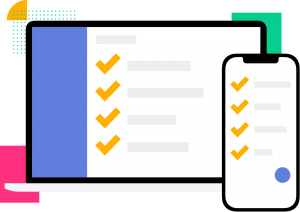 If you get great pleasure from crossing items off a to-do list, this app will be a perfect fit. You can add to-do list items then keep track of how much you have already gotten done and how much is left to do. See a calendar view and even put an agenda on the home screen of your mobile device so you can satisfyingly mark things off as you complete them. You can also set alerts for reminders when something is almost due. You can do pretty much everything using the free mode, but if you pay $28/yr. for Premium, you'll be able to track more items at a time. So that option is ideal for extremely busy individuals. The app can be synced across multiple platforms so you can keep track at home, the office, and even on the go.
** Featured Home page  photo credit : Jolee G, Freedigitalphotos.net