Small business owners during these critical times are tweaking their web presence if not launching their very first website. Anne De Aragon, Vice President and Country Manager, GoDaddy Canada, recently shared how GoDaddy supports small businesses and how its recent initiative, #OpenWeStand, can help businesses adapt to stay open, even if doors are closed.
"We offer tools and solutions to help you create an effective, memorable online presence," began De Aragon. "We are an all-in-one solution provider to over 19 million small business owners and entrepreneurs worldwide. In addition to website building and hosting, we also offer domain names, security protection, email marketing and productivity services."
"To help our customers get through the current challenging times, we have launched #OpenWeStand. This initiative is for everyone who keeps customers and employees safe while remaining open – and for all of us who support small businesses and their resiliency. GoDaddy is responding by minimizing the economic impact to our customers with free tools and ensuring our services and help are always available."
Is it straight-forward to launch a website?
De Aragon believes so. "The biggest misconception people have is that they need to be a tech expert to create a website.  Products like GoDaddy Websites + Marketing was built specifically for the non-expert in website design, where you can create a professional looking website, integrated with social media, and ecommerce all in one place." Adds De Aragon, "From there, you can choose to add more advanced features like scheduling online appointments, selling products and more." De Aragon also described GoDaddy's built-in marketing tools – social media, blogs, and email marketing. "It is an easy-to-use tool for small business owners and entrepreneurs who are looking to create a website and get their business venture online."
"According to research conducted by GoDaddy last year, 68 per cent of small business owners with a website said they expect to see an increase in business within five years," shared De Aragon. "Despite this, over half of small businesses in Canada surveyed do not have a website and are missing out on the benefits it can offer."
Speaking to the impact that COVID-19 is making on small business right now, De Aragon believes it to be a good time to create or update an outdated website. "Having an online presence," De Aragon said, "can help give Canadian small business owners more avenues to reach their existing and potential new customers.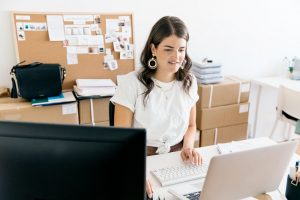 "For small business owners that already have a website, they may want to consider integrating ecommerce offerings. As online offerings continue to grow, and more Canadians are shopping online, this could be the right time to add an online store to your website, giving customers a virtual space to purchase your products," explained De Aragon. "GoDaddy offers Online Store so that integrating ecommerce into your website can be simple, fast and affordable. It is also important that your business is ready to handle the elements that go into selling online, such as managing inventory, shipping, returns, customer services and payment methods."
Email marketing is also a popular marketing tool used by small business owners.
"Email is still an actively used way to communicate with your customers, employees and vendors," said De Aragon. "As changes today are happening at such a rapid pace, it is important to keep your customers informed of how you are adapting your business. GoDaddy is currently offering 3 months of free Email Marketing for small business owners, to help them stay more connected with customers.
GoDaddy also recently announced new updates to its WordPress platform and integrations with WooCommerce. Shared De Aragon, "For those looking to create a more powerful website with more flexibility and feature choices, the new release of WordPress Hosting provides simplified access to the WordPress ecosystem with over 10,000 themes and 50,000 feature plugins, making it easier than ever to build a customized and professional website."
I also asked De Aragon to address security matters for those business owners who may be new to website development.
"Having a secure website, including a secure online store, is important for small business owners to help protect their customers and their company," said De Aragon. "GoDaddy's Online Store comes already protected with a Secure Sockets Layer (SSL) Certificate, so it won't be an additional cost on you or your business to keep your website safe. GoDaddy also offers Website Security where daily scans take place, and should there be a problem, you get a notification right away with the suggested best course of action. If there's an issue that our auto removal tools can't fix, our security experts will repair it manually – at no additional cost to you."
As well, De Aragon addressed online payment security.
"If your small business has an online store feature, you are probably accepting payments online. Customers want to know they are submitting their information to a website that helps to protect their information. With a trusted SSL (Secure Socket Layer) Certificate installed on your website, you are protecting the transmission of your customer's data from your website."
"When you see the prefix https:// or the lock icon next to the url address, you know the site is more protected. Having this certification can also help improve your Google Search ranking to appear higher in search results, making it easier for people to find your site. As well, Google Chrome clearly marks websites that do not have SSL Certificates as 'Not Secure' in the address bar." GoDaddy has a variety of SSL certificates on offer.