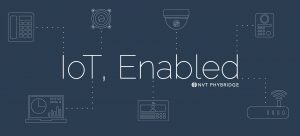 Long Reach Power of Ethernet (PoE) technology helps organizations pass electric power along with data along on twisted pair Ethernet cabling. This cable provides capabilities to such devices as wireless access points, IP cameras and VoIP phones.
A Canadian firm, NVT Phybridge, is providing PoE switch technology to businesses around the world to modernize to IP, but it is also enabling small business and farming, as examples, with IoT capabilities. I asked John Croce, CEO, and Arvind David, Director of Global Digital Transformation about their PoE solutions at NVT, and what's on the horizon for IoT.
"We look to empower our customers with PoE innovations that will help them create better business outcomes from digital transformation initiatives," began Croce.
"We provide the means to help any organization modernize to IP, no matter the network readiness challenges they are facing, no matter the reach requirements, and no matter the infrastructure cable type," stated Croce. "Our technology allows customers to leverage any new or existing infrastructure to avoid the risk, complexity, and high costs caused by the traditional rip-and-replace strategy. We help organizations apply Modern LAN Principles (outlines by Frost & Sullivan) to overcome the traditional barriers to IP."
Croce added, "While we have partnerships with the major communications and physical security manufacturers, we are vendor agnostic and can enable any IEEE compliant device."
"We are proud to have helped thousands of customers, including the most powerful federal agency in the world, the leader in space research, and many other Fortune 500 companies and governments around the world to improve their modernization to IP and the Internet of Things [IoT], remarked Croce."
"NVT Phybridge is the amalgamation of two companies: NVT, a California company focused on enabling physical security devices, and Phybridge," Croce added. "Phybridge was established in 2008 after founder Oliver Emmanuel developed the UniPhyer switch. Oliver and I partnered to start the company and introduced this technology to the market. The UniPhyer is now End-of-Life and has been replaced with the PoLRE® (Power over Long Reach Ethernet) switch. [Our] product families [now] include enterprise-grade managed switch, unmanaged switches, and single-port extender solutions."
"Our product was invented in Canada and is still manufactured in Canada to this day," explained David. "We were the first company to make an enterprise-grade 24 port managed switch that delivers PoE over a single pair of wire with up to 1,200ft (365m). That's four times farther than a standard PoE switch. Since our initial invention, we have created long reach PoE switches for Coaxial and Category 5/6 cable that supports IP devices up to 6,000ft (1,830m) over a single wire."
"The world is moving towards being a global village, and organizations need to digitally equip themselves to succeed," stated David. "Though we mainly focus on retail, education, government, healthcare, hospitality, manufacturing, NGO/NPO's, and transportation, we believe that every organization needs to modernize. What people fail to realize is that when they talk about the convenience of the Cloud, these solutions are still physically connected to a server farm. Establishing the required IP network is a process and not an overnight decision in most cases."
What's on the horizon for NVT Phybridge and its customers?
"In the past, we have focused heavily on enabling IP communication and physical security devices and applications," said Croce. "As the world continues to adopt the Internet of Things, we are excited to enable more and different kinds of devices that customers may need to improve efficiency, protect people and assets…."
"We work to providing PoE from the smallest sensor to massive camera deployments," added David. "We are always in R&D mode to determine what the next device is to enable. Our question to our clients has always been, 'now that we've simplified digital transformation, what would you enable?'"
Croce also revealed, "We are currently exploring an IaaS (Infrastructure as a Service) model to help even more organizations modernize to IP that may not have the large capital budget available and would prefer more of an OPEX model. We are also working on a new 10GB switch for customers with a multi-pair UTP infrastructure."
I asked Croce and David about its IoT Pioneer Award, and its goal with the establishment of such an award.
Croce explained, "The IoT Pioneer Award recognizes our outstanding partners and customers who take the "Modern LAN" approach to improve digital transformation projects. Because the "norm" is to rip out older cabling (CAT3, Coax, etc.) when modernizing from analog/digital to IP, we are considered a disruptive technology. Therefore, we like to recognize those partners and end-user customers who are willing to learn about innovation, take a better/different approach to solve problems and improve digital transformation outcomes."
Added Croce, "We understand that it is the team effort between all technology providers that contribute to the success of a project. We encourage customers to do a free proof of concept to test the solution in their environment. We have an outstanding POC success rate, north of 90%. So we understand that, sometimes, seeing is believing."