Recently, IBM announced the launch of 'Watson Works', its AI-based technology aimed to help companies manage the challenges of safely reopening their workplaces. I asked Steven Astorino, IBM Canada Lab Director and VP, Data & AI Development, to tell me more about Watson Works, and how its data insights are generated and used, responsibly.
"For returning to work in a COVID-19 world," began Astorino, "Watson Works will help employers manage facilities and optimize space allocation, prioritize employee health using evidence-based decisions about return to the workplace and office openings and closures, communicate with employees, vendors and other stakeholders …, and maximize the effectiveness of contact tracing by assisting organizations with support for care agents and contact tracers."
Explained Astorino, "In my conversations with Canadian and global C-suite leaders in business and government, they recognize that the pandemic is a global tragedy, but they're also talking about this moment as a mandate for change and opportunity to rethink everything, from the role of the corporation in modern society to day-to-day business operations to the nature of work itself," shared Astorino.
"Leaders are recognizing that success in the future means transforming the enterprise today."
What Does 'Watson' Know
"Watson Works is a curated set of products that embeds Watson artificial intelligence (AI) models and applications to help companies navigate many aspects of the return-to-workplace challenge following lockdowns put in place to slow the spread of COVID-19," said Astorino.
"Let's look at Watson Works' IBM Return-to-Workplace Advisor as one example, which enables employers to make evidence-based decisions about when to have employees return to the workplace, and when certain offices or worksites should be closed," remarked Astorino. "The Advisor is facilitating the collection and analysis of real-time data from multiple sources including local infection rates and trends, state and local regulations, and voluntary (read: opt-in) sharing of employee symptoms, test results and household health risks."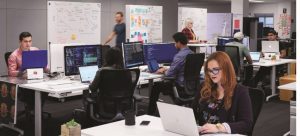 Added Astorino, "The tool can swiftly alert managers to relevant updates without additional communication steps. The tool also includes Watson Assistant, a virtual agent that helps provide customers and employees with fast, straightforward and accurate answers to their questions, across any application, device or channel."
Contact Tracing
"With regards to contact tracing," began Astorino, "when employees voluntarily notify their employers of a positive test result and give consent, contact tracers can then conduct interviews and use information from multiple sources to help identify individuals who should be notified of potential exposure, document all case-related information in a secured, privacy-preserving system, and trigger employer designed case management workflows to support employees while they recover."
Astorino was clear to mention, "Everything included in Watson Works is built from the ground up with transparent, explainable technology and privacy and security top of mind."
Data Transparency
"For more than a century, IBM has been a leader in the responsible stewardship of technology and clients' most valuable data," stated Astorino. "This reputation and earned trust differentiates us from many of our competitors."
"Watson Works conforms to the company's high ethical standards, long-established Principles for Trust and Transparency and guidelines for deployment of technologies in response to the COVID-19 emergency," said Astorino. "The recent announcement by our CEO Arvind Krishna that IBM will no longer offer general purpose facial recognition or analysis software is just one example of how IBM walks the talk on our commitment to the Trust and Transparency guidelines.
"Our Principles include the following:
Technology Must be Transparent and Explainable;
Data and Insights Belong to their Owner; and
the Purpose of Technology is to Augment Human Intelligence."
Overseeing its design and rollout of new technologies in context to data collection, privacy, security and fairness, "IBM also has an internal AI Ethics Board and a business-wide network of focals – IBM AI experts," said Astorino, which "is comprised of a cross-disciplinary team of IBMers, co-chaired by our Chief Privacy Officer, and reports to a committee of IBM senior leaders."
Privacy and Tracing Apps
I asked Astorino about best practise privacy controls as they relate to Alberta's ABTraceTogether and other tracing apps that will be used in the fight against COVID-19.
Astorino replied, "IBM believes strongly in the value of opt-in measures to protect privacy and ensure trust. We believe governments and enterprises should strive to prioritize the voluntary nature of any collection and use of personal data in public health efforts."
"For example," explained Astorino, "deploying a contact tracing app in the workplace could help provide returning employees with a healthy and safe workplace while preserving privacy, provided it's designed and deployed with the right guardrails in place."
"Specifically, some of those concerns would be tightly restricting the specific purpose for which data can and cannot be used to prevent it from being repurposed; collecting only the minimum amount of data necessary and deleting data when no longer needed; and designing and deploying solutions with privacy and security built-in.
Added Astorino, "Looking ahead to other possible technology applications in combatting COVID-19, it's critical to ensure that society's trust in technology remains intact."