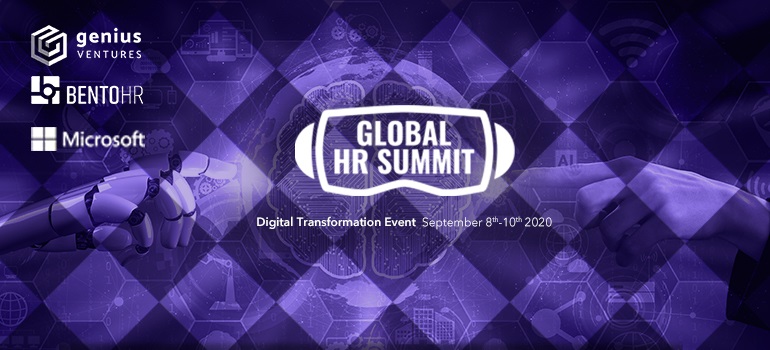 July 31, 2020 Conference Update: New Dates
Organizers of the Global HR Summit have updated the dates of this conference, which will now take place on September 8 – 10, 2020.  Work is underway to more robustly deliver its platform and its conference offerings, as a third full day of programming is now being offered.
Global HR Summit, will be the world's first HR conference to be offered in Virtual Reality. With work transitioning away from physical sites in favour of working from home, the Global HR Summit will showcase immersive workplace (XR) technologies that enable digital transformation and make workplaces more human-centric.
An alliance between Genius Ventures Inc., BentoHR, and Microsoft – powered by Altspace – has laid the foundation for what is expected to be a pioneering conference, with the opening keynote delivered by Tom Furness.
Said Matt Burns, Global HR Summit Founder and BentoHR CEO, "The Global HR Summit is more than an event. More than a business conference. It's an opportunity to start a conversation that many of us have been waiting years to have."
The Global HR Summit invites its visitors to immerse themselves in the future of immersive workplace (XR) technologies that inspire and ultimately enable digital transformation. The Summit will be presented in both 2D (YouTube live-stream) and 3D (virtual reality) formats. The event will also be recorded in its entirety and available for future viewing.
"We have an opportunity amidst the chaos, to come together in VR (Virtual Reality) and via Live-stream as a collective to overcome race, socio-economic status, and/or geographic location; and start the dialogue(s) that will drive our world forward," remarked Navjeet Chhina, Global HR Summit Founder and  CEO Genius Ventures Inc.
Conference topics include:
Digital Transformation: The Path to Human-Centricity
The Future of Digital Workplace Technologies
Diversity, Equity & Inclusion Re-imagined
XR Deployed: What HR Organizations Are Doing Today
Working Parents: Our New Normal
XR Technologies in Recruitment, Performance & Learning
Here is a summary of what you can expect at the Summit.
Tickets
All ticket proceeds from the Global HR Summit will be donated directly to the Virtual World Society charity.
Tickets are limited to 1000 tickets in VR and 10,000 tickets for 2D/Live-streaming.
$49 donation for 2D experience
$99 donation for 3D experience
Secure your tickets at https://bit.ly/GHRS2020