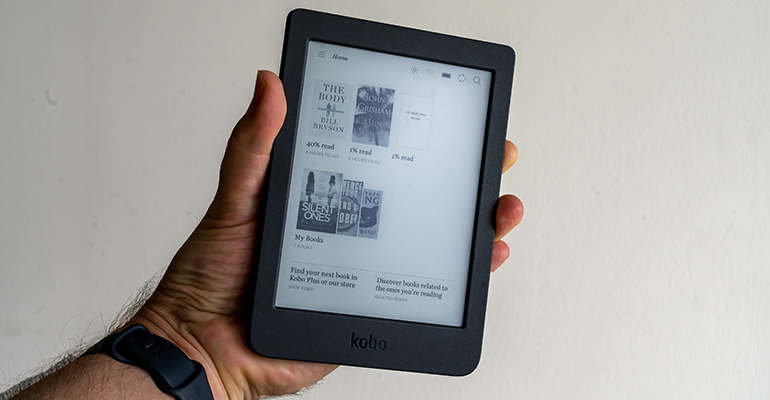 If you have simple needs when it comes to an eReader, the Kobo Nia is built to offer little else but actually reading.
True, that's the whole premise behind an eReader, but for Kobo, the Nia is something of a change. Or at least a return of sorts. Having focused the last couple of years on more expensive models, like the Libra H2O and Forma, for instance, this device is basic by comparison. But that's by design because the company is going after readers who don't want every new feature.
For $130, you're getting what you pay for, and if you're on the fence, read on here to find out why.
Going back to basics
In recent years, Kobo opted to go with larger screens and bigger form factors to make its eReaders more appealing and durable. Waterproofing, blue light filtering and more internal storage were just three of the extras the company threw in to make the devices more accessible. The Nia doesn't really offer any of that. It's accessible in a different way, which is to say you can use it one-handed and put it in a pocket.
Its 6-inch E Ink Carta display is lower in resolution, yet still offers a respectable 212ppi pixel density. There's no ComfortLight blue light filter, nor any waterproofing, so this is the kind of product you'd have to be careful with near water or at night. With that amber filter to go easier on your eyes in the dark, it won't be quite as relaxing in darkness before bedtime.
You might want to spend an extra $30 on a Sleepcover case to give the Nia some protection when you're transporting it or leaving it lying around. It's about the only way you can add some colour to this thing. It's pretty drab, otherwise.
The microUSB port notwithstanding (it really should be USB-C at this point) to charge the battery and load up non-eBook content onto it from a computer, there is 8GB of storage to work with.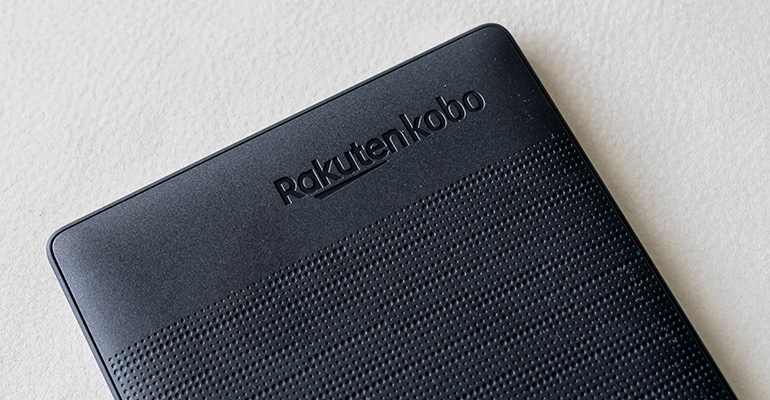 Access to eBooks and more
If you're familiar with Kobo, there are no real surprises here. The Kobo Store has 4 million eBooks available, which you can browse through anytime you're on Wi-Fi. About a million of them are actually free downloads, so if you're on a tight budget, you may find something to read for nothing.
What makes Kobo compelling is its openness to other platforms. Get a card from your local public library and you can use OverDrive on the Nia to borrow digital books. You can also use Pocket to save articles you find on the web and read them later on the eReader. Pocket is available on computers, phones and tablets, so whatever links you set aside on those devices will be available on the Nia, too.
Like other Kobo devices, plug this one into a computer and you can transfer over documents and files at your leisure. Plenty of file types are compatible: PDF, EPUB, EPUB3, PDF, MOBI, TXT, HTML and RTF. If you do load up JPEG, TIFF, GIF, PNG and BMP images, you may find they don't look as great on this screen. CBZ and CBR comic books are also indicative of that.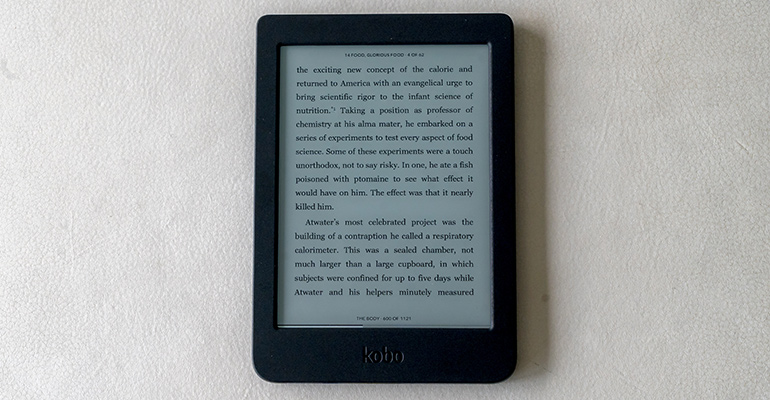 Reading, and keeping it simple
One reason the Nia feels so much smaller is because the bezels around the screen are thinner, while the body itself feels lighter. It's easily the most portable eReader Kobo currently has in its lineup.
That's probably for the best, given there's not much to rave about as far as features go. Reading on it is fine, and you get some of the latest software features the company brought in the last couple of years. A personal favourite is the scrubber to navigate and move along book pages with ease. Text is nice and sharp, and the screen is responsive when tapping it to flip pages.
The downside is that some of what's missing feels like it's missing. The ComfortLight Pro filtering is definitely one of them, as is the fact that eBook PDFs and other documents don't look as good on a 6-inch screen as they would on one that was 7- or 8-inches. Your experience may vary depending on the document in question, but it was patently obvious to me the Nia was best at reading eBooks tailored to its screen.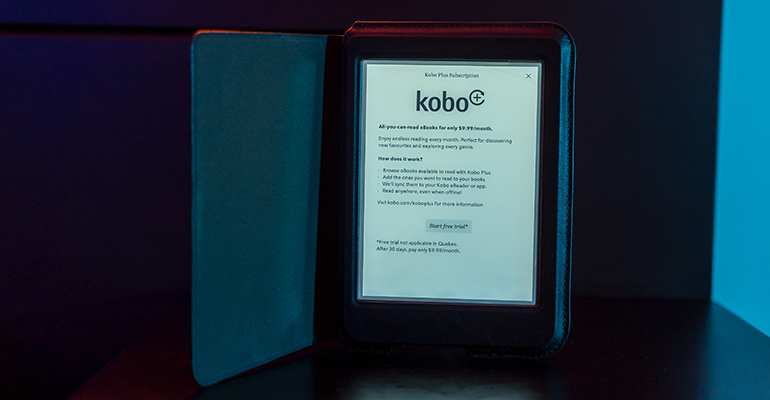 Kobo Plus
This isn't actually tied to the Nia itself, but did come out in tandem with the eReader's launch in August. Kobo Plus is basically a subscription service brought over to Canada that gives you unfettered access to "hundreds of thousands" of titles for $9.99/month. You can try it for 30 days first before committing a penny to it, and you will need that time, trust me.
You can access it on any Kobo device (except the Kobo Mini and Kobo Wi-Fi), Kobo app and desktop web browser, so there's no exclusivity device-wise. However, the service doesn't give you open access to the Kobo Store — only a very small portion of it. A lot of popular titles aren't available through Plus. You'll notice that when you searching through it before even signing up.
There is one other tidbit to note. Kobo limits you to 15 eBooks for offline reading over a 30-day period. It then resets after you've connected to Wi-Fi and either opened 15 eBooks or reached the end of the 30-day period of offline reading.
Simple device, simpler choice
Battery life won't be a problem here, since it will last for weeks before you need to recharge. Other than its relative safety from a fall or contact with water, this is your basic eReader that will just get you through whatever titles you want to read. There are no real bells and whistles, nor a flashy design to brag about. I thought of it in utilitarian terms, and I'm certain you would, too.
If you're thinking of alternatives, the Libra H2O is $200, while Amazon's Kindle Paperwhite starts at $140.