Audio is an important part of the home theatre set-up. And while all televisions come with built-in speakers, they don't really provide a pleasurable listening experience. That's why many people opt for separate speakers, either for the left and right or a full 5.1 (or larger) system. But of late, there has been growing interest in soundbars. MarketWatch reported in its 2020-2027 Global Soundbar Market Report that the worldwide market for soundbars was valued at US$5 billion in 2019 and is anticipated to grow at a rate of more than 3.5% over the next seven years.
Soundbars make a good choice for a number of reasons. First, they're easy to install right below a television. This means they also don't take up a lot of room, a plus for apartment dwellers or those who live in small homes or have the TV in a room where space is at a minimum. Soundbars are generally pretty affordable though some uber-premium ones have been coming to market. And while the first set of soundbars to launch many years ago left much to be desired in terms of audio quality, the latest models have upped their games and offer sound that is pretty great.
When it comes to streaming audio, whether it's a music playlist while the television is off or audio to accompany a movie, TV show, or other video from a streaming service accessed via your smart TV or a connected device like a Roku Media Player, most soundbars can do the trick. But some offer features that simplify and enhance the experience.
JBL Bar 5.1: Create a 5.1 System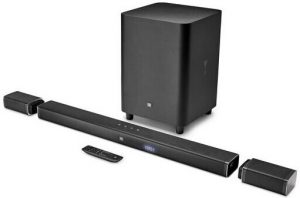 You might be wondering how it could be possible to create a full 5.1 system with a single soundbar. And while there are some that manufacturers claim can produce audio that mimics a full surround sound system, the JBL Bar 5.1 soundbar actually physically does it. How? On either side of the soundbar are two bookshelf-sized smaller speaker that can actually pop out of the housing. Place them behind you to the left and right and voila! You have full surround sound! They operate on internal batteries then recharge again once you plug them back into the main soundbar piece. It's a super clever design. The Bar 5.1 has been on the market for some time but you can find it for under US$500 these days.
Samsung Terrace: Outdoor Audio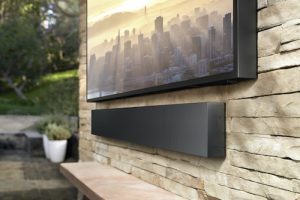 If you want to stream music or other audio outdoors, this soundbar is a great option that has both Wi-Fi and Bluetooth connectivity so you can easily pair it with your phone, tablet, or laptop and port audio to the device to listen to music without even turning the Terrace TV on (if you have one) as well. Thanks to this feature, you could also opt for the Terrace Soundbar alone and use it for audio playback outside on your back deck (though it naturally works best with the TV). It's IP55 rated to withstand the elements and can mount to a wall. $1,200.
Sennheiser Ambeo: High Quality Sound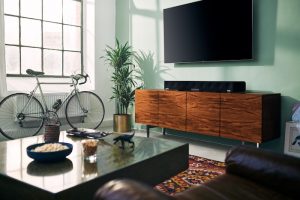 Get high-quality sound with this soundbar that promises to deliver a 3D home audio experience that makes it sound like you're hearing audio from multiple speakers, not just one. It is powered by 13 high-end drivers to deliver 5.1.4 sound combined with deep 30Hz bass, without even needing an extra subwoofer. Use room calibration to adapt the sound to the specifics of your living room. It works with the Smart Control app so you can adjust acoustic settings to your tastes using either an iOS or Android device. At $3,300, it isn't exactly cheap. But if you're looking for a full surround sound experience but don't have room for five or more speakers, and you watch a lot of action-packed movies or listen to a lot of music in your home theatre, it might be worth every penny.
Yamaha SR-C20A/SR-B20A: Enhanced Dialogue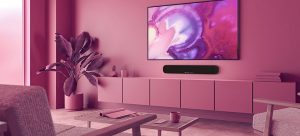 An ideal option if you're using the soundbar to accompany a lot of late-night television, these two new models from Yamaha have a feature called Clear Voice technology that enhances dialogue specifically so it's more intelligible without you having to crank up the volume. Both soundbars are compact and slim. The C20A measures 23″ long and 2.5″ high and has a built-in subwoofer, virtual surround model, HDMI ARC, optical, and aux for connecting to your TV and controlling it with the TV remote. The B20A has dual built-in subwoofers for even deeper and richer bass and DTS Virtual:X. Both come with their own remotes and can be controlled by the Sound Bar Controller app. They also have buttons on the top to manually adjust things like volume, sound modes, and input selection so you can easily swap from cable TV to Spotify or gaming.
Leon Speakers FrameBar: Match The Frame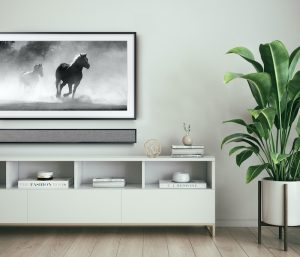 The Leon Speakers FrameBar is uniquely designed specifically to match the Samsung The Frame television. It comes in two models and four finishes that blend with the aesthetic of the gorgeous television. The soundbar is built to order to match the width of the model FrameTV you own, from 43″ and larger. It has 2.5″ woofers, 22mm cloth dome tweeters, and boasts an ultra-thin cabinet. Grab it in the same finishes as The Frame – white, black, brown, or beige – and opt for the black fabric grille cloth or an upgraded designer grille fabric.
Vizio V-Series 2.1 Sound Bar: Affordability
For a super affordable option, there's the V-Series 2.1 Sound Bar from Vizio, which is US$180 (likely just over $200 in Canada) but still includes full-range speakers and a wireless 5″ subwoofer. Dolby Audio provides crystal clear audio combined with DTS Virtual:X for an immersive sound experience. You can also stream music wirelessly to the soundbar thanks to built-in Bluetooth.
Sonos Arc: Super-Connected Smart Home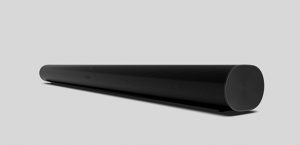 If you have a smart home set-up, especially one that includes Sonos speakers, you'll want to look into the Arc soundbar, which works within the Sonos ecosystem and is even compatible with voice assistants so you can operate it with vocal commands. It has 11 high-performance drivers including two that are upward firing to simulate 3D audio. Use the Sonos app to further refine sound to your liking, including Speech Enhancement for when you're watching television, and a neat feature called Night Sound that will temper the audio with on-screen content like loud explosions. With Sonos' Trueplay technology, you can also adjust thew acoustic profile based on the room set-up. It comes in matte black or white and easily connects to your TV using HDMI eARC or ARC. Control it using the app, next-generation S2 software platforms, the TV remote, Apple AirPlay 2, or by voice via Amazon Alexa or Google Assistant. $999.