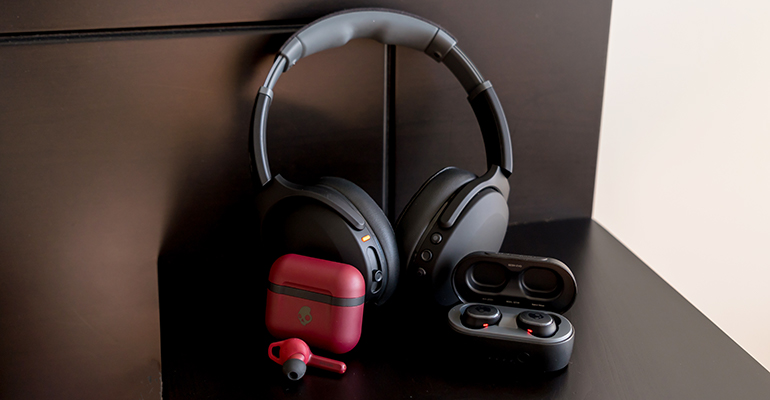 Skullcandy has headphones for most budgets, and these three models represent that spectrum in both performance and price.
Peruse the company's array of available headphones and you may not be sure which ones stand out. I chose these three because they are among the newest available, and to see if they are good value for what you get.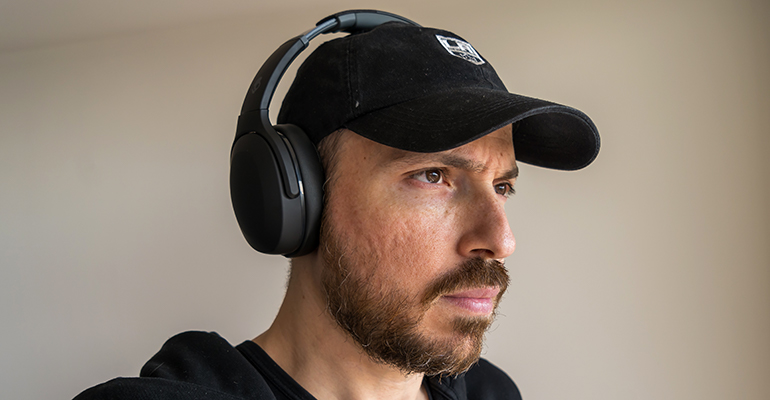 Skullcandy Crusher Evo
Starting with the Crusher Evo, which are Skullcandy's latest over-ear pair, and after listening to them for a while, it becomes clearer who they're meant for. If you like bass — and want plenty of control over it — these headphones take a unique stab at that.
Imagine having a subwoofer attached to your ear that you could adjust or adapt based on the song or artist you're listening to. That's kind of how I would describe the physical Bass Sensory slider on the left ear cup. It controls how much bass response you can apply to whatever you're listening to. To say it has a marked impact would be an understatement. In fact, it's probably too powerful beyond a nudge of about a quarter of the way up.
You may feel differently, of course, but the fact it's there is an interesting way to affect the sound profile without using an app. The Skullcandy app has three preset modes for music, podcasts and movies, though you can also use an equalizer (EQ) to personalize it. It requires you go through a hearing test to help tailor it for how your ears hear, but after that, you can create your own dedicated preset.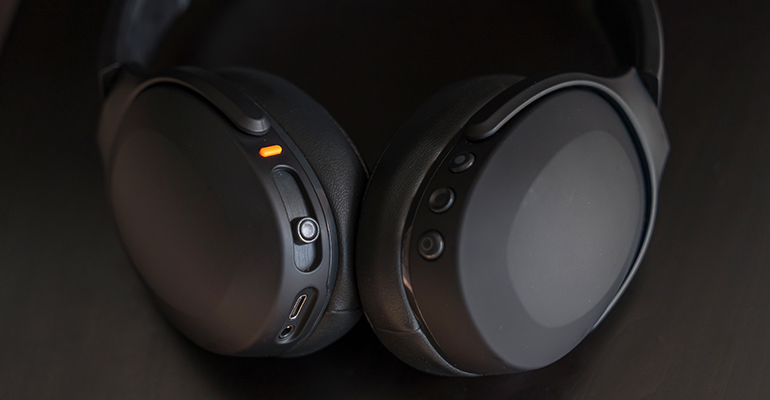 Sound quality is actually quite good, by default. Perhaps a little thick in the mids, but the bass and treble punch through well. For a pair of headphones that are about $200-$250, the sound seems just about right. Bass-heavy users will get what they want, but even if you're more neutral, you will find a good soundstage here.
The fit, however, may not agree with you completely. For one, the Crusher Evo are a little heavier than others, and the headband uses vinyl padding that may feel a bit tight on top of your head. The ear cups are great, and do a great job of passively isolating sound. You don't get active noise cancellation, so this is the next best thing.
You also don't get Bluetooth multipoint, meaning you can't pair the headphones with a phone and computer at the same time, for instance. If you do want to track them in case you misplace or lose them, they have Tile tracking built-in.
And last but not least, there's battery life. Skullcandy claims up to 40 hours per charge, but that may be conservative if you keep volume and the Bass Sensory slider at reasonable levels. I crossed 40 hours and still had time to spare, so it's possible to get several extra hours if you're not cranking up the volume.  Interested in the Crusher Evo?   Enter our contest to win  Skullcandy's Crusher Evo™ Sensory Bass Headphones with Personal Sound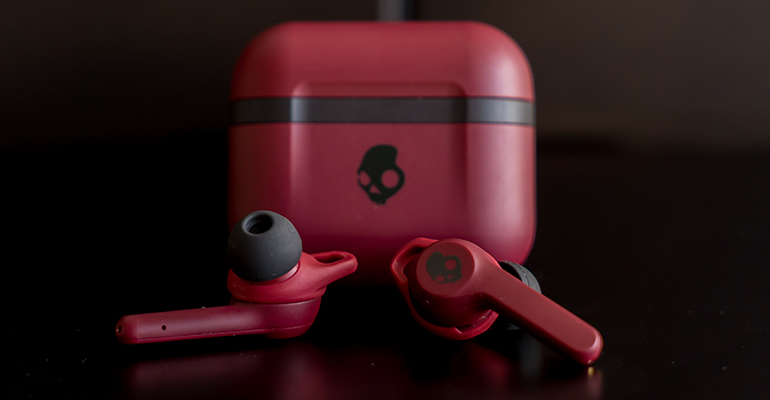 Skullcandy Indy Evo
For a pair of true wireless earbuds, the Indy Evo are among the more colourful you'll find. There are several different colour options to make these stand out of your ears even more than the stem already does.
The flashy look comes with a few trade-offs you have to consider. First, the fit is going to either feel good, or feel uncomfortable. I'm not sure there's a lot of middle ground on this one, though it may just be my experience. The initial period is fine, but after a while, they can feel a little constricting.
The second part, which is related, is how the controls work. To trigger ambient mode, so you can let outside noise seep in, you have to tap and then hold for two seconds. You have to be on the money with it, or else it thinks you want to lower or raise volume. My other gripe is that the voice prompt doesn't indicate if you have the mode on or off.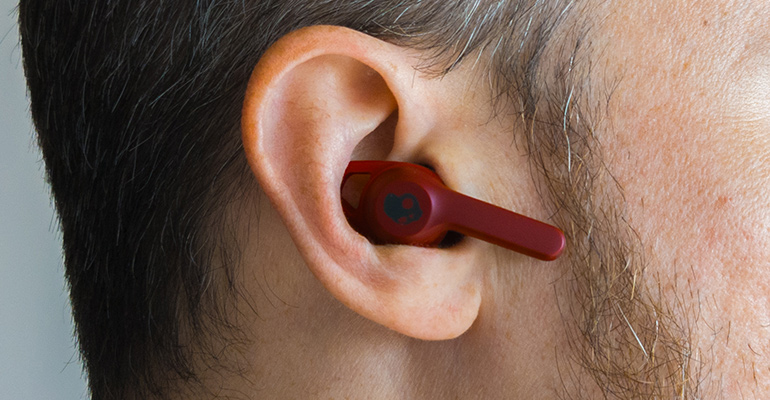 Then there's the sound. I was surprised at how much these favoured the mids and highs at the expense of the bass. With true wireless earbuds, getting a good seal helps tremendously to amplify the lows, but even with the best possible seal, I felt the Indy Evo lacked real punch with its bass output. The only EQ option is to cycle between music, podcast and movie modes.
Runners may not mind when listening outside, or those who love rock music, for that matter. But at $120, I would expect fuller sound to come out of these. Again, it may just be that my ears aren't conducive to their design but I felt they were too flat. And as much as I like rock and jazz, they didn't play as well for my hip hop and house playlists.
Battery life is rated at six hours per charge, but I doubt you'll get that high. I managed to get four hours, and it's probably because of volume levels, along with ambient mode and phone calls. Mixed usage seems to drag them down. Thankfully, the case gets you up to another four charges. You also get fast-charging, where a 10-minute charge should get you two hours or so of playback.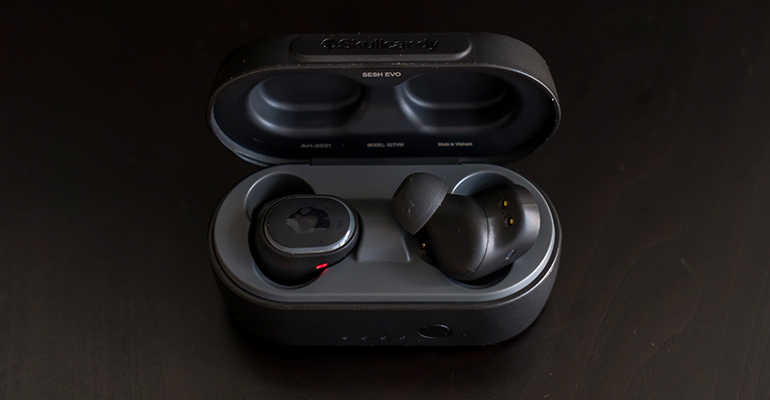 Skullcandy Sesh Evo
At $90, a sub-$100 pair of true wireless earbuds have a little extra leeway in not delivering on every, and that's probably the easiest way to describe the Sesh Evo. Like the Indy Evo, you get flashy colours to choose from, but unlike Skullcandy's other pair, you don't get the stem design, nor an ambient mode. But you do get physical buttons, which makes the controls easier to manage.
I actually had trouble getting the two buds to sync with each other out of the box, and was only able to solve it by going through these instructions to finally solve the problem. Once I got them going, I got a quick sense of what kind of sound to expect. Unlike Skullcandy's other models here, the Sesh Evo don't have app support, so you can only toggle through the music, podcast and movie modes by pressing either bud four times.
These earbuds would've benefitted from an extra-large size of ear tips, though I can understand why Skullcandy didn't do it. They buds wouldn't fit in the case if they had. As is, the sound profile is okay, though sibilance does set in at louder volumes, which becomes especially obvious with cymbals and female vocals.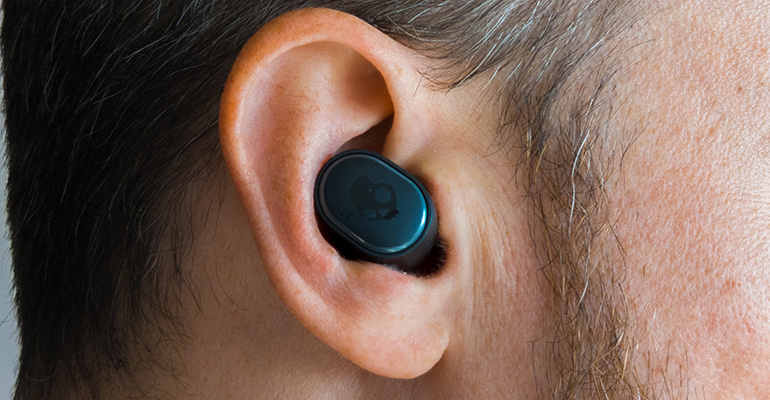 But I have to come back to the seal. It's crucial to every pair of in-ear headphones, but for the Sesh Evo, it is a total make-or-break situation. I had to twist them a little to find just the right fit with the large ear tips before I could feel like the bass started to come alive.
The irony in that is the bass felt fuller on these than it did on the Indy Evo. Not by a huge margin, mind you, but still very noticeable.
Battery life is mediocre at up to five hours, though I doubt you will hit that number. At moderately higher volume, they lasted about four in my tests. Not terrible for the price, but certainly not amazing, either. The case will get you another three charges.
Tile tracking
I already mentioned this with the Crusher Evo, but it's a feature I would argue is more important for the Indy Evo and Sesh Evo because they are easier to lose. Once you register them on the Tile app (you will need an account, but it's free), they become trackable. They emit a whistle sound when you actively search for them to help you hone in. If you lost them out in public, you can use the Tile community's help to track its last known locations.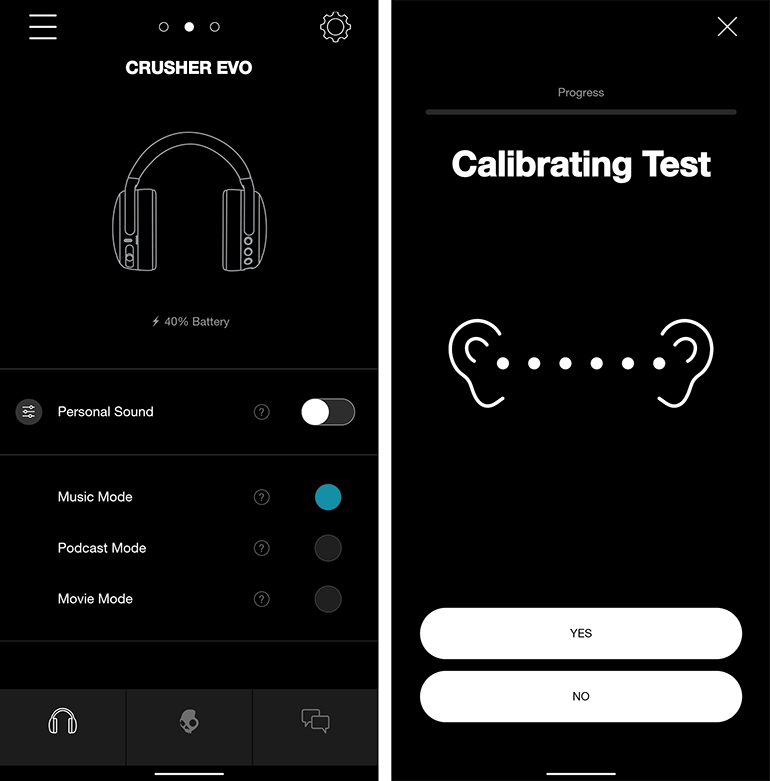 Conclusion
All three of Skullcandy's headphones are in competitive price ranges and categories. The Crusher Evo is the most competitive relative to its price, and makes it very clear who the target consumer is. At a sale price of $200 or less, it's good value.
The Indy Evo look nice, but suffer from the very issue that almost plagued the Sesh Evo, which is getting the best seal. You have less flexibility to do it with the Indy's because of the stem design. Not as much wiggle room for twisting and turning. If you manage to get them to fit just right, I can see them sounding better for you, but it's hard to be sure.
The Sesh Evo get you a more predictable sound profile once you get the seal and fit just right. It's not going to blow you away, but if a relatively balanced sound with minimal spectrum separation works for you, then you won't have much to complain about.