School is back on, and while many parents have decided to send their kids back to classes, others have opted for distance learning as an extra precaution because of the COVID-19 pandemic. School boards are providing Chromebooks for students who need them. But some parents are using this as an opportunity to invest in a Chromebook their kids can use for personal activities as well, through the summer, and from year to year.
A new survey commissioned by Citrix find that 43% of Canadian parents felt schools weren't prepared for the move to remote learning, and 14% said their kids have struggled with persistent technical problems in their online classes. Almost half (46%) said accessing e-learning content was initially very challenging but did become routine after they got over the learning curve. Twenty-two per cent of parents purchased additional devices for their children to access classes and course materials. And the majority (73%) of parents say that technology is a critical factor for online class success and contributes to a good learning experience, with 48% believing that remote learning will only be successful with the right tools.
With that said, at the center of the tools students require is a computer. And for most grade school kids especially, whether it's provided by the school or purchased independently, a Chromebook makes the most sense.
Lenovo Chromebook Duet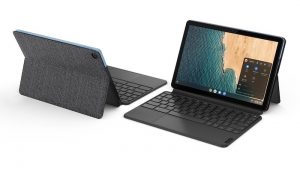 The Lenovo Chromebook Duet has a 10.1″ (1,920 x 1,200) screen and employs a 2-in-1 design so it can be used in traditional laptop format, tented, or as a tablet. Powered by a MediaTek Helio P60T processor, it comes with 4GB memory, a 64GB eMMC hard drive, front and rear cameras for connecting with a video meeting, and Bluetooth 4.2 for pairing with a set of wireless headphones or Bluetooth speaker. Grab one for about $415.
Google Pixelbook Go Chromebook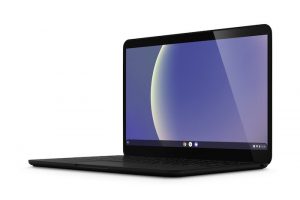 Better suited to older students, this chromebook is twice as expensive as the others. But it is also more feature rich. At under 2 lbs. and just 13mm thin, it offers an impressive up to 12 hours of battery life along with ultra-quiet Hush Keys, which will be appreciated by kids who are working with siblings in the same home. It offers access to Google Play apps, and, of course, the Chrome OS for accessing Webpages like Google Classroom or other educational apps and services. It sells for an MSRP of $879.
Asus Chromebook C223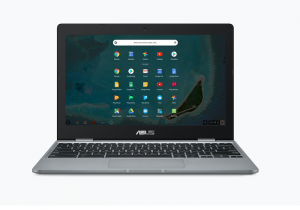 For basic use, the Asus Chromebook C223 will do the trick. It's compact and lightweight with an 11.6″ screen, dual-core Intel processor, and 10-hour battery life. Access the Google Play app store, use the HD front camera for video classes, and enjoy favourable sound through a pair of high-quality stereo speakers. With dual-band Wi-Fi, the 802.11ac connection will help alleviate interference from other Wi-Fi devices on the same band. A feature that parents will especially appreciate is the spill-proof keyboard, which can protect the device in the event that a child has an accident with his water bottle. At just $300, it's a basic and affordable Chromebook that will meet the needs of young kids who are accessing the classroom virtually.
HP Chromebook x360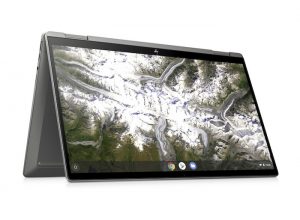 At $600, HP's Chromebook x360 is a solid choice for kids of all ages. With an ample sized 14″ full HD display, it runs on an Intel Core i3 processor and has a 64GB eMMC, 360-degree hinge for using it in a variety of modes, and a bilingual keyboard that supports both English and French. With superior audio by Bang & Olufsen, dual array digital microphones, and 88-degree wide-angled field-of-view HD camera, kids will have no trouble seeing and listening to their distance learning teachers and collaborating for class discussions. You also get a one-year subscription to the Google One cloud service for storing up to 100GB of files. Battery life is up to 13 hours and 45 minutes per charge, and you can fast charge the battery to approximately 90% in 90 minutes.
Acer Chromebook 14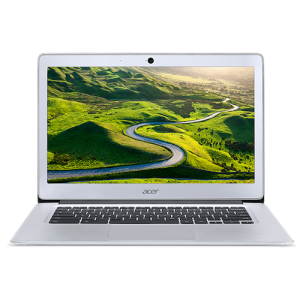 Among its many Chromebook offerings for students is the Acer Chromebook 14, which is made with an all-aluminum housing, which makes it very durable, and HD or Full HD screen resolution options with IPS technology, low reflection, and anti-glare technology. It runs for up to 12 hours per charge and offers ultra-fast wireless speeds thanks to dual-band MIMO 802.11ac technology. Leverage the built-in webcam that supports HDR for crystal clear video meetings, as well as Google Play to access apps like Google Classroom. Pricing varies depending on the configuration.
Bottom Line
When selecting a Chromebook for your child's virtual schooling, run through this checklist of useful questions:
Does the Chromebook have an HD camera, good audio, and microphone? This will be essential for connecting to the class and ensuring that the teacher and other students can see and hear the child clearly, and that your child can see and hear everyone clearly as well.
How good is the battery life? While your child will likely be sitting in the same place for learning, you still want them to be able to move around freely if needed without worry that the Chromebook will run out of juice.
What is the screen size and resolution? While features like 2-in-1 designs seem essential, kids really won't need to use the computer in tablet format for school. So, if it's primarily for schoolwork and you're on a budget, focus on a higher definition and larger screen over convertible design.
More info Distance Learning