An air purifier is a useful device to have in your home, especially for a home office where you might be spending hours and hours each day. And it's a great gift to consider for someone special on your list this holiday season.
Air purifiers help rid the air of harmful bacteria, dust, dander, and volatile organic compounds (VOCs). They can help reduce airborne contaminants, including particles that potentially contain viruses.
While anyone can benefit from an air purifier, they are especially useful if you have pets in the home or experience allergies. And most air purifiers are pretty portable so you can move them around as needed, whether it's up to the kitchen to help purify the air after you've just cooked with some really pungent spices or to your bedroom to run overnight for refreshed air in the morning. Portable air purifiers are also useful during the cold winter months where you can't really open the windows to get better air circulation and ventilation in the room.
Looking for the right air purifier to put in your home office or buy as a gift for someone? Here are a few good options.
Philips Series 2000 Air Purifier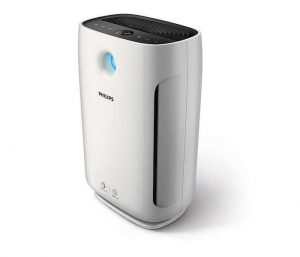 The Philips Series 2000 air purifier is a large floor-standing model that monitors the air, cleaning and purifying when needed and providing real-time feedback on its numerical display and colour ring. It uses a pre-filter, True HEPA filter, and Active Carbon filter to reduce everything from allergens to odours, VOCs, bacteria, and gases. With three auto modes and five fan speed settings, it includes a 12-hour timer and operates quietly at 32-64dB. Ideal for a room up to 277 square feet in size, it's perfect for a home office. It's pretty expensive, though, at about $500.
Honeywell HFD310 AirGenius 4 Air Cleaner & Odor Reducer
Employing a tower design that makes it ideal to fit in narrow spaces, tucked away beside your office desk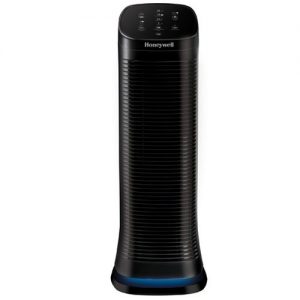 or in a corner of the room, the Honeywell HFD310 AirGenius 4 Air Cleaner & Odor Reducer uses the company's patented QuietClean ifD technology to capture mold spores, pollen, dust, smoke, VOCs, airborne gases, and pet dander. Operate it via touch button controls and choose from four clean settings: sleep, general, allergen, and max. The accent lighting can be adjusted from high to low or off and it operates quietly. One feature that sets this one apart is that it comes with permanent filters that are washable versus ones you need to replace. A filter indicator light will advise when it's time to clean them. Designed for rooms up to 250 square feet in size, it can oscillate and features a 2-8-hour automatic shut-off timer.  Approx. US$210
Dyson Pure Humidify+Cool Fan and Air Purifier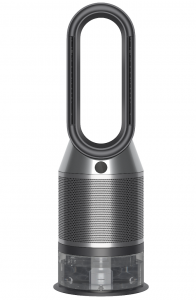 Yes, you'll pay a lot more for this device than you would others because of the Dyson name, sleek design, and investment in technology. The purifier is designed to help capture 99.97% of air pollutants as a small as 0.3 microns, and a new technology features a high power UV-C light to kill waterborne bacteria in. But the Dyson Pure Humidify+Cool Fan and Air Purifier adds more value to justify its expensive price tag by doubling as a humidifier that can add moisture to dry air when needed, as well as a fan that can provide cooling as well. It includes both a HEPA filter and activated carbon filter, and intelligently senses the quality of the air and humidity levels and kicks in when needed. Air Multiplier technology ensures that it reaches every area within a room, while Jet Axis Control technology on either side provides direct cooling, oscillation mode, backwards airflow mode, and a new Breeze mode that mimics the feeling of refreshing breeze hitting your face outside. Track all the data in real-time from the LCD on the front of the unit of using the Dyson Link app for Android and iOS. Available in white/silver or black/nickel, it comes with a magnetized remote, sleep timer function, and Night-Time mode. $1,000
Allterco Shelly AIR
The Allterco Shelly AIR is much more compact than the others on this list, but it might fit the bill as a small device to keep in or nearby your home office. A feature in particular that has sparked interest due to COVID-19 is that this smart purifier uses UV-C LEDs to attack different viruses and claims to be able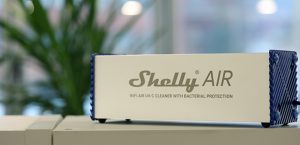 to eliminate 95% of the viruses and bacteria in the air, preventing them from multiplying. It uses two air purifying technologies: filter for particles sized 0.3 μm and UV-C LED light that kills viruses and bacteria and can cover a small area of up to 30 square metres in size. Made almost entirely of aluminium, it's actually designed for use in professional settings, but if you have serious concerns about the air quality in your home office, it might be worth investing in for yourself. The Bulgarian company says that it uses UV-C LEDs that were created in a specially designed aluminum reactor that prevents them from reaching the skin and eyes, making it safe for indoor use. Control the AIR from your Android or iOS phone using the Shelly Cloud app, where you can also review data like the temperature, create custom schedules, and more. It also works with voice assistants, including Amazon Alexa and Google Assistant. Approx. US$300
Sharp Plasmacluster FPK50UW Air Purifier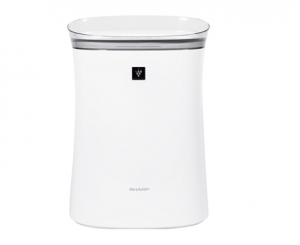 One of three new air purifiers Sharp recently announced that use its proprietary Plasmacluster technology, the FPK50UW is ideal for covering a decent-sized home office, with the ability to purify the air in a room as large as 259 square feet in size. Sharp's patented Plasmacluster Ion technology works by dispersing positively and negatively charged ions throughout a room to help break down microorganisms and odours like pollen, dust, pet dander, smoke, germs, bacteria, mold, and fungus. It uses a True HEPA filter to capture microscopic pollutants. Using an Express Clean mode, you can get 60 minutes of high-density Plasmacluster Ion purification along with a high fan speed to quickly and effectively clean the air. Conversely, it also includes a Library Quiet mode that will operate at 22 decibels, which is equivalent to the sound of rustling leaves. About $300
VOCOLINC PureFlow Smart Air Purifier
A large floor-standing device, the VOCOLINC PureFlow Smart Air Purifier is ideal for larger home offices that have the room to accommodate it. And along with purification through True HEPA filtration and an activated carbon filter that employs a hive pattern to capture particles as small as 0.3 microns, it is also a super smart model that can be controlled via the app, as part of smart home scenes with platforms like Apple HomeKit, and using voice via Siri, Google Assistant, and Amazon Alexa. Operating at a quiet 30dB, it can clean a large area up to 645 square feet in size in about a half hour. The informative display on the front provides plenty of information, including the air quality, temperature of the room, and more, while a series of buttons on the top can be used to adjust settings, including auto mode, fan speed, night mode, and more, all of which can be controlled in the app as well (and some by voice, too.) About $400