To mark International Women's Day, Girl Guides of Canada-Guides du Canada (GGC) and BlackBerry Limited today announced the success of their joint cybersecurity skills-based program.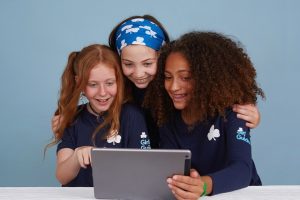 The Girl Guide-led cybersecurity program, which began in November 2019, encouraged girls to see "how stuff works," and offered an in-depth look at cybersecurity topics through play and discovery-based learning. Girl Guides have since completed nearly 20,000 different activities, both online and in-person, as part of the program.
Girls were provided the opportunity to discover how computers work, how data travels, what hacking is all about and how cybersecurity creates layers of protection. From solving puzzles as part of a cybersecurity-inspired escape room, completing a paint-based colour mixing activity to understand encryption, playing tag-based games to explore how different types of malware can infect your computer and much more, Sparks, Brownies, Guides, Pathfinders and Rangers across the country worked to complete a set number of activities and modules that taught them various cybersecurity skills.
"At Girl Guides of Canada, we've always empowered girls with the necessary skills they need to excel," said Jill Zelmanovits, CEO, GGC. "We're thrilled that the program was so well received and has become even more relevant for girls today as they navigate the current tech landscape and are emersed in more extended periods of online learning due to current pandemic protocols."
More than 5,600 girls from the ages of 5 – 18 across Canada have been awarded a new cybersecurity crest, called Digital Defenders.
"We're thrilled with the program's results and the fact that so many girls saw value in becoming cybersecurity savvy while learning about the consequences and dangers of unsafe online behaviours that could potentially put them, their device or their personal information at risk," said Sarah Tatsis, VP, Advanced Technology Development Labs, BlackBerry.
Added Tatsis, "The Digital Defenders program has allowed girls to develop critical cybersecurity skills – of particular importance right now as the COVID-19 pandemic has forced them to participate in countless virtual activities and extended periods of remote learning."
Tatsis also commented, "With the cybersecurity industry facing a significant talent – and gender gap – a big part of the program's aim was to 'spark' cybersecurity interest at a young age and I'm confident that many now see how interesting and valuable these foundational skills are and that there are many career opportunities out there in which they can make a difference with their newfound cyber-smarts."
Affirmed Zelmanovits, "Programs like Digital Defenders that encourage girls to dive in, ask curious questions, problem-solve and explore how technology works serve as an important incubator to foster girls' confidence that technology can be a very rewarding career path."
Options to support girls in virtual Guiding are in place to ensure they can continue to enjoy a wide range of programming options like STEM activities, discussions on mental health and healthy relationships.
For more information on GGC and BlackBerry "Digital Defenders" program, please visit www.girlguides.ca/digitaldefenders.