I commend students, teachers and parents, like never before, for their perseverance and commitment to STEM learning. The role of technology to provide learning assistance is critical right now to ensure that the momentum for STEM learning is bolstered – not lost – during the pandemic.
Waterloo-based Maplesoft, provider of mathematics-based software to STEM educators, researchers and engineers, has launched Maple Learn, a free, online learning tool to make it easier for students and researchers to analyse and solve mathematical problems. It is also cool to note that this software is powered by the world's most powerful mathematics engine, which is used by NASA and the Canadian Space Agency.
"Maple Learn is an online environment designed specifically for teaching and learning math and for solving math problems from high school to second year university", began Karishma Punwani, Director of Academic Products at Maplesoft. "[It] provides great flexibility for problem-solving, combining steps worked out by hand with computations performed by Maple Learn."
"For students, Maple Learn provides an opportunity to solve a problem or create a graph instantly, such as when they are checking their homework, or to work out problems in the same way they would on paper," explained Punwani. "When needed, students can also use Maple Learn to check individual steps to help them track down where they went wrong."
And, for instructors, Punwani remarked, "[they] can use Maple Learn as an engaging environment that helps students learn math, whether they are in the classroom or involved in remote learning.
Maple Learn was launched last month, but its trial phase began last summer. "This beta period was used to engage with educators from high school to university to ensure we had built a product in-tune with their needs," shared Punwani. "Feedback during the beta period was overwhelmingly positive, with more than 5000 people using Maple Learn during that time."
"Anyone can use Maple Learn for free – no sign-in required – or they can subscribe for a Maple Learn premium account which unlocks daily limits on certain features," said Punwani. "Instructors who teach math or a related subject at an accredited high school, college, or university, can request a free Maple Learn Premium account."
Technology Steps Up During the Pandemic
I asked Punwani about her thoughts regarding technology in student learning, today.
"In the past, many of us associated learning with the classroom environment," began Punwani. "Our kids learned through teacher driven instruction. However, the pandemic has forced educators and students to adopt remote learning at unprecedented rates."
"While the need to become proficient at remote education has been challenging for most, the breadth of online learning resources now available to us courtesy of technology have provided many creative teaching and learning opportunities," remarked Punwani.
"We are able to engage with students in ways that were unimaginable just a few years ago. Children, learning from home, can now interact with a myriad of different online learning resources. These resources are developed by educators and subject matter experts from all around the world, and the content ranges in style and format to suit many learning styles. Children can choose from videos, games, software tools, printouts, etc., and if a particular explanation or tool doesn't resonate with them there is likely an alternative that will. Moreover, many content providers and organizations, such as Maplesoft, are offering their resources and tools for free or at a substantially reduced cost."
But, do digital solutions adequately address the challenges that teenagers (and parents!) are facing as distance leaners?
"One of the main challenges faced by high school and university students is the isolation that comes with remote learning," stated Punwani. "As a result of this separation from the classroom, students are finding it harder to get the support and socialization they've grown accustomed to."
"That said, digital video conferencing tools such as Zoom and Google Meet are helping students stay connected, and online learning environments such as Maple Learn, are making it easier for students to share their work with their teachers, tutors, or classmates."
"In addition, added Punwani, "Maple Learn allows students to take a picture of their handwritten homework solution and send it to Maple Learn where they can self-diagnose where they went wrong, increasing their ability to work independently."
"Tools like the Maple Calculator (another free AI math learning tool) and Maple Learn also support parents who are trying to help their children learn math. Parents can … check homework, and explain concepts using illuminating graphs and interactive explorations that require no coding experience to create. These tools will even remind them how to solve the problem, making it easier for parents to help their children learn what they need to know."
Neil Kaus, an Ontario high school student commented, "It is great for working through math and physics problems as it is the fastest way to enter math on a computer, short of using a stylus."
Added Kaus, "The ability to easily define, store and use information from a problem has been invaluable to allowing me to focus on problem solving rather than doing arithmetic. The graphing features have allowed me to quickly visualize and gain a better understanding of the math I am working on. The ease of sharing has allowed me to quickly share my work with my teachers and get quick feedback even while doing remote learning."
Kaus highlighted that it was the "unique combination of being a mathematical notepad, computer algebra system, graphing calculator, and sharing platform all in one [that made] learning math and solving problems easier."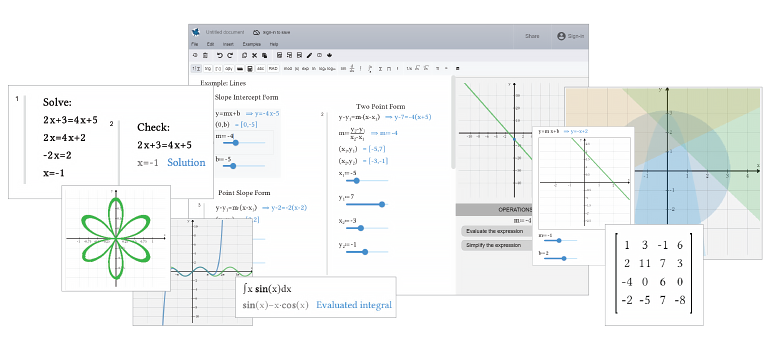 Maple is currently in use at over 250 educational institutions across Canada, including the University of Waterloo, Wilfrid Laurier University, University of Guelph, University of Toronto, University of Ottawa and others outside of Ontario.
Related:  Distance Learning