Apple's Spring Forward event saw the launch of several new products in every major category, from computing to mobile and entertainment, along with the company's entrance into an entirely new product category, Bluetooth trackers, with AirTags.
If you missed the event or need a refresher, here are the highlights with Canadian pricing and availability dates.
Apple Enters A New Category with AirTags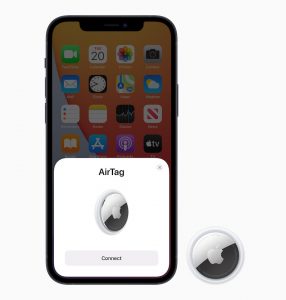 The announcement that sparked the most intrigue was the Apple AirTag, a brand-new product category for Apple and a direct competitor to Bluetooth trackers from companies like Tile and Chipolo. They work in much the same way, attaching to a device like a purse or keychain, then ring to locate the item if you misplace it nearby (e.g. under the couch) or use a network of other device owners to pinpoint the location if you have lost the item or it has been stolen. But Apple has the power of its network of Find Me devices behind it. And although Apple is partnering with third-party companies to join its Find Me network, including Chipolo, this is Apple's own branded foray into the market.
The battery-operated and water-resistant devices easily pair with an iPhone, work with Siri (so you can ask where you left your house keys, for example), and has some features you don't get with competitor models. For example, if someone else with an iPhone finds your lost item, like a wallet you forgot on a restaurant patio table, they can tap it and get your contact phone number (if you provided one.)
Apple AirTags will be available for pre-order starting April 23 and officially in stores April 30 selling for $39 each or $129 for a four-pack. Personalized engraving is also available via the Apple website.
New in Apple Computing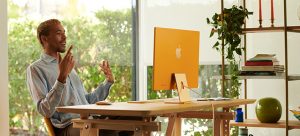 The biggest announcement in computing is that of the new Apple iMac, which comes with an M1 chip, 24″ 4.5K Retina display with an anti-reflective coating and 500 nits of brightness, and, for the first time with an iMac, Touch ID for quickly and easily logging into websites and accounts or switching user profiles. The new iMac is just 11.5mm thin and comes equipped with a 1,080p FaceTime HD camera, studio-quality mics, and a six-speaker sound system. This makes it a great option for work-from-home scenarios and those who conduct a lot of video meetings.
The iMac also comes in a host of fun colours to spruce up your home office or desktop along with three Magic Keyboard options. It has a pair of Thunderbolt ports that can support an up to 6K display as well as Wi-Fi 6. The 8-core version has two more USB-C ports as well as a 1Gbps Ethernet port in the power adapter to help reduce desk clutter.
Pre-orders begin Friday, April 30 and they will arrive in stores in the second half of May. Pricing starts at $1,599 for the 7-core version in green, pink, blue, or silver and $1,849 for the 8-core in green, yellow, orange, pink, purple, blue, or silver with discounts for the education market.
Mobile Devices Get a Refresh
Apple has also updated the iPad Pro with a new version that contains the M1 chip, and features 5G and Thunderbolt support. With a 12.9″ Liquid Retina XDR display and 12MP ultra-wide front camera, the coolest addition is a feature called Center Stage that keeps you in the frame at all times to ensure the best possible video calling experience. With either an 11″ or 12.9″ screen, it will come with an ISP and LiDAR Scanner, new white Magic Keyboard, iPad OS 14.5, and up to 2TB configuration.
Availability will start in the second half of May though you can pre-order one as early as Friday, April 30. Pricing ranges from $999 up to $1,599, depending on the model.
While Apple didn't announce new iPhones, there is good news for purple lovers: the iPhone 12 and iPhone 12 mini are now available in an elegant purple finish that Apple says "beautifully accentuates the flat aluminum edges." Aside from the finish, the two phones will be identical to all the others.
Pre-order one starting April 23 and they will be in stores starting April 30. If you're totally obsessed with purple, there will also be a matching MagSafe leather case or sleeve in deep violet, silicone case in capri blue, pistachio, cantaloupe, or amethyst, or leather wallet in Arizona. Pricing starts at $1,129 for the iPhone 12 and $979 for the iPhone 12 mini.
Movies, TV, Podcasts, & More Entertainment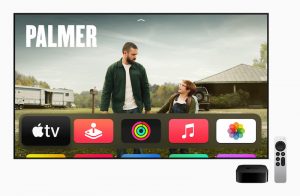 From the perspective of entertainment, Apple's biggest announcement was the next-generation Apple TV 4K and new Siri Remote with intuitive five-way navigation and clickpad with circular gestures for jog control. The remote also has power and mute buttons that can control a compatible TV. The focus is on improved picture quality with a new colour balance technology that uses the iPhone's light sensor to compare colour balance to industry standards them tweak video output for greater accuracy. It also features high frame rate HDR and Dolby Vision, along with the new A12 Bionic chip that Apple says provides a "significant boost" in graphics performance as well as better video decoding and audio processing. Thanks to the high frame rate support in AirPlay, you can shoot videos on the iPhone 12 Pro and display them in full 60 frames-per-second (fps) Dolby Vision on the Apple TV 4K.
Pricing starts at $229 and availability for pre-orders begins Friday, April 30 with widespread retail availability in the second half of May. Apple is also offering a first: AppleCare+ for the Apple TV, which includes three years of technical support and additional hardware coverage for up to two incidents of accidental damage every year.
For those who prefer podcasts over television, or in addition to, Apple announced a new subscription service that will benefit content creators and offer added value for loyal listeners. Pricing is set by podcast creators and can include everything from ad-free listening to early access, exclusive content, and more. Already, providers with plans to offer subscriptions include Tenderfoot TV, QCODE, NPR, and Sony Music Entertainment.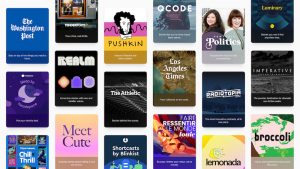 Apple Podcasts will also now feature something called channels, which consists of a grouping of programs that are curated by creators with descriptive titles and artwork so you can find more of the types of podcasts that you like. An enhanced search tab also provides quick access to Top Charts and categories, while Smart Play makes it easy to start episodic shows from the latest episodes or serialized shows from the very first episode. These software updates will begin rolling out next week.
Apple Podcast Subscriptions are scheduled to become available starting next month, with pricing to vary and be billed on a monthly basis, though creators can choose to offer annual plans as well. Most podcast creators will also offer free trial periods and sample episodes. With Family Sharing, up to six family members can share a single subscription.